The month of April was another strong month for the REIT sector. The FTSE NAREIT All Equity REIT Index turned in a strong 2.67% total return, besting the S&P 500 handily by 3.72%. This brings the year-to-date REIT advantage to the S&P 500 to 1.93%.
A snapshot of REIT returns by sector: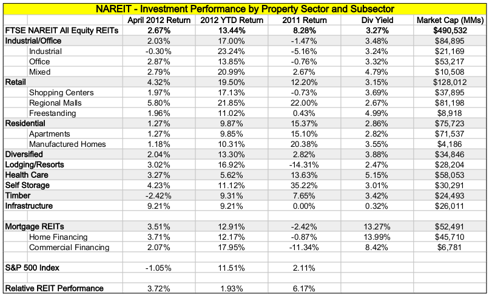 Source: NAREIT (REIT.COM)
REITs continue to outperform the broader average as commercial real estate has regained its footing and investors continue to seek out income producing companies. I do not expect this to change - even though REITs have had a good run.
A month ago, I laid out my sector swap ideas and I still believe that these are the right actions going forward.
My sell Residential, buy office swap performed well as office outperformed residential by 160bps. Avalon Bay (NYSE:AVB) had a total return of 2.87%, while Mack-Cali (NYSE:CLI) turned in 1.21% and Duke Realty (NYSE:DRE) returned 3.35%. The sector call was right, but Mack Cali underperformed while Duke was on the mark. I also proposed using industrial on the buy end of the trade utilizing DCT Industrial (NYSE:DCT) or Stag (NYSE:STAG). These two names turned in 1.69% and -0.29% total returns for the month (DCT outperforming their sector and STAG underperforming the sector) - bottom line, neither worked.
My 'sell malls buy shopping centers' idea did not work, as malls outperformed shopping centers by 383bps. This was a complete miss as selling Simon Properties (NYSE:SPG) and buying either Kimco (NYSE:KIM) or Retail Opportunity Investments Corp (NASDAQ:ROIC) just flat out underperformed last month. Simon was still on a tear, returning 6.81% for April, versus 1.77% for Kimco and 0.91% for ROIC. Swing and a miss. It is harder to bet against Simon than most REITs, but I still think malls are over valued relative to shopping centers. During the month Kimco and ROIC underperformed their sector. Bottom line - in April I got the sector wrong and the names.
While April swaps batted .500 on a sector basis, the name swaps batted .250 - a minor league average.
Bottom line: The sector swaps and credit swaps I proposed during April did not accrue to the benefit of the investor. I still believe that my macro outlook and, therefore, sector outlook is reasonable and rational.
Disclosure: I have no positions in any stocks mentioned, and no plans to initiate any positions within the next 72 hours.