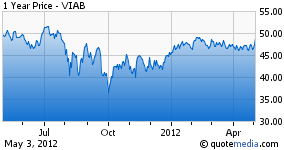 The latest numbers from Viacom (NASDAQ:VIAB) are those of a mature company emphasizing short-term profitability over growth.
Earnings were up 56% as the company was able to squeeze cable subscribers for more money. But the big news was a sharp drop in expenses at Paramount, the company's movie studio.
Take risks, said chairman Sumner Redstone at this week's Milken Conference. But the man is nearly 89, and he now talks about aging with a frankness that should be revealing.
The Viacom succession problem has been a news story for a decade now. Redstone's stormy relationship with his daughter Shari is a long-running Hollywood soap opera.
But the latest news shows a last act is approaching. No one is immortal. The succession problem at Viacom can come to a head either before or after Sumner Redstone is laid to rest.
My guess is it happens before. So forget the problems with Spongebob Squarepants. That is going to be someone else's problem.
Look at Viacom in terms of its break-up value, or its value in acquisition. If you're not playing VIAB with that in mind, you're missing the point.
Sumner Redstone's last act is a disappearing one. And if it's as profitable as his past acts have been, you don't want to miss it.
Disclosure: I have no positions in any stocks mentioned, and no plans to initiate any positions within the next 72 hours.