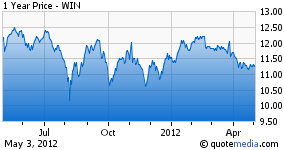 Integrating television, video and music streaming, and web browsing has revolutionized how people receive and view their favorite TV shows, movies, music, video clips, photos, and more. And as people become more used to the convenience of accessing both television and the Internet on one device, the more they will demand it in the future. As a result, telecom companies like Windstream (NASDAQ:WIN), Verizon (NYSE:VZ), Comcast (NASDAQ:CMCSA), AT&T (NYSE:T), and Charter Communications (NASDAQ:CHTR) have all had to adapt to meet customers' changing needs.
Windstream's Merge
In this article, I argue that Windstream's new Merge service is a killer deal for frugal investors like me! In March 2012, Windstream introduced Merge, a high-speed Internet entertainment service that provides high speed Internet with access to free and paid Internet content. Customers can access paid movie and television streaming services like Netflix, Huluplus, and free services like music streaming from Pandora with a click of a button instead of having to visit the websites to sign in. This also allows people to view or listen to media from their television instead of crowding around a small computer or smartphone screen.
With Merge, customers can download movies, television shows, and other content found online directly to their television or computer. The company has also started producing its own web-only series, 'On the Mark,' which customers can download from both Facebook (NASDAQ:FB) and Youtube. The show, an introspective look at pop culture and television, hosted by journalist Mark Steines, will air every other week for the next six months.
I can't speak for anyone else, but the ability to stream movies and television shows on my television has not only saved valuable time, but it has also allowed me to catch up on shows I haven't seen for a while. From an investment perspective, it's good to see companies changing and evolving to keep up with the needs of customers. Even though this might not seem like a radical innovation since lots of other companies already offer these services, investors in Windstream should be relieved that the company now offers these types of services to maintain a competitive edge.
Each of Windstream's competitors has its own innovative Internet/television packages that offer similar features to Merge along with other features such as movies-on-demand, HD channels, and access to premium cable channels. Verizon offers FiOS, a high speed Internet/digital television service that provides subscribers access to 130 HD channels and 50% off premium cable channels such as HBO and Cinemax.
Comcast offers XFINITY, a range of services for Internet and television use. These services may be bundled together to suit subscriber's needs. Comcast offers HD channels, high speed Internet, phone service, and access to premium cable channels like Showtime. AT&T offers U-verse, which is similar to Verizon, Comcast and Windstream while Charter Communications offers a variety of Internet, television, and phone packages. This is why Windstream and other telecom companies have to start offering more than just Internet or television service. Most customers want fast Internet speeds, the ability to watch streaming movies and video at their convenience, and fewer devices to deal with each day.
The Importance of Merge
Windstream, like many telecom companies, must cater to two types of customers: existing subscribers and new subscribers. If the company hadn't added Merge to its package list, old subscribers may have jumped to a rival company that already offers these types of services. Adding Merge not only helps the company bring in new business, but also makes existing subscribers happy as well.
Keeping all subscribers happy should also help investors rest easy about their investment in Windstream. Giving all subscribers a choice to add Merge to their cable package or choose other options such as phone service will help the company continue to grow. Investors should also consider that Windstream currently offers high speed Internet, digital television, phone services and a variety of Internet/television packages depending on location to subscribers in 29 states. That's a wide territory with plenty of potential for expansion from an investment perspective.
What's Ahead for Windstream
For now, the telecom industry continues to grow and innovate as it tries to keep up with consumer demand. Windstream and other telecom companies need to keep adding new services to stay competitive. I would start to worry if/when Windstream stops adapting to meet the needs of customers. And while producing web series' like 'On the Mark' seems like a smart move, watch out for limited interest and low ratings which usually signify a failure to connect with customers. If this series turns out not to be successful and Windstream continues to spend money producing these types of web series, then investors may want to rethink investing in the company or perhaps lowering their investment commitments and instead look for companies that are more in touch with their customers.
On a positive note, Windstream has tried to make the web series an interactive one by encouraging customers to answer questions about the show on its Facebook page. In return, customers will be chosen at random to be transformed into an animated character. Not only does this increase exposure of the series, but also drives traffic to the company's Facebook page. From there, the company can solicit new ideas from customers, answer questions about service, and learn more about customer wants and needs.
For value investors searching for a bargain, I recommend Windstream as a company with strong investment potential and dividend. The company, while still growing, is trying to connect with customers in a variety of ways by offering different package options, multiple telecom services for both business and residential customers, and has created a social media presence. Only time will tell if customers will embrace and participate in the company's social media marketing efforts - this form of marketing is still very new, it is only through trial and error will the company find a solid customer base to market new and existing services to online.
Disclosure: I have no positions in any stocks mentioned, and no plans to initiate any positions within the next 72 hours.