Several oil and gas stocks were sold off Wednesday, some justifiably and some not. The non-stop shenanigans of Chesapeake Energy (CHK) CEO Aubrey McClendon recently revealed to the public along with disappointing earnings report has caused Chesapeake shares to nose-dive; taking many stocks in the oil and gas sector down with it. Not to mention Marathon Oil and Gas (MRO) piled on the bad news with a disappointing quarter as well.
I believe this has caused an immediate buying opportunity in certain energy equities unjustly sold off in unison with Chesapeake and Marathon. These types of buying opportunities present themselves now and again. They offer an opportunity for a quick profit as a trade or a chance to start a long-term position in a stock you have been waiting on to pullback.
In the following sections I will give a brief review of Chesapeake, Marathon and the three energy stocks I believe were unfairly sold off Wednesday in sympathy with them.
Chesapeake Energy
(Click to enlarge)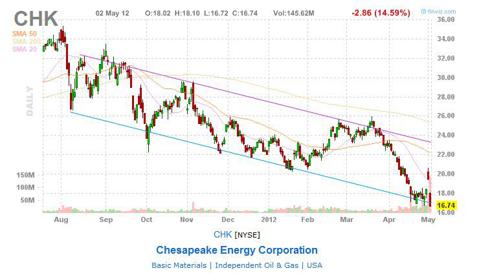 Chesapeake Energy plummeted another 15% after posting below par earnings. Chesapeake's earnings failed to meet analysts' expectations on both the top and bottom line, as I predicted in a previous article.
Chesapeake reported the company will split the jobs of chairman and chief executive and end the program granting CEO Aubrey McClendon stakes in company wells. The arrangement generated significant investor outrage. Many believe a serious conflict of interest exists. The well program has come under the scrutiny of the U.S. Securities and Exchange Commission and the Internal Revenue Service. U.S. Sen. Bill Nelson (D., Fla.) plans to ask the Department of Justice to begin a probe of Chesapeake for possible price manipulation and fraud, Reuters reported Wednesday, citing an aide to the Florida Democrat. Nelson's action comes as a response to a Reuters report that Chesapeake Chief Executive Aubrey McClendon ran a separate, $200 million hedge fund, trading in commodities, according to the report.
At some point the stock will become a buy. I expect some volatile swings in the share price as the news media bats share prices around with daily updates on the company's hijinks and current status. Stay away for now.
Marathon Oil Corporation
(Click to enlarge)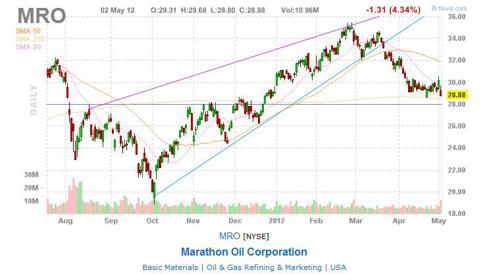 Marathon Oil disappointed Wall Street analysts Wednesday when it reported that first quarter net income dropped by 58% subsequent to a drop in production and natural gas prices. According to an AP report, the Houston oil and natural gas producer reported earnings of $417 million, or 59 cents per share, for the first three months of the year. That compares with $996 million, or $1.39 per share, in the year-ago quarter that included $541 million from Marathon's refining business that was spun off last June.
Marathon has several fundamental positives. Nevertheless, there are too many other energy play opportunities out there. Avoid this one.
3 Potential Energy Buying Opportunities
Now, screening for energy stocks trading significantly down in sympathy with Chesapeake and Marathon is one way to identify buying opportunities. Nevertheless, we must narrow the field. I screened for the top three S&P large cap energy stocks that were down and had significant quarter over quarter EPS growth rates. A company's EPS is conceivably the most important statistic to understand before investing in a stock. Each time you consider starting a position in a stock, you should prudently scrutinize its profitability EPS information.
The reason earnings are so vital to investors is that they tell you about the relative profitability of a company. EPS is the most important derivative of profitability for a shareholder. Earnings per share is defined as the net income of a company divided by the shares of common stock outstanding. With the EPS measure, you are looking at the amount of money left over for shareholders. The value is reported after taxes are subtracted.
In the following section, we will take a closer look at these stocks to determine if the sell-off was justified. I will perform a brief review of the fundamental and technical state of each company. Additionally, we will discern if any upside potential exists based on sector, industry or company specific catalyst. The following table depicts summary statistics and Wednesday's performance for these stocks.
(Click to enlarge)

Apache Corp. (APA)
(click to enlarge)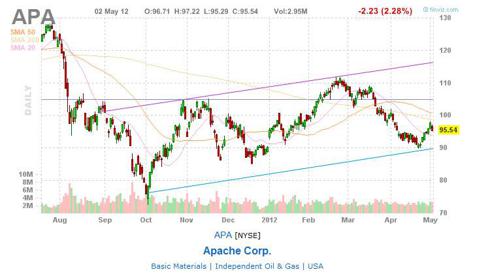 APA has solid fundamentals. For starters it has a quarter over quarter EPS growth rate of 68.36% and trades for just over book value. The company trades for less than 15 times leveraged free cash flow which is considered undervalued. APA has a quarter over quarter sales growth rate of 25.13%, a forward PE of 6.84 and a net profit margin of 27.14%.
Technically, the stock looks primed for a run to the upper level of its recent trading range. It recently bounced perfectly off the bottom of the upward trend channel. In March Global Hunter Securities initiated coverage on the company with a Buy rating and a $130 price target. This suggests APA has nearly 40% upside from the current level. Apache reports tomorrow. I like the stock here, nonetheless would wait until after earnings to start a position.
Cabot Oil & Gas Corporation (COG)
(Click to enlarge)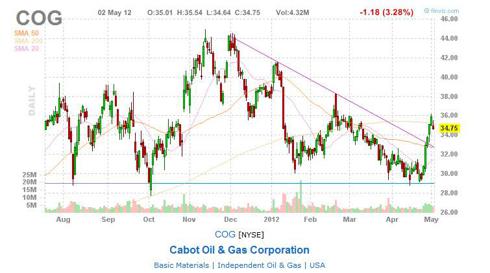 COG fundamentals are a mixed bag. It has a quarter over quarter EPS and sales growth rates of 43.17% and 30.19%. On the other hand, it has a forward PE of 33 and trades for 3.5 times book. It is definitely priced as a growth stock. Although, this may be deservedly so based on a projected EPS growth rate of 74.58% for next year and a 40.27% EPS growth rate for the next five years.
Cabot has ripped higher recently, challenging the 200 day SMA resistance line. The company just announced first quarter profits and record quarterly production volumes. They had an improvement in first quarter profits over last year, driven primarily from continued expansion of the company's production base, with both oil and natural gas volumes setting new company production records. Technically, the stock recently broke out from a downtrend. I would look for the company to break through and hold above the 200 day prior to starting a position.
Nabors Industries Ltd. (NBR)
(Click to enlarge)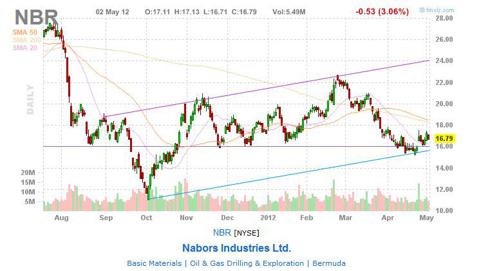 Nabors has astounding quarter over quarter EPS and sales growth rates 50.56% and 31.37%, respectively. The company trades for less than book value and has a forward PE ratio of 6.53. Moreover, NBR has a PEG ratio of .63 which is considered vastly undervalued. Argus upgraded the stock from Hold to Buy in February with a $30 dollar price target. This implies Argus believes the stock may nearly double from current levels in the next 12 months.
NBR just bounced off the bottom of its current upward trend channel and is still 45% below its 52 week high. Nabors shares were powered higher by Q1 earnings easily beating consensus on continued revenue growth in its continental U.S. drilling business. Dahlman Rose says NBR's operating income of $321M easily beat its estimate because of better results out of Alaska as well as in its international, offshore and land drilling businesses. Book value per share is slightly over $18. With a market cap of approximately $5 billion, this is a bite sized buyout candidate for a major oil and gas company. The company looks good here.
Conclusion
Sometimes the sell-off in a sector or industry gets overdone. When bad news happens for one or two major players in a sector, other similar stocks are often sold off in sympathy. I posit this is the case with Nabors, Apache and Cabot. Chesapeake is really getting shellacked due the incessant discovers of more and more shenanigans by McClendon. Nonetheless, with these types of situations the selling can get overdone. Chesapeake may present an opportunity at some point as well simply based on a price to net asset value basis.
Use this information as a starting point for your own due diligence and research methods before determining whether or not to buy or sell a security. If you choose to start a position in any stock, I suggest layering in a quarter at a time on a weekly basis to reduce risk and setting a 5% trailing stop loss order to minimize losses.