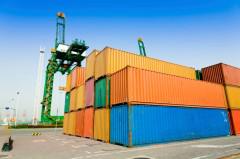 World markets and financial media seem to react to every new data point about China's economy, whether it's manufacturing reports or gross domestic product numbers. This market sensitivity isn't very surprising given how important China has become for the global economy. But it also means that it will be hard for the global recovery to continue without a soft landing in China.
A new paper, "Braking China. . . Without Breaking the World," from the BlackRock Investment Institute offers a nice list of six reasons why this is the case. Here are the reasons in no particular order.
China has quickly become the second-largest economy in the world.
China will likely contribute two-fifths to global growth this year, twice as much as the United States. See the chart below:
Resource-hungry China has an outsized influence on most commodities markets.
China is the largest foreign holder of US Treasuries.
GDP per capita in China jumped more than 20-fold to $4,400 in the 30-year period ended in 2010.
China is now the largest market in the world for cars, computers, mobile phones and countless other products. Wine sales in China, for instance, have more than tripled in just five years.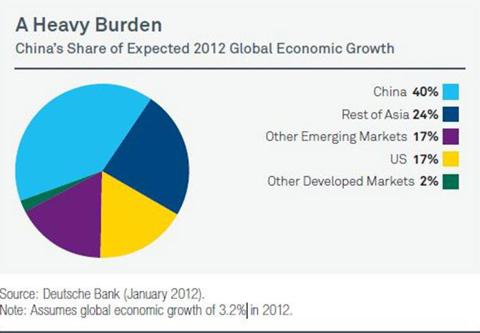 The good news for the global recovery is that I believe China will most likely achieve a soft landing in the near term. Even if China grows in 2012 at 7.5%, the Chinese government's new lowered growth target, it would still be one of the world's fastest growing economies. Plus, as the government's growth goal is typically a floor, actual Chinese growth is expected to be in the 8% to 8.5% range this year. And as inflation in China continues to slow, looser monetary policy from the country's central bank should further support the local economy.
As such, I continue to hold an overweight view of Chinese equities, which I prefer to access through the iShares MSCI China Index Fund (NYSEARCA: MCHI), the iShares FTSE China 25 Index Fund (NYSEARCA: FXI) and the iShares MSCI China Small Cap Index Fund (NYSEARCA: ECNS).
Disclosure: The author is long FXI
Source: BlackRock Investment Institute, Bloomberg