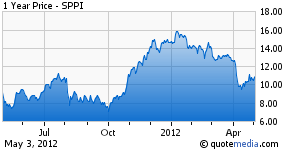 Spectrum Pharmaceuticals (NASDAQ:SPPI) has always been one of my favorite options in the biotech industry and it has lately begun getting attention from some of the experts. The thing people seem to like about this company is its blend of research and development, mixed with a strong plan that creates continual cash flow. It focuses mainly on cancer drugs, a profitable market to say the least, and based on the fact that an overall cure seems more and more unlikely everyday, it is considered a long-term earner.
Spectrum stumbled recently when the clinical trials for apaziquone produced less than stellar results. Despite this bump in the road, the company is not in danger of any permanent damage and still has a strong pipeline, and therefore, a bright future. There are the usual concerns about FDA approvals and competition, but overall Spectrum is strong and should be viewed as a prime contender in the biotech industry. Its two currently approved drugs, Fusilev, intended for treating colorectal cancer, and Zevalin, intended to be used on patients suffering from non-Hodgkin's lymphoma, are both stable earners and should keep things afloat no matter what the future holds.
Make no mistake, Spectrum is a smaller company in the biotech arena. If you are looking to get into something completely dependable, and therefore more expensive, it is likely not the best choice. Nobody expects Spectrum to compete with big players, such as Johnson & Johnson (NYSE:JNJ). Everyone knows the company, it is not going anywhere, it has its hands in everything, and there is an endless selection of products on the market and in development including medical devices, consumer products and prescriptions. The selection includes popular well-known baby care items and brands such as Band-Aid, Neutrogena, Aveeno, Listerine, Tylenol, Viseen, Sudafed and many others. While Johnson & Johnson deals with disease, illness, personal care, wellness and a variety of other markets, Spectrum is in a niche and focuses on cancer treatments.
There are a few things investors need to know about the Spectrum drug apaziquone. Its less than perfect performance in phase two clinical trials dropped Spectrum stock by nearly a quarter, making it available for less than $10. It is a drug intended for use in the oncology niche and many are predicting it will ultimately be just fine, despite the hurdle of this particular trial. Spectrum is expected to meet with the FDA in the future concerning apaziquone and determine what the future holds for the drug. It is intended to treat bladder cancer and Spectrum has no intention of turning away from the drug. If eventually approved it would be the first bladder cancer medication approved in more than two decades. Many are banking on the fact there are no other drugs of its kind on the horizon and anticipate the FDA will be accommodating when it comes to working out the problems with the drug.
On the up side, Spectrum announced it had acquired Allos Therapeutics (NASDAQ:ALTH) and its drug Folotyn. The drug is intended to treat peripheral T-cell lymphoma, so it fits into Spectrum's portfolio nicely. The drug is awaiting approval in Europe and has approval in the United States. It would seem Spectrum's goal is to offset the inability to generate income from apaziquone for the moment with sales of Folotyn. European approval is expected by 2013.
Another concern Spectrum faces for its approved drugs is competition. Zevalin is similar to the drug Rituxin, which is priced lower and outsells Zevalin by 40%. Fusilev faces competition with the generic drug Leucovrin. Leucovrin has faced shortages over its lifespan, which has in turn boosted the sales of Zevalin out of necessity and these chronic issues have hurt the long-term sales of the generic.
For the first time in its existence, Spectrum saw a profit in 2011. The forecast is good for the remainder of the coming year, although it may never reach its 52-week high of $16. There is always a chance investors can hold a failed clinical trial against a company, as it has with Idenix (NASDAQ:IDIX) and Keryx (NASDAQ:KERX), but I anticipate Spectrum will do much better than these two companies, in spite of the challenges. Idenix has dropped following a failure of one of its hepatitis C treatments, but the FDA recently removed a hold on the drug. There has yet to be much of a surge, but I suspect there could still be one in the near future.
Keryx fell apart after a phase three clinical trial failed for its colorectal cancer drug perifosine. The price dropped to less than $2 and left many investors wondering if there is any future whatsoever for the company. Keryx claims it will focus on the only other drug in its pipeline, Zerenex, which is an oral, iron-based compound for treating chronic renal failure.
Ultimately, Idenix shows there can be a future following a failed clinical trial, but when a company does not plan ahead and focuses only on one drug, the likelihood of recovering from a failure is unlikely. I do not believe this is going to be a problem for Spectrum. The company has not experienced absolute failure with apaziquone and it has other options in the pipeline. Its acquisition of Allos shows it is already dealing better with its challenges than Keryx was able to. Though investors need to be aware of the potential risk there is in awaiting clinical trial results and failures, there is so much more that goes into making a decision about an investment. I still believe Spectrum is a good investment and at its current reasonable price, now would be a great time to get in.
Disclosure: I have no positions in any stocks mentioned, and no plans to initiate any positions within the next 72 hours.