I've previously written about how we are in the midst of a transfer of wealth from western economies toward eastern ones. This transfer - which is most easily seen if we look at where debt levels are growing the most, where gold is flowing, and which currencies are exhibiting more strength - will enable eastern countries to invest in systems capable of more robust production. All of this means more energy use, and that energy, like capital, will flow from west to east.
This is hardly surprising. The correlation between energy use and economic activity (as measured by GDP) have been widely documented. Consider the image below, courtesy of the World Bank.
(Click to enlarge)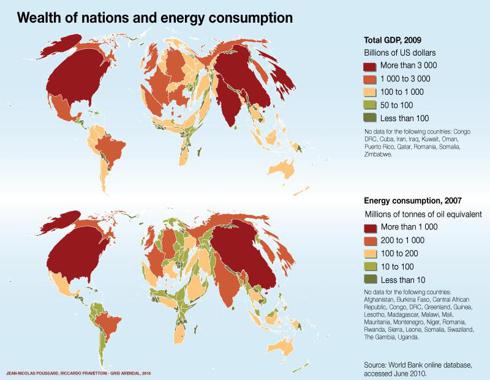 And as one might expect in light of this context, an infrastructure is being created to ensure sources of energy are transferring west to east. In other words, that the capital that has flown east is being used to purchase energy from the west. Consider the following headlines that tell the story:
Basically, the trade and budget deficits that are characteristic of western economies, particularly the U.S., have led to eastern currencies appreciating on a relative basis. This in turn has led to greater investments in purchasing energy from the west.
The investment implications here are significant, and I'm writing this article because I find understanding this transfer to be a key component to spotting where opportunities may emerge. Here are some ways I'll be looking to incorporate this perspective in my investing:
1. The most exciting opportunity created by the west-to-east energy transfer is in natural gas. Natural gas currently goes by regional prices, and the United States is in a unique position where it is sitting atop a large supply of natural gas - and so natural gas prices in the U.S. are much lower than prices elsewhere in the world. As noted plans for exporting liquefied natural gas continue to grow, and I believe this is one way to invest in the west to east energy transfer. Kinder Morgan (NYSE:KMI) is a company I think will continue to benefit from the demand for an infrastructure to transfer natural gas.
2. Which uranium mines will be taken over? Who has shareholders in Asia? There are some intriguing uranium miners with tiny market capitalizations that have big shareholders in Asian economies. Strathmore Minerals, for instance, is one such company. So for those with a tolerance for high risk, highly volatile tiny uranium stocks, I think one strategy is to find uranium miners that look like they could be targets for takeovers by Asian nations and power companies.
I prefer single stocks and forex, but those interested in creating a portfolio around the west to east wealth transfer may be interested in (NYSEARCA:NAGS), (NYSEARCA:URA), (NYSEARCA:KOL), (NYSEARCA:UDN), (NYSEARCA:CNY) and (NYSEARCA:GLD). Such a portfolio, when viewed collectively, is a speculation that value will shift toward the east and toward energy.
Disclosure: I have no positions in any stocks mentioned, and no plans to initiate any positions within the next 72 hours.
Additional disclosure: I am long Strathmore Minerals.