Paragon Technologies (PTG) reported strong earnings Tuesday morning. For the third quarter, it earned $656,000 or $0.24 per share as revenue rose to $7.3 million from $5.2 million in the third quarter of 2006. Backlog grew to $7.2 million from $5.9 million at the beginning of 2007.
About half of the quarterly income resulted from the reversal of a tax accrual. Len Yurkovic, acting CEO, said:
We are extremely proud to be reporting higher sales and earnings and a strong balance sheet. We are also delighted with the 49% increase in orders, particularly from the rapidly growing strength in the software-driven, high-growth potential order fulfillment systems. The Company's quoting activity continues to be strong, and maintaining an aggressive selling focus on active sectors of the marketplace is a prime objective.
I had sold my position into the ramp, but will be a buyer today.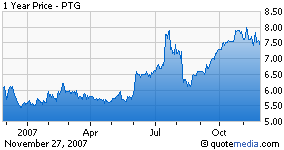 DISCLOSURE: I am now long PTG.