As the American markets are forecasting a recession ahead, that likely means that growth in other parts of the world will slow proportionally. The slowing of worldwide growth can create interesting opportunities for the contrarian to find discounted well-managed infrastructure plays.
One such company is the ABB Group (NYSE:ABB). Slowing global growth doesn't necessarily mean a slowdown in the sector nor that a well-managed company is going to participate in this slowdown. The ABB group, a Swiss based engineering firm closing annual reports with ROE consistently above 30% sells a multitude of power and automation solutions to over 100 countries. The backlog of orders they have is an interesting one, and a strong bullish point while the types of services they provide are for projects that go years into the future. Since nobody can predict exactly what order the slowdown in growth will be, customers of ABB are still going to proceed with projects as some of their customer's plans are on the order of years to complete.
In 2006, ABB had 15.3% of the sales in the Asian & Indian $58B market they service. This sector in those regions is anticipated to grow by about 8.5% per year every year between now and 2011. Similarly the company captured 44% of the 67B sector in Europe anticipated to grow at 4.5% annually. Similar numbers are available from the company's website for other geographic regions, however the numbers indicate that ABB has lots of room to grow globally, especially in the markets that will grow despite a slowdown in the US. They have not saturated any single market yet, as they have captured only 44% and 18% of European and American sales in the sector. In other words, their growth is a function of their management more than the economy.
Interesting financial points include the fact that ABB makes almost $260K in revenue per employee, or a net of $22K. Over the past five years ABB has reduced capital spending by 15% annually all the while increasing sales almost 7% annually.
This is a great stock for the long run, and has recently pulled slightly back on its steady climb north. That is, it's ready to be bought on the current dip. Analysts are split between hold and buy, while the Motley Fool gives it the five star salute and Stock Scouter an 8. Sitting at under $27 right now, the volatility clip is high enough to sell the March 2008 $35's for $0.75, however it likely would prove smarter to buy now, wait until January to sell the June $35's or $40's.
In case you're not aware, ABB also counts as a 'green' investment. While green on Wall Street generally refers to profit, in this context I'm referring to the fact that ABB sells solutions that are helping to reduce mankind's footprint on the planet. The recent $45M bid won by ABB to install infrastructure necessary for connecting power grids in Angola is one such example. The press release indicated that the installation will help reduce CO2 and NOx emissions. While that's great, most people will find the bigger picture more interesting; especially how they spend more than 50% of R&D on improving energy efficiency of their solutions. That's about 50% of a $1.1B R&D bill for 2006 for this $59B company.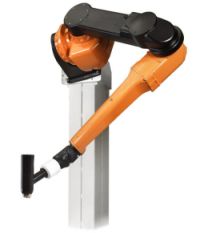 Some may find this picture interesting: It's the IRB 5500. It's a new product from ABB, a painting robot that replaces installations previously needing two robots to do the same job. Check out www.abb.com/robots for more information.
Disclosure: I have no position in ABB, yet.