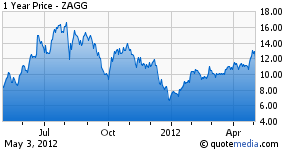 ZAGG's (NASDAQ:ZAGG) price per share fell by 14.1% this morning due to an article published on Seeking Alpha which claimed that the revenue figures it was reporting didn't add up, implying that ZAGG was allegedly committing fraud in its financials. The timing on this article was very suspicious. Possibly the author was trying to short the stock. It was especially suspicious due to the fact that ZAGG is meant to record very healthy earnings today at 5 p.m.
ZAGG primarily is engaged in making cases for Apple's (NASDAQ:AAPL) products. Therefore, unsurprisingly, it is meant to follow in Apple's footsteps and post healthy revenue growth for this financial quarter. Its main product is the invisibleSHIELD, a plastic cover for most of Apple products such as the iPad 3. It has proved very popular among consumers becoming one of the most used cases as it is very effective at preventing damage to some of the more expensive Apple products, including iPads. ZAGG also markets invisibleSHIELD covers for iPhones and its other products.
ZAGG has proved to be very effective in its marketing strategy, selling its products through a variety of mediums, most notably eBay (NASDAQ:EBAY), Best Buy (NYSE:BBY) and Apple stores themselves. It has pursued a strategy of releasing high quality products aiming at capturing a significant part of the market share of the cases industry, an industry which continues to grow due to the success of Apple, and other tablet and phone makers such as BlackBerry (RIMM) and Dell (NASDAQ:DELL). This strategy has proved effective over the last two years with revenue growing from $76 million in 2010, to $179 million in 2011. Its net income also almost doubled during that time period. These are remarkable figures for a company which started up back in 2005 in Phillip Chipping's back yard shed.
ZAGG's valuation is very low currently, due to its fall this morning of 14.1%. Wall Street rates it a solid buy, with a 1.0 rating, the highest rating that it offers. Furthermore, its revenue growth this quarter is likely to be very positive causing the share price to rise rapidly after hours today or in the morning tomorrow. Therefore, it is a very good buy because chances are by the end of the day or by the start of trading tomorrow it will rise back up to its closing price yesterday, or even higher than that.
When addressing the article that was written earlier, all I would say is that it is a very serious allegation to accuse a company of lying about sales revenue especially on unfounded information and unknown sources. ZAGG's growth and expansion of its product line recently would have been incredibly difficult if they were making the revenue and profit they reported. Their recent expansion is evident of a firm with strong revenues and a good position in a market, not of one committing fraud.
Consequently, at the current price of $11.79, I would rate it as a strong buy. It has a strong market position and in the coming years will become a much larger corporation with very positive net income. Its share price is almost certain to rise rapidly in the coming months as it profits off Apple's growth and it has positioned itself very well to take advantage of this growth. The last thing I would point out are just two figures everyone should consider. Over the last three years, ZAGG's revenue growth annually on average has been 108.4% and its earnings per share has been 78.9%. The company is vastly beating the market, and is still a wonderful investment for the future.
My data comes from morningstar.com.
Disclosure: I have no positions in any stocks mentioned, but may initiate a long position in ZAGG over the next 72 hours.