We have previously written about Apple's (NASDAQ:AAPL) iPhone and subsidies associated with it, as well as other smartphones. Those two articles inspired us to take look at Apple's other hot selling product, the iPad. We haven't heard as much about the iPad as the iPhone, as the iPhone accounts for a higher percentage of Apple's revenue versus the iPad. Here is our analysis and observations on tablet computer subsidies provided by the mobile carriers, as well as tablet sales.
The iPad was introduced for sale by Apple on April 6th, 2010. It sold more than 300K units on its first day. Despite the fact that Apple only sold the iPad during the final six months of FY 2010, the company still managed to sell 7.46M iPad devices and generate $4.96B in revenue. In FY2011, Apple introduced the iPad 2 in March 2011. Due to the benefit of a full year of sales for iPad products, Apple sold 32.4M iPad devices and generated $20.36B in revenue. The company has seen strong year-over-year growth in iPad sales for the last four quarters. In the last quarter, the Apple iPad sold 11.8M units, which generated $6.59B in revenue for the company. This represented 17% of Apple's Q2 revenue. For FY 2012 Year-to-date, Apple has sold 27.2M iPads which brought in $15.7B in revenue. In every quarter, Apple has enjoyed comparable sales growth of over 99% for iPad sales.

Click to enlarge
(Click to enlarge)
Source:Apple's Quarterly Earnings Releases
Apple iPad sales in the last quarter dwarfed the annual sales of BlackBerry's Playbook from Research in Motion (RIMM). We are not surprised as for some reason; the online mobile carriers did not seem to carry the BlackBerry Playbook. We went to Blackberry's website and tried purchasing it from a mobile carrier and we found that the only mobile carriers supposedly offering the BlackBerry were Cincinnati Bell (NYSE:CBB) and Sprint Nextel (NYSE:S). Worse, when we tried to buy it, we were not able to, as those companies did not offer the Playbook for sale. We found the same result when we went to Staples.com. We'll give RIMM the benefit of the doubt and assume that you can at least buy those products in those stores. The only places offering a BlackBerry Playbook that we were able to try to purchase from were four electronic chain stores, Best Buy, Office Depot and RadioShack.
We can see why Apple's iPad is outselling the BlackBerry Playbook. At the very least, it is easier to get one. We can get it at our local Apple store, or through AT&T (NYSE:T), Verizon Wireless (NYSE:VZ), Best Buy (NYSE:BBY) or even Wal-Mart (NYSE:WMT). Despite the fact that the carriers do not offer a subsidy to buy an Apple iPad and despite the fact that the brand-new BlackBerry Playbook at $299.99 is almost $100 cheaper than Apple's old iPad 2, Apple's iPad is outselling Research Immobilized's BlackBerry Playbook. We can also see why Apple is leading everyone else in this segment, even after seeing its market share slip at the end of 2011.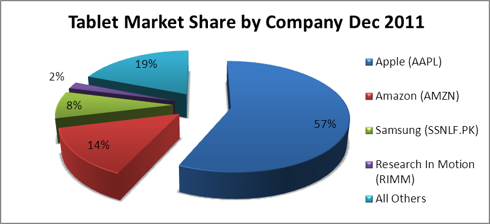 Click to enlarge
(Click to enlarge)
Source:From Dow Jones Newswires, Market share in Units Sold
Despite the fact that Apple's iPad is not subsidized by the mobile carriers, it has a commanding market share in the tablet computer market segment. According to market research firm HIS, Apple's newly introduced iPhone 4S with the Siri personal assistant software was the strongest competitor for the iPad. The iPad's market share actually declined to 57% in the last quarter of the 2011 calendar year, compared to 64% in the July-September period. With the continued rise in iPads sold in Apple's most recent quarter, we expect that Apple's market share will be equal or higher than its market share during the October-December 2011 period.
Motorola Mobility (NYSE:MMI) reported Q1 results on May 1, after the market closed. Last year, Motorola shipped 1 million tablets. Verizon accounted for 19% of Motorola Mobility's revenues last and year and even with a $170 subsidy provided by Verizon, Apple's 2012 year-to-date iPad sales have exceeded MMI's 2011 tablet sales by a 27-1 ratio.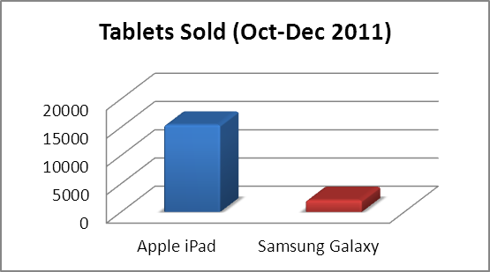 Click to enlarge
(Click to enlarge)
Source:From Dow Jones Newswires, Units Sold in Thousands
Samsung Electronics (OTC:SSNLF) posted strong Q1 results which exceeded consensus expectations. We were not able to obtain sales data on Samsung's Galaxy tablets. In Q4 2011, Samsung sold 2.14M tablets, a 16% rise from the third quarter. We were shocked, shocked that Apple's prior quarter iPad unit sales exceeded Samsung's Galaxy tablet sales despite the fact that with the exception of the Galaxy Tablet 10.1 with WiFi enabled, Samsung tablets get a $150-$400 per unit subsidy from the four national carriers and yet Apple sold more tablets in the last three months than Samsung, despite the wide price advantage on the Samsung tablets.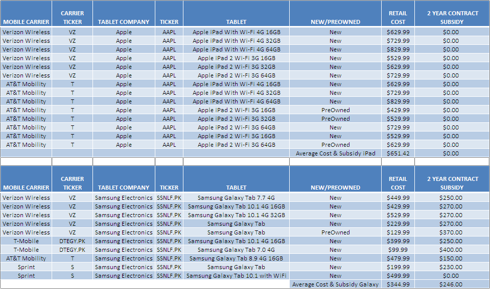 Click to enlarge
(Click to enlarge)
Source: Wireless Phone Company Websites
In the first couple of days the new iPad was available for sale, Apple sold 3 million iPad units. Apple ended Q2 with about 2M iPads in channel inventory, which was a sequential decrease of about 300,000 below its target level of 4-6 weeks. The iPad is now available in 40 different countries and sales have doubled in each of Apple's geographic segments. Apple even decreased the entry price of the older iPad 2 model by $30, or 7%. Notable iPad customers include Roche, Amgen, Bayer, Bechtel and the US Air Force Air Mobility Command. Apple has seen strong growth in iPad sales in the consumer, education and enterprise segments. In just two short years, Apple has already sold 67 million iPads. It took Apple 24 years to sell that many Macs, 5 years to sell that many iPods and over 3 years to sell a comparable number of iPhones. In China, the iPad is only available in 2,500 points of sale, versus 11,000 for the iPhone. We believe that as the iPad gets wider distribution, revenue and profits on this product can only increase further.
In conclusion, we believe that Apple will continue to see the strong growth in iPad sales that it has enjoyed since the original iPad was released. We believe this because with a full quarter to sell the new iPad tablet, Apple will maintain its strong sales growth with this product. We felt that criticism of iPhone subsidies was unwarranted because the average smartphone received a comparable subsidy on average with Apple's iPhone. We were able to determine that core wireless margins for telecom carriers were still strong even with the "higher smartphone subsidies" versus standard cell phones. And we have shown that even though Apple's iPad does not have a subsidy from the carrier and carries a much higher cost than its competitors, it is still able to outsell all other tablet offerings combined.
Disclosure: I am long AAPL, S.
Disclaimer: Saibus Research has not received compensation directly or indirectly for expressing the recommendation in this report. Under no circumstances must this report be considered an offer to buy, sell, subscribe for or trade securities or other instruments.