Beijing Med-Pharm Corporation (NASDAQ:BJGP), the Plymouth Meeting, PA based distributor of pharmaceuticals in China, announced yesterday an exclusive agreement with Shanghai Novartis Trading Limited, a wholly owned subsidiary of Novartis AG (NYSE: NVS), to register, market and distribute Enablex in the People's Republic of China.
Enablex, the extended release version of the compound darifenacin, is in a class of prescription drugs known as muscarinic receptor antagonists and is used in the treatment of urinary problems due to an overactive bladder [OAB]. Overactive bladder can result in urinary urgency, increased frequency of urination, and urinary incontinence.
Global sales of treatment for overactive bladder are estimated to be US$2.25 billion annually. The company reports that the condition afflicts an estimated 24-29% of the population in China over the age of 24, or over 200 million people, and treatment rates are historically low, with less than 15% of OAB sufferers seeking treatment. Under the terms of the agreement, Beijing Med-Pharm is responsible for attaining SFDA approval of Enablex, a process that is expected to last through 2010. Once approved, Beijing Med-Pharm will have the exclusive rights to sell, market and distribute Enablex in China for ten years.
"Today's announcement is a vote of confidence in Beijing Med-Pharm and speaks to our proven ability to navigate China's complex healthcare environment, from managing the approval process to ultimately optimizing sales and profitability. We believe this is one step in a successful, long-term relationship with Novartis," said David Gao, Chief Executive Officer of Beijing Med-Pharm. "The potential sales opportunity for Enablex is extremely compelling in China. There are currently few medications available to combat OAB and, concurrently, millions of Chinese have not yet accessed treatment. While we are seeking SFDA approval, we plan to educate doctors and patients on OAB."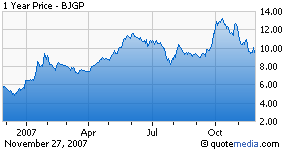 Disclosure: none