MACRO AND HOUSING
Home Property Values to Fall $1.2T in 2008 - Study
A study commissioned by the U.S. Conference of Mayors and the Council for the New American City released Tuesday says that over the coming year the property value of U.S. homes will plummet $1.2 trillion, and at least 1.4 million homeowners will lose their properties to foreclosure. The study, prepared by research firm Global Insight, predicts 1.9% economic growth in 2008 -- a figure it says would have been 1% higher were it not for the ill effects of the mortgage crisis. The study predicts 7% home price declines over the year, and a 16% drop in California. However, while the current crisis would "go down on the record books," Global Insight said it will not "bring the economy grinding to a halt." Indeed, we expect job growth in 2008 to be 0.85% and GDP growth to be 1.9%," it said. "In 2009, those figures will be 1.2% and 2.9%, respectively. In the end, the economy will not come off the rails, and we may actually have learned something." The report concludes with an ominous message to bankers and mortgage lenders: "The negative economic impacts cited in this report could also be significantly contained if mortgage holders, including holders of mortgage backed securities, and loan servicers could agree to new payment terms with families who have the ability to pay, but were placed in inappropriate mortgage products. Such actions will help to lessen the number of foreclosures thereby avoiding the further negative effects on local housing markets and on the broader economy."

Consumer Confidence Drops Hard
U.S. consumer confidence fell to its lowest level since Hurricane Katrina in the fall of 2005, the Conference Board reported Tuesday. The index fell almost seven points, to 87.3 from 95.2, well below the 90.2 economists had forecasted. It was also the biggest one-month decline in two years. The decline was driven by a massive drop in consumer expectations, to a four-year low of 68.7 from 80; present situation confidence fell a milder 2.6 to 115.4 from 118.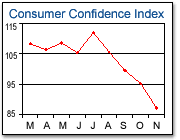 "Consumers' apprehension about the short-term outlook is being fueled by volatility in financial markets, rising prices at the pump and the likelihood of larger home heating bills this winter," director of research Lynn Franco said. "In fact, consumers' inflation expectations have surpassed the spike experienced this spring and a larger percentage than last month expect stock prices to decline. The Present Situation Index, despite losing ground, still suggests the economy is expanding, albeit slowly." Those who called economic conditions 'bad' grew to 19.1% from 16.6%; 22.3% saw conditions as 'good' vs. 23.2% a month ago. Still, consumers are worried about inflation; the 12-month inflation expectation rose to 5.7% from 5.1% last month. 23.1% believe hiring will slow over the next half year, up from 20.2%; 10.8% feel hiring will pick up, vs. 13.3% last month.

Goldman Sees Higher Recession Risk; Cuts Ratings
Goldman Sachs is giving higher odds to the likelihood of a U.S. recession in 2008 and has slashed ratings on a host of companies it considers exposed to slowing growth. Economists at the investment bank have lowered their interest rate forecast to 3% by mid-2008, a 1.5 percentage point cut from its present level, from a previous 4%. "The main reason is that the worsening housing downturn has pushed the risk of a U.S. recession in 2008 to 40%-45%, from around 30% previously," Goldman said. The housing market is "mired in a full-blown vicious cycle." The bank expects construction and consumption to cut two percentage points from real growth next year and sees the unemployment rate rising to 5.5% from 4.7%. Home prices are forecast to drop 15% from their highs, but if the economy does enter recession, they could fall 30%, Goldman said. The bank cut ratings on companies in industries including the entire auto sector, airlines (US Airways), hotels (Marriott, Starwood, Wyndham), truckers, human resources providers, furniture, REITs (Vornado, General Growth Properties), dining stocks, and base metals (Alcoa, Freeport McMoRan Copper & Gold, Southern Copper) but raised ratings on defensive sectors like tobacco. In related news, Allan Hubbard, economic advisor to President George Bush, told CNBC Tuesday that recession risk is higher than it was last year but remains below 50:50. "We obviously have problems in the housing sector and we have problems in the financial sector, but... real America is doing just fine," he said. Also, former Treasury Secretary Lawrence Summers wrote in the FT Monday that the subprime collapse means "the odds now favor a U.S. recession that slows growth significantly on a global basis."

Home Prices' Steepest Drop in 21 Years
U.S. home prices declined 1.7% during Q3, and were down a full 4.5% from a year ago, according the S&P/Case-Shiller National Home Price Index released Tuesday. "The declines in the national figure are notable for two reasons," economist Robert J. Shiller said. "First, the third-quarter decline, at 1.7%, was the largest quarterly decline in the index's 21-year history. And, second, the year-over-year decline posted its second consecutive record low at -4.5%. Consistent with prior 2007 reports, there is no real positive news in today's data." Homebuilder stocks were largely down in Tuesday trading. KB Home (KBH, -3.7%), D.R. Horton (DHI, -1.6%) and Pulte Homes (PHM, -0.9%) were among the losers, while NVR Inc. (NVR, +2.3%) bucked the trend. S&P Homebuilders ETF (NYSEARCA:XHB) fell 0.3%.

WSB Sponsor
TECHNOLOGY
Verizon Wireless Praised for Plans to Open Network
Verizon Wireless, a joint-venture between Verizon Communications and Vodafone Group, announced Tuesday it plans to open its wireless network by the end of next year to third-party mobile devices and software meeting certain minimum technical standards. The move was applauded by FCC Chairman Kevin Martin and called a "great step forward" by Google CEO Eric Schmidt. Until now, wireless carriers in the U.S.

have kept their networks on virtual lockdown, forcing subscribers to purchase and use selected mobile devices and software. Verizon's plans to open its network will seemingly have a limited near-term impact on the industry due to uncertainty over the availability of third-party phones meeting the company's minimum standards and the level of service to be provided. However, longer-term, a profound shift is underway, offering mobile device and software companies broader marketing opportunities, while providing end-users more freedom. In addition, Verizon's decision ahead of the FCC's much anticipated auction next year of key 700MHz spectrum reflects Google's emerging presence in the industry and its advocacy of open networks. However, struggling carrier Sprint finds itself in a precarious situation because it shares the same CDMA network technology with Verizon, meaning subscribers can more easily switch to Verizon without changing their phones. AT&T said it isn't considering a similar move, and argued it is more open than it receives credit for. Sprint and T-Mobile touted their "openness," but didn't signal plans to follow Verizon. Shares of Verizon gained 0.6% to $41.46 on Tuesday and were unchanged in late trading. Sprint fell to a multi-year low, -1.2% to $14.48 and declined 1.1% to $14.32 in the after-hours.

Marvell Beats, But Takes Hit After Hours
Communications and storage semiconductor developer Marvell Technology Group posted a narrower-than-expected Q3 net loss Tuesday and announced it will cut 400 jobs, or 7% of its workforce. Its shares fell 9.3% to $15.10 in AH trading, a new 52-week low. The company reported a Q3 loss of $6.4 million (-$0.01/share) on $758.2 million in revenue versus earnings of $6 million ($0.01) on revenue of $520.4 million last year (earnings call transcript). Excluding items, Marvell would have earned $86.2 million ($0.14/share), ahead of analyst expectations of $0.08/share. The average

analyst forecast for Marvell's Q3 revenue was $712 million. R&D expenditures rose 65% to $252 million in the quarter. The company said it will take a restructuring charge during fiscal Q4 of up to $8 million to cover employee severance and related costs. "Marvell is making progress to reduce costs and streamline operations, and we view [the layoffs] as a necessary additional step towards achieving our long-term financial model," said CEO Sehat Sutardja. Despite traders' apparent dissatisfaction with the numbers, some analysts were positive following the report. "The quarter was solid and a 400-person lay-off plus an array of gross margin initiatives show a new sense of urgency regarding current investor concerns," Citigroup's Craig Ellis said, adding Street fears are an opportunity to "buy, not sell the stock."

Corning Up on Bright Outlook
Shares of high-tech component maker Corning (NYSE:GLW) gained 3.5% to $23.73 Tuesday morning after CFO James Flaws delivered an upbeat outlook for the LCD industry and Corning's Display Technologies unit. "We expect to utilize our effectively combined measures of robust cost reductions, strategic pricing and innovative technology development for continued success in 2008," Flaws said in a press release. He also said Corning's diesel business "has had an excellent year" with 55% sales growth and gross margin improvements. For 2008, Corning expects strong sales and margin growth from its heavy-duty unit. Flaws also

reiterated the firm's Q4 guidance of adjusted EPS of $0.39/share on $1.5 billion in sales. (Press release) Also Tuesday, Deutsche Bank reiterated its Buy rating on Corning and $31 price target. Analyst Carter Shoop noted the first weekend of U.S. holiday shopping was in-line to better-than-expected for consumer electronics. Shoop also said the current yen/dollar exchange rate of 108 is eight points below Corning's Q4 forecast, translating to a $0.07/share benefit not yet reflected in consensus estimates. He believes positive commentary about holiday LCD TV sales and the continued appreciation of the yen will boost share prices.
RETAIL
'Cyber Monday' Sets New Single-Day Online Shopping Record
Research firm comScore Inc. reported online retail sales of $733 million on Monday, marking it the largest single-day of online shopping ever recorded (press release - click chart to enlarge). The Monday after 'Black Friday' is often called 'Cyber Monday' as it represents the first big online sales surge with employees returning to work from the Thanksgiving holiday and using their computers to shop.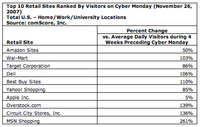 Monday's sales total marked a 21% gain over the previous year, and an 84% surge in average daily online spending over the previous four-week period. Monday was also impressive in other ways: the number of total buyers rose 38%; 44% of total internet users made an online purchase; and 60% of the dollars spent online came from work computers. Volume was so heavy that Yahoo's shopping site crashed (full story). On a negative note, the average total spent per buyer declined 12%, possibly the result of consumers tightening their purse strings this holiday season amid the worst housing slump in at least two decades and fears of a recession. The decline in spending per buyer mirrored the increased volume but decreased spending on Black Friday (full summary). According to comScore, the top 10 e-tailers by sales volume were (in order): Amazon.com, Wal-Mart, Target, Dell, Best Buy, Yahoo, Apple, Overstock.com, Circuit City and Microsoft's MSN Shopping.

ENERGY AND MATERIALS
Google to Tackle Renewable Energy
Internet search behemoth Google Inc. announced Tuesday it is entering the field of renewable energy to find a technology that is less expensive than coal. Coal accounts for half of U.S. power and is a primary culprit in carbon emissions. Google plans to invest hundreds of millions in a research group that will explore alternative energies like solar, geothermal and wind power. The project is called Renewable Energy: Cheaper Than Coal, written using the mathematical notation REto fight climate change and wean the U.S. off fossil fuels. "We're a large consumer of energy due to our data centers, so we're a natural customer," said Google co-founder Larry Page. "We see opportunities to make significant investments that generate positive returns." Google's philanthropic arm, Google.org, will supplement the activities of the research group by providing grants to institutions and labs working on similar projects. The object is to create a gigawatt of renewable energy for less than the cost of coal within "years, not decades," Page said. "If Google is consuming between 3,000 to 5,000 megawatts of energy, they might be one of the largest consumers of energy," said Oppenheimer analyst Sandeep Aggarwal. "If they can figure out how to save money in their energy consumption, this sounds like a positive to me." Other analysts are less convinced. "What the heck are they doing? It boggles the mind," said Jordan Rohan of RBC Capital Markets. "The company is blessed with the best business model on the Internet. This makes me worry about Google's priorities."

Tracinda Kills Tesoro Offer
Tracinda, the holding company owned by Kirk Kerkorian, has withdrawn its tender offer to take a minority stake in petroleum refiner Tesoro Corp. following Tesoro's adoption of a shareholder rights plan that Tracinda says is a poison pill. On November 7, Tracinda made a $64 per share cash tender offer for up to 21.9 million shares, which would have brought its total stake to 19.98%. Tesoro's board claimed to be neutral on the offer but adopted the shareholder plan, which was designed to prevent any single shareholder from "gain[ing] control of Tesoro by

open market accumulation or other coercive takeover tactics without paying a premium for all of the Company's shares." The terms of the plan were to be triggered when a shareholder acquired a 20% stake. Tracinda argued that the plan "inhibit[ed] value for all Tesoro stockholders" because it "restrict[ed] the ability of shareholders to vote, sell or acquire Tesoro shares freely without fear of triggering [its] draconian provisions." It claimed the plan was a "failure of a condition" of the tender and therefore rescinded the offer. Tesoro shares fell 5.9% to close at $48.65 Tuesday on the news.

BHP Says It's Patient, Sees No Rival Bid for Rio Tinto
BHP Billiton (NYSE:BHP) said Wednesday its $128 billion offer (full story) for Rio Tinto (RTP) is compelling, could not be matched by rivals, and said it would not speculate on increasing its bid. Rio shares currently trade at a 10% premium to the offer, indicating investors expect a raised or rival bid. Rio Tinto said Monday the offer severely undervalues the company, and has begun selling assets and boosting dividends to defend itself (full story). Analysts say that despite BHP's rhetoric, an increased bid remains likely. "They have an idea on the price they are willing to pay and I imagine they wouldn't


have put their best price on the table up front," one money manager who owns shares in both companies said. BHP CEO Marius Kloppers said it has met with "about half" of both companies' shareholders, and most find the deal appealing. "We are very patient people," he said in a speech to shareholders. "The bottom line here is simple, these two companies are worth more together than apart." ABN Amro analysts said in a report Tuesday it is "hard to envisage BHP coming up with a value that directors of Rio will be happy to put to shareholders on the recommended basis." Reuters reports BHP will fund the deal in part with a $70 billion loan led by Goldman (NYSE:GS), Barclays (NYSE:BCS), BNP Paribas (OTCQX:BNPQY), Citigroup (NYSE:C), HSBC (HBC), Banco Santander (STD) and UBS (NYSE:UBS). "We have already raised it (the money). The deal is done," one banker said.

FINANCIAL
Despite Rigorous Lending Standards, Wells Fargo to Write Down $1.4B
Wells Fargo announced after the bell Tuesday it has set aside $1.4 billion to cover a Q4 pretax charge related to increased losses on its portfolio of acquired home equity loans, sending its shares lower by more than 4% in after-hours action. Until Tuesday, Wells Fargo had been the largest U.S. financial institution to avoid the subprime mess and ensuing writedowns being faced by other major U.S. financial institutions (see The Writedown Leaderboard). The company is the fourth largest U.S. bank by market cap. Despite its own more rigorous lending practices, Wells Fargo is being forced to take the writedown on unpaid home equity loans it acquired from outside lenders with looser lending practices. The company plans to place "the portfolios that have been acquired through these indirect channels... [into] liquidating status under the direction of a dedicated management team." The portfolios in question total $11.9 billion, those

with the "highest risk" among the company's $83 billion home equity portfolio, since they are not tied to a Wells Fargo primary mortgage and are located in geographical regions facing the steepest declines in housing prices, including California and the Midwest. Earlier this month, Wells Fargo CEO John Stumpf conceded that while his company had "minimal" exposure to subprime mortgage fallout, it is "not immune" to the housing slowdown entirely (full summary). In the wake of its latest disclosure, Wells Fargo "believe[s] it's prudent to further tighten our standards, to stop acquiring new loans in these [riskier] segments." While Wells Fargo has maintained a strong capital position relative to other major U.S. lenders and financial institutions, due to what CFO Howard Atkins called a focus "on our core customers," economist Christopher Thornberg believes even the most conservative lenders like Wells Fargo are not in the clear yet: "It's going to become much worse. Prices went up way too high and now they are coming down. The foreclosures are just starting to hit." The company plans to continue issuing mortgages to its own customers, albeit with tighter standards.

Citigroup Brushed Off Bank of America Overture - WSJ
A prominent investment banker floated the idea of a Citigroup (C)/Bank of America (NYSE:BAC) merger as Citi was dealing with huge mortgage-related writedowns and the loss of CEO Charles Prince earlier this month (full story), the Wall Street Journal reports, but the idea was dismissed by Citi's board "out of hand" and no further discussions ensued. Bank of America says it never authorized a formal discussion, although sources say it did approach Citigroup several months previously. Bank of America recently became the number-one U.S. bank by market cap, somewhat vindicating CEO Kenneth Lewis who has


long complained the firm doesn't get enough respect from Wall Street. A Citigroup tie-up would make the group the "undisputed titan" of U.S. banking. However, a combined firm would have to divest most of Citi's 1,000 U.S. branches and $250 billion in deposits in order to keep it under the 10% of all U.S. bank deposits regulatory cap; Bank of America already holds 9%. One incentive for Citi, the Journal says, would be the filling of its leadership void with the well-regarded Lewis. On Tuesday, Citigroup announced it approved a $7.5 billion capital infusion from an investment arm of the Abu Dhabi government in exchange for a 4.9% stake in the bank (full story).
Lehman Set to Buy Van der Moolen's Specialist Unit - FT
Lehman Brothers (LEH) is set to buy Van der Moolen's (VDM) U.S. specialist unit following the market-maker's recent departure from the NYSE after posting steep losses, the Financial Times reports. Van der Moolen had planned to shutter its specialist business as electronic trading is increasingly making the specialist's role obsolete. The Financial Times says it's unclear why Lehman might want the unit, which lost $16.5 million over the first three quarters, although sources say the unit could still have value "if acquired at the right price." Bernstein analyst Brad Hintz, former Lehman CFO, said the prospect surprised him, especially in the light of attempts by Lehman and other investment banks to internalize order flow. "It's hard for me to believe that a specialist firm has any value in today's environment," Hintz said. But the FT says the NYSE is thought to be in talks with several firms about becoming specialists, to add to the exchange's current five -- units of Bank of America (BAC), Goldman Sachs (GS) and Bear Stearns (NYSE:BSC), along with LaBranche (NYSE:LAB) and Kellogg -- and exchange insiders say the specialist will survive despite the prevalence of electronic trading. Sources noted possible rule changes on the NYSE floor could bolster specialists' profitability. Besides matching buyers with sellers, specialists also buy and sell shares with their own money in order to maintain an orderly market.
Freddie Mac to Sell $6B in Preferred Stock, Slashes Dividend
Government-sponsored mortgage lender Freddie Mac (FRE) said Tuesday it will issue $6 billion in preferred shares and cut its quarterly dividend to $0.25/share from $0.50 in an effort to shore up its books in anticipation of mortgage-related losses. The number-two U.S. mortgage provider warned last week warned about the potential moves, and said it may have to further trim its $700 billion mortgage portfolio. The moves will "bolster the company's capital base in light of actual and anticipated losses," CEO Richard Syron said. Freddie Mac is more heavily invested in

subprime loans than its larger rival Fannie Mae (FNM), leaving it more exposed to current market turmoil. "This is the first step in my view, they might have to do more," Barclays analyst Rajiv Setia said. "What this does is really protect them for the next few quarters from any adverse marks to their portfolio." Fox-Pitt, Kelton analyst Howard Shapiro said the share sale will allow the company to carry on in the mortgage market, adding, "But it's not good news for common shareholders." Shares fell 2.3% in extended trading. Sources say the preferred issue was being marketed Tuesday by Lehman (LEH) and Goldman (GS) fixed five-year 8.25% coupon; Reuters says investors were expecting an 8.5-8.75% yield. Fitch Ratings said Tuesday it would lower Freddie preferred stock one level (presently AA-minus) if the $6B sale is completed.

HEALTHCARE/BIOTECH
Tenet Jumps on UnitedHealth Acute-Care Deal
Shares of Tenet Healthcare (NYSE:THC) climbed 10.8% after the firm said Tuesday it signed a new two-year agreement with UnitedHealth (NYSE:UNH) unit UnitedHealthcare, giving UnitedHealthcare members access to Tenet's acute-care hospitals. Seventeen Tenet hospitals -- six times the national average -- met UnitedHealthcare's quality standards in order to receive recognition from UnitedHealthcare's Premium

Designation Program, it said. Each of which stands to earn "incremental financial returns" if it can achieve certain quality metrics established under the agreement. Center of Excellence designations are given to hospitals that meet or exceed UnitedHealthcare's criteria, based on major complication rates, mortality rates and patient safety processes. "This national agreement recognizes Tenet's achievements in clinical quality. Tenet is well positioned through our clinical quality program to excel as the pay-for-performance environment continues to gain momentum," Tenet's chief managed-care officer Clint Hailey said. Shares of UnitedHealth Group are up 0.5% in pre-market trading. UnitedHealth sports a $69 billion market cap to Tenet's $1.9 billion.

MUST-READS ON SEEKING ALPHA TODAY
Have Wall Street Breakfast emailed to you every morning before the market opens.