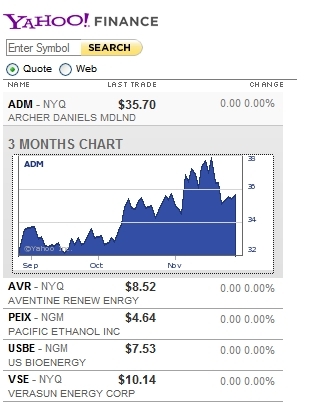 In the chart above, all of the companies listed besides Archer Daniels Midland (NYSE:ADM) are pure ethanol plays. ADM is the 800 lb. gorilla in all things agricultural, including ethanol, with a $22 billion market cap. If the ethanol market started consolidating, I assume ADM would be buying.
Recent news has ethanol prices starting to rise, indicating that production of cellulosic ethanol (corn ethanol bad!, cellulose ethanol good!) in meaningful quantities is up to a decade away. This may indicate a turning point for these ethanol producers.
As a renewable vehicle fuel, ethanol will remain the only meaningful player for quite a few years, and the political and public opinion are strongly in favor of as much renewable energy as possible. Ten percent ethanol gasoline will become the standard for most of the nation in the next couple of years, boosting demand. Hopefully, boosting it enough to keep up with all of the planned production!
Of the pure play ethanol companies, all managed to stay profitable for the difficult 3rd quarter except Pacific Ethanol (NASDAQ:PEIX). On this site, VeraSun Energy (VSE) is a component of the 20 Stock Portfolio.
I do not think there is any rush to buy ethanol stocks now, but I do believe there is excellent potential for the next several years. Waiting until quarterly reports show an improvement in corn/ethanol margins would be prudent. If you are research oriented, watching the individual corn and ethanol prices could give an early signal that margins will be improving for these companies. A few quarters of tight margins will also cause the better run companies to improve their efficiencies, thus boosting margins when the commodity prices turn in their favor.