The stock price of secure electronic payment solution company VeriFone (NYSE:PAY) took a hit a few days ago, after a Deutche Bank analyst cut his rating on the company due to VeriFone allegedly overstating a measure of its revenue growth. A chart of the stock price illustrating the price hit is shown below: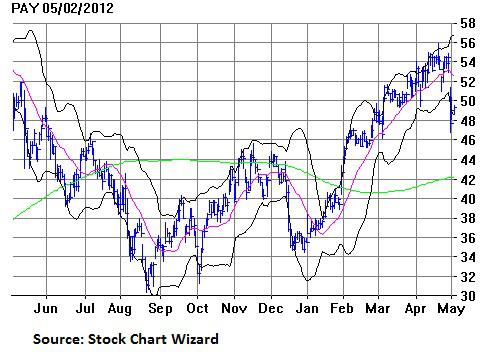 VeriFone subsequently refuted the analyst's claims and reaffirmed the company's expectation for 10%-15% organic growth going forward.
Volatility for VeriFone is up due to the drop in the stock price, and a protective covered call search using PowerOptions tools reveals VeriFone as the highest returning position as shown below:
Click to enlarge images.

Click to enlarge
Following closely behind VeriFone are data integration company Informatica (NASDAQ:INFA), industrial products and services company Trinity Industries (NYSE:TRN), automotive products company Tenneco Automotive (NYSE:TEN), and Chinese Internet search company Baidu (NASDAQ:BIDU).
A protected covered call investment may be entered by selling a call option against a stock and using some of the proceeds to purchase a protective put option. The VeriFone protected covered call has a potential return of 3.4% (28% annualized) and a maximum potential loss of 7.2% (at expiration). Even if the price of the stock drops to zero, the maximum potential loss for the protected covered call is 7.2% at expiration.
The highest returning positions shown in the table above were found by sorting by highest return. The search included profitable companies by selecting to search for a P/E of greater than zero, companies with a stock price in an uptrend by selecting to search for a 100-day moving average greater than the 200-day moving average, companies with a recent price reversal using Bollinger band parameters and positions with a maximum 8% potential loss. The 8% maximum potential loss parameter was used, as a loss of 8% or less can often be recovered fairly quickly using option income generating methods.
VeriFone provides secure electronic payment solutions for a variety of market segments and applications. In the company's most recent Q1 2012 earnings call, the company reported organic revenue growth of 12%, excluding FY 2011 and FY 2012 acquisitions. The company reported international growth that was very robust, with 96% growth year over year on a quarterly basis. The company's operations in Latin America, Asia, and the UK are all performing well. North American revenue was up 4% sequentially, but down 7% compared to a year ago.
VeriFone's future looks bullish with credit card companies Visa (VISA) and MasterCard (NYSE:MA) mandating retailers move to EMV (Europay, MasterCard and Visa) technology. Visa has even mandated retailers make the transition by October 2015, after which liability for fraud shifts to the retailers not using EMV. EMV is a new electronic payment technology using an embedded integrated circuit with the goal of reducing fraud associated with electronic payments, and is a global standard for interoperation of integrated circuit cards. With the coming of EMV, the market for electronic payment devices may expand, as restaurants may be compelled to have pay-at-the-table devices for support of EMV. VeriFone is well positioned to take advantage of retailers upgrading to EMV and also expanding their point-of-sale operations.
Competitors of VeriFone include NCR (NYSE:NCR), Ingenico (private) and Radiant Systems (private).
With VeriFone scheduled to report Q2 2012 results on May 24, investors can protect against any bad news related to the earnings release by using a protected covered call. The nice thing about the protected covered call is the insurance provided by the put option is paid for via the sale of the call option. For the highest returning protected covered call shown in the table above, the specific call option to sell is the 2012 May 49 at $1.75 and the put option to purchase is the 2012 May 44 at $0.40. A profit/loss graph for one contract of the VeriFone protected covered call is shown below: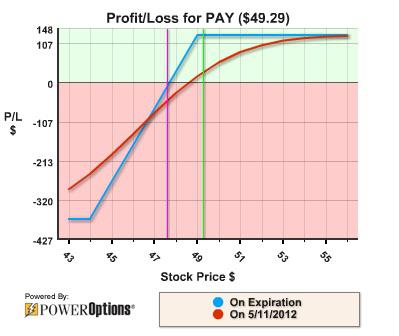 For a stock price below the $44 strike price of the put option, the value of the protected covered call remains unchanged (at expiration). Additionally, if the price of the stock increases to around $50, the position can most likely be rolled in order to realize additional potential return.
Disclosure: I have no positions in any stocks mentioned, and no plans to initiate any positions within the next 72 hours.