When holding a stock, nothing is worse than facing a disappointing earnings report. Like following a favorite team, an investor gets a punch in the stomach when an earnings report bombs. All those expectations, all that hope, all that time spent, all that money, it all sails out the window with one deflating announcement. And yet, every team loses, and just about every stock disappoints, sometimes. What makes investing a little harder and, maybe, a little more fun than watching sports is that you have to sift through that disappointment to decide what comes next.
Coventry Health Care (CVH) released a disappointing report last Friday. The headline numbers were fine -$.62 core EPS hit the analysts' range of $.61-.64 expected earnings, and revenue beat the number by $21 million. Earnings guidance remained $3.10-3.30 EPS for the year, representing 11.5% growth at the midpoint from last year's earnings, and yearly revenue guidance rose by $16m to $14.02B-14.23B, nearly 16% growth at the midpoint. The only negative note in the guidance was an increase in their Medical Loss Ratio forecast 50 basis points from a midpoint of 83.5% to a midpoint of 84%. The MLR defines how much the healthcare firm spends of their premiums revenue (i.e. the money customers pay them for healthcare) on actual health care, and so is something of an approximation of gross margin.
Reading the press release, one would say that Coventry had hit most of their marks and their increase in revenue would be offset by the increased costs. On the surface, all was ok.
Perhaps better stated then, CVH released a misleading report, which was disappointing. Their reported Q1 EPS was actually $1.20, which included "$0.58 related to the release of Medicare Advantage Risk Adjustment Data Validation audit reserves as a result of recent Centers for Medicare & Medicaid Services audit methodology changes," as stated in the press release. The company then treated the reserve release as a one-time gain and highlighted the core number, which the market took as the appropriate treatment.
Coventry's report gets confusing though, in that they keep the reserve release for their guidance. That wasn't clear in the press release, but management clarified that the release didn't count for Q1, but did for the whole year in their conference call. In other words, CVH lowered guidance $.58 for the year. Management didn't directly address this on the call, and the relative silence left a disappointing taste.
The stock reflected this disappointment on Friday, dropping nearly 18% in the immediate aftermath before recovering to a mere 8% fall from the previous day's close. This wiped out nearly three months of gains, and the brief climb since to 30.48 has the stock more or less where it started the year, at 31.03.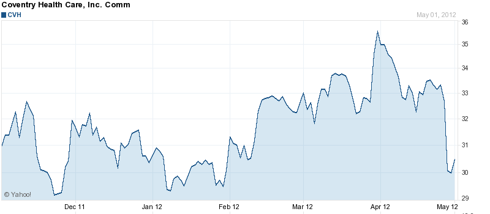 Click to enlarge
(Click to enlarge)
So what actually happened to Coventry's business? In a word, Kentucky.
Coventry CEO Allen Wise reported that six out of the company's seven businesses were doing well, but that, "we're getting our tails kicked" in Kentucky. Five months into a three-year contract to provide Medicaid in Kentucky, the company is faced with an increasingly high-cost, high-risk share of the Medicaid population in the state and related challenges and operations confusion. These challenges invoke one of the key implications of the healthcare reform debate: health care companies taking on risky patients are going to have to pay more to provide health care for those patients, hurting their profits (though providing a service to those who might not be able to afford it). Coventry got saddled with a disproportionate amount of these patients in Kentucky (as per their conference call) and as such had a MLR for the contract of 120.9%. Paying out $1.21 for every $1 a company receives in premiums is obviously not sustainable.
Many decided to throw the baby out with the bath water on hearing of the report, leading to that big drop. Does that provide an opportunity to go into the rushes and finding another Moses, or should this stock be left to the wolves? A few things to consider:
Valuation
Coventry's stock was on an upswing for this year, cresting at 35.57 in the aftermath of the Supreme Court hearing on the Affordable Health Care Act, a hearing that left analysts bullish for managed care stocks whether the individual mandate was ruled unconstitutional or not - either way, clarity would come to the market. That marked a 15% rise from the beginning of the year.
Despite that, Coventry's stock was not over-valued. With the recent haircut the stock price has taken and their new midpoint in guidance less the reserve release, the stock trades at 11.63 forward earnings, and 9.2 2013 estimated earnings. Compared to peers, that is attractive:
(Source: TD Ameritrade and Wall Street Journal)
| | | | | | |
| --- | --- | --- | --- | --- | --- |
| For most recent quarter | CVH | Amerigroup (AGP) | WellCare (NYSE:WCG) | Health Net (NYSE:HNT) | Mednax (NYSE:MD) |
| Cap Size | $4.3B | $3.1B | $2.8B | $3.1B | $3.4B |
| Revenue Growth (Quarterly, Y-over-Y) | 21% | 15% | 21% | -17% | 10% |
| Yearly Revenue Growth | 5.20% | 9% | 12% | -13% | 13% |
| EPS Growth (Annual) | 23% | 30% | 171% | 19% | 13.30% |
| Estimated Earnings Growth (next three years) | 7% | 19% | -1% | 12% | 9.30% |
| P/E 2011 | 10.62 | 17.5 | 9.36 | 11.46 | 15.76 |
| P/E 2012 (Estimated) | 11.63 | 17.01 | 13.51 | 10.75 | 14.18 |
| P/E 2013 (Estimated) | 9.21 | 13.67 | 12.57 | 9.74 | 12.79 |
| P/FCF 2011 | 13.19 | 21.56 | 24.13 | 84.47 | 14.41 |
| Price (April 26th close) | 30.48 | 66.85 | 62.97 | 36.32 | 70.45 |
Past Performance
Part of the reason Coventry trades at a discount to most peers is their past performance. The stock has low growth compared to their peers, and their recent earnings often hit or slightly miss estimates. There was an earnings miss in Q4 of 2011, and a revenue miss in Q3 of 2011. Add on the sneaky guidance drop this quarter, and the stock doesn't have a great recent record (compared to strong 2010 and 2009 vis-à-vis the estimates).
More significantly, the actual service the company provides isn't highly regarded. When I first researched the stock to consider investing in it last fall, I found a great deal of negative reviews on the perfunctory Google search. J.D. Powers and Associates rates Coventry's plan lowest of 8 in the South Atlantic region (Georgia and the Carolinas) and tied for lowest of 8 in the Heartland region (Iowa, Kansas, Missouri, and Nebraska). Not a good sign for the company's credibility.
Dividend and Cash
Coventry just paid out their first ever quarterly dividend, one of .125 per share. This works out to a $.50 dividend per share, a yield of 1.64% at Tuesday's closing price. This hasn't received much coverage in analyst reports or on Seeking Alpha (this excepting), but a new dividend signals both the board's confidence in the company's prospects and a testament of their strong free cash flow, which for the most recent quarter was 2.84 per share. The payout ratio based on last year's earnings and free cash flow would be 17% and 22% respectively, both maintainable. The company also has $900M in deployable cash and stable debt levels, which positions them well to make acquisitions or shareholder friendly moves, maybe in an effort to regain investors' confidence.
CEO and Takeover Prospects
Current CEO Allen Wise is highly regarded. He has over 15 years of experience in Coventry, and has led them as CEO since 2009. He is expected to stay on through the near-term. Considering the challenge Kentucky poses, it would make sense for him to be heavily invested in figuring out the problem and making sure he doesn't leave with a stain on his legacy.
Looming as a lifeline for the investor is the possibility of a takeover. In the new regulatory environment, the healthcare industry is a rapidly consolidating one - Catalyst Health Solutions and Healthspring are two examples of recently bought out companies. Coventry's cheap valuation and solid financial health make it an attractive target. This isn't enough to make an investment, but it is worth keeping in the back of one's mind.
Sorting out Kentucky
Most directly, Coventry's recent stock drop is a result of their costs in Kentucky. There are three things worth considering about those costs:
- Since this is a Medicaid contract, there are certain obligations and guarantees the government had to give Coventry in making the deal. Kentucky, as the government in question, will have to live up to these obligations and compensate Coventry for their disproportionately costly patient rolls, or otherwise finding out a way to make this a feasible business for Coventry.
- If that doesn't happen, Coventry could exit the contract. While no doubt regrettable, this would not be a terrible loss for the company: Credit Suisse's Charles Boorady estimates a $.15 profit from Kentucky for 2013, meaning 2013 EPS would lose that $.15 if the company exits the market.
- From that, one can recall that as bad as this contract has turned out so far for Coventry, it is not a huge part of their business. The added costs led to a total of 50 basis points increase in MLR for this year's guidance, meaning the MLR could still fall in the original range if it hits the low-end of guidance. Bank of America's analyst sees "long-term earnings hit related to Kentucky is in the low to mid single digits under a worst case scenario (i.e. CVH exits the business)."
Summary
The Kentucky news was bad, and the way Coventry handled the guidance reduction was worse. It leaves the individual investor confused and a little bit angry.
That said, investing is about distilling emotions and analyzing news to make good decisions. While this definitely was not a strong report for Coventry, their long-term growth prospects remain intact. Revenue continues to grow, and most of the business is doing well. Kentucky poses a challenge, but there are good reasons to believe that Coventry can either solve the puzzle or drop the contract without greatly altering the company's overall trajectory. The introduction of a dividend and the solid balance sheet makes the company an attractive proposition.
The stock earned the 8% cut, and it is likely going to be range bound between 28-32 until the next major catalyst comes along, whether a new contract win, second quarter earnings, news from Kentucky, or the Supreme Court health care ruling. In the long-term, Coventry hitting their targets would merit a 12x earnings multiple on 2013 earnings, which produces a target price of 39.72. An investor with patience for the next year or two might do well to open a position around 29, where the dividend yield is 1.72% and the upside is 37%. Even if the Kentucky costs diminish Coventry's prospects, there is still room for the company and the stock to grow.
Last week's report was disappointing. Sifting through that disappointment, though, finds that the long-term story is still intact. The drop provides an opportunity, and value hunters may be able to make the most out of that disappointment.
Disclosure: I am long CVH.