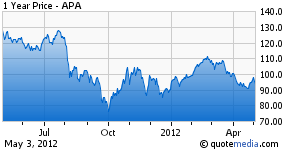 Energy exploration and production company Apache (NYSE:APA) has a very strong record of consistent long term growth of both production and profitability. Investors looking for energy sector exposure in their stock portfolio should take a close look at Apache, then go out and buy some shares. This company should reward investors very handsomely over the long term.
In 2011, Apache generated 57% of its global production in North America. However, the company is broadly diversified in the regions where it produces. From North America, 23% of total company production was U.S. onshore, 16% in Canada and 14% offshore in the Gulf of Mexico. The 43% of international production was allocated to 20% in Egypt, 12% in the North Sea, 9% from Australia and 6% in Argentina. Apache has exploration operations in several additional regions. The global breakdown gives the company sales exposure to different regions around the globe, minimizing the impact of price issues such as the current very low prices for natural gas in North America.
In 2011, Apache produced a production increase of 14% to 748,000 barrels of oil equivalent per day - BOE/D. With the higher energy prices in force for the year, cash flow was up by 39% and net income increased 50% to $5.4 billion. On a per share basis, 2011 income came in at $11.47 per share, up from $8.46. Other highlights from 2011 include the fact that oil and natural gas liquids accounted for 50% of production and 80% of revenue. The company benefited from higher oil prices on production from the North Sea and Egypt compared to North American energy rates. End of year proved reserves where 3 billion BOE, up 1% from the end of 2010 after production during the year of 273 million BOE. New found reserves exceeded 2011 production by 155%.
For 2012, the company plans to increase the number of wells drilled by 20% to 30%, up from the 1,100 drilled in 2011. Capital spending on drilling will increase to $9.5 billion in 2012, up from $8 billion. The company is putting the money earned in 2011 to work increasing drilling and production in 2012. Apache management forecasts production will increase by 7% to 13% in 2012 compared to a year earlier. The Wall Street consensus estimate for Apache for 2012 is earnings of $12.59 per share on a 9.4% increase in revenue. It is important to remember that earnings estimates for energy exploration companies are very unreliable due to the impact changing oil and gas price will have on actual earnings results.
A comparison with other exploration & production - E&P - energy companies can be viewed looking at forward P/E ratios using the current share price and the 2012 consensus earnings estimate. Apache currently trades at 7.6 times the 2012 consensus. Here are the forward P/E ratios for some competing energy companies: EOG Resources (NYSE:EOG) is trading at 21 times estimated earnings for this year. Anadarko Petroleum (APC) is at a forward P/E of 17.7. Noble Energy (NYSE:NBL) is trading at 15.6 times estimate earnings. ConocoPhillips (NYSE:COP) will soon be trading as a separate E&P company after the refining and retail portion of the company are spun off next week. ConocoPhillips as a whole is price at 8.6 times the expected 2012 earnings. It will be interesting to see how Wall Street splits up the earnings between ConocoPhillips and the soon to be trading Phillips 66 in the coming months.
The comparisons show that Apache is trading at a valuation more in-line with one of the big, integrated oil companies rather than as a growing exploration and production company. The Apache results may not be expected to grow as fast as high flyer EOG, but the shares of EOG appear to be fully valued and Apache falls more towards an undervalued stock. Apache also makes a lot of sense as a long term holding. The company's exploration efforts in places like New Zealand, off the coast of Kenya and Argentina will put to company at the front of new discoveries in these areas. Additional long term projects are several joint venture developments to process and transport liquid natural gas - LNG - from low cost regions like the U.S. to countries where the gas will fetch a much higher price. The global LNG infrastructure is currently coming together and in the latter half of this decade, companies in the LNG business will be able to transport significant amount of gas to the regions where the gas will earn the best prices.
Disclosure: I have no positions in any stocks mentioned, and no plans to initiate any positions within the next 72 hours.