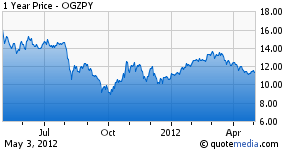 On first glance the headline of Mineral Extraction Tax dramatically increasing will seem like ominous news for Gazprom (OTCPK:OGZPY). But, in reality nothing could be further from the truth. The Russian gas giant has been wrongly valued at 3x Earnings on the assumption from analysts that higher taxes will dramatically reduce profits. There is no question that Gazprom will be paying higher taxes in the coming years, but profits will not fall but increase. How?
Well, the whole issue centered around how much of the Russian gas price increases* would go to the government. Some analysts believed that more than 100% of the revenue gains from the increases would be taxed; i.e. Net Profits would fall from increased taxation. I found it hard to believe that the government would tax Gazprom so aggresively. Finally, clarity has been given and 80% of the gains will be taxed.
* It is passed into Russian law that for the next 5 years Russian domestic gas prices will increase 15% per annum.
So, How does this change EPS? Well, assuming the price increases and the planned production increases 2016 domestic gas revenues will be 1,634bn RUB vs 739bn RUB in 2011. This leaves 895.6bn RUB in additional revenue - 100% of which translates to EBIT as the marginal cost on the increases is 0. Now, using 20% captured profits (100% profits minus the 80% taken in tax) this gives Gazprom an additional 180bn RUB in profits - an increase in EPS of 14%.
Analysts will be scrambling to increase their Net Profit forecasts off the back of this news. I see Gazprom making 1.69 trillion RUB in 2016 - (up 29% from 2011) assuming guided production growth and the new profit projection from this tax "deal", this equates to $4.75 EPS for the ADR shares. Ultimately a company who is growing earnings should never trade below 8x - thus I feel I am being conservative when I give Gazprom a $38 target for 2016 (upside of 240%). Whether you agree with this PE or not, the dividend yield on this EPS is undeniable; from FY2012 dividends will be a minimum of 25% of Net Income. This will equate to a minimum 2016 dividend of $1.19 per share, or a 10.5% yield on its current valuation.
Disclosure: I am long OTCPK:OGZPY.