It has been several months since shareholders at the Canada-based oil and gas producer Equal Energy (NYSE:EQU) started their campaign to induce change at the company.
On April 26th, the first signal that the company is listening came to light through the replacement of the company's previous Chairman Peter Carpenter with Dan Botterill. Botterill joined Equal Energy's board of directors in May 2011; thus he shares little responsibility for the company's misfortunes over the last few years. Botterill was instrumental in unlocking shareholder value in his previous executive position as CEO of Berens Energy, a company he sold for a strong premium to PetroBakken in January 2010 after a strategic review process initiated in November 2009.
Shrinking Valuation
While the appointment of the new chairman is a constructive step, the valuation of Equal Energy continues to shrink at an accelerated rate. As of April 30th, Equal Energy was trading at the following metrics:
Per flowing barrel: $25,600
Per barrel of reserves: $7.15
It is worth noting that no company with 50% liquids production trades at such low multiples within the junior-to-medium size Canadian O&G space.
Source: TD Waterhouse (April 23rd).
Net Asset Value
We will start evaluating net asset value by looking first at the proven reserves. The company's proven reserves stand at a total of 34.8 million barrels. They are divided as such:
Light Oil: 4.165 million barrels
Heavy Oil: 0.773 million barrels
NGLs: 14.059 million barrels
NG: 114.98 Bcf or 20.48 million barrels
The present value of those reserves stand at $503.3 million, or $16.33 per barrel based on McDaniel price assumptions: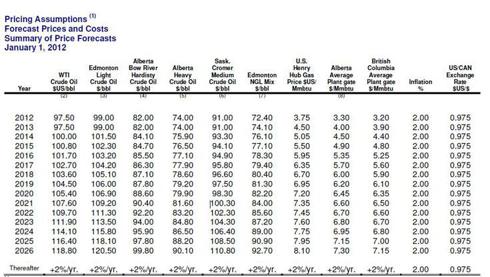 However, it is prudent to use more conservative price assumptions. Fellow shareholder Adam Goldstein, Ph.D., has done the work based on very conservative price assumptions over the estimated 10.8-year life of the proven reserves:
Assumed NG price: $3.5
Assumed NGL prices: $38
Assumed Oil prices: $95
Using those highly depressed prices for NGLs and natural gas over the next 10.8 years, gives us a net present value of $362.3 million, or $10.41 per barrel in reserves.
The above, however, does not include the value of the undrilled inventory on the company's extensive land holdings in the Cardium, Viking, Mississippian and Hunton locations:
Hunton: 40+ locations
Cardium: 30+ locations
Mississippian: 45+ locations
Viking: 150+ locations
What follows is the expected NPV for each location based on the strip pricing on Feb. 8, 2012 (the latest available presentation):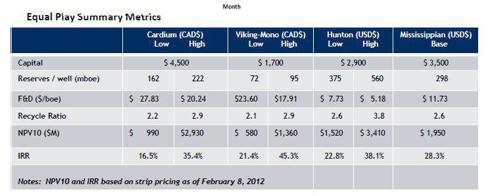 Using the midpoint NPV for each location, we get the following values:
Hunton: $98.6 million
Cardium: $58.8 million
Viking: $145.5 million
Mississippian: $87.75 million
However, we will apply an additional 80% discount to those midpoint NPV numbers to bring it closer to what Atlas Resources (NYSE:ARP) paid Equal for 50% of its Mississippian acreage:
Hunton: $19.7 million
Cardium: $11.76 million
Viking: $29.1 million
Mississippian: $18 million
Total for undeveloped acreage: $78.56 million
Based on the above, the net asset value is as follows:
Proven reserves: $362.3 million
Drilling locations: $78.56 million
Total: $440.86 million
Net Debt: ($147 million)
NAV: $293.86 million
NAV per share: $8.42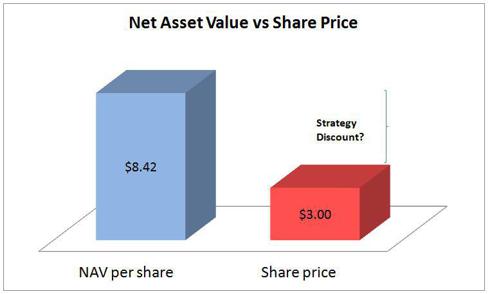 Additional Hidden Value
Equal Energy holds significant amount of acreage in Logan County. Until recently this area was considered out of the Mississippian lime zone. However, two wells were drilled in this area of late, both of which are showing strong oil production. The first one is Matthews 1-33H, to the north of Logan, a well that was drilled by Devon Energy (NYSE:DVN) in February 2012 and has shown a 30IP of 590 boe/d (80% oil). The second one is Wolf 1-29H, drilled by Osage Exploration (OEDV.OB) in April 2012, which has shown a 30IP of 876 boe/d (84% oil). This well is only 12 miles to the northwest of Equal's acreage.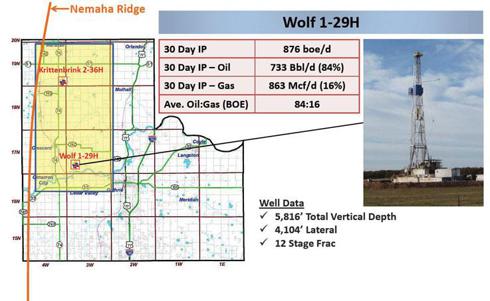 Source: Osage Exploration.
Wolf 1-29H has shown very strong production numbers, much higher than the average Mississippian well:

Source: Osage Exploration.
While it is still early to claim that Equal will be able to prove the commerciality on its Logan acreage, the Osage Wolf well is the strongest indication yet that the company could be sitting on another Mississippian prize. In my communication with the company I was informed that Equal is currently evaluating the Mississippian potential in its Logan acreage.
Failure of Strategy
It is abundantly clear that Equal Energy's management has failed in unlocking shareholder value. At the current share price, the stock trades at a 65% discount to (very conservative) net asset value estimates. If the company was to liquidate tomorrow, shareholders stand to make 180% return on their investment.
So far the reaction of the management team to shareholders' efforts to unlock value has been akin to a deer in the headlights: They have not been able to engage the dissident shareholders in a meaningful discussion regarding the future of the company, nor have they been able to stipulate a clear path forward to unlock and enhance shareholder value. Meanwhile, the ranks of the dissident shareholders continue to swell with close to 20% of shareholders expressing frustration with the path the company is pursuing.
We hope that the replacement of the chairman is a first tangible step in the change of the strategic direction of the company. The dissident shareholders group continues to urge the company to take further steps and to proceed with the mutual fund dividend initiative submitted to the company on March 9, or proceed with a viable alternative path centered toward growth -- or possibly consider a full liquidation of the company.
Equal Energy shareholders refuse to be taken hostage by the company's current failed strategy. A failure to present a plan to the company shareholders by the annual shareholders meeting on May 11 will likely lead to a change of leadership.
Disclosure: I am long EQU.