With a stronger-than-expected economy, inflation near 40-year lows, an increasingly strong currency in the real, and the benefits of the global commodities boom, Brazilian stocks and the iShares MSCI Brazil Index Fund (NYSEARCA:EWZ) have been on a remarkable roll.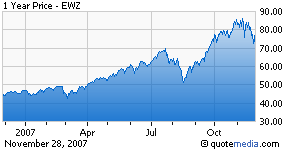 EWZ is the top-performing iShares fund (through Nov. 23) for three-month (34.0%) and year-to-date (65.3%) periods, as well as three- and five-year annualized returns, both of which are above 60%.
Like the Brazilian market and emerging-market funds in general, the rise has been long and steep but periodically interrupted, just as it was last week. Prior to Thanksgiving, EWZ's NAV fell 8% in a week, which was the third-worst performance among all iShares funds.
The country's benchmark market index, the Ibovespa, is down 7.5% since hitting its latest all-time high on Oct. 31, though it remains up more than 500% over the last five years and 37.1% year to date.
Last week's events were a stark reminder of just how risky Brazil, South America, and other emerging markets in general can be.
When investors fear a slowdown, they move away from risk—as they did last week, when news about the U.S. housing slowdown and further credit-market worries led to a sell-off on Wall Street—and emerging markets are one of the first places they tend to flee. This summer, EWZ's NAV fell 26.5% in less than a month, from July 23 to Aug. 16, as the sub-prime crisis took hold. And in 2006, EWZ's NAV dropped 24.3% from May 5 to June 9, when fears of a recession surfaced due to rising interest rates.
EWZ carries a sky-high standard deviation of 29.34, due to a range of factors, keyed by the fact that it's an emerging-market fund in a country that carries a lot of risk.
Many single-country ETFs are narrowly focused, but even compared to its emerging-market brethren, EWZ is highly concentrated. Different share classes of mining giant Cia Vale do Rio Doce (NYSE:RIO) [CVRD] and Petrobras, the state-controlled integrated energy firm, make up the top four holdings and 47.6% of the ETF's assets. Fortunately, both have been among the strongest big-company stocks in the world recently: their various share classes have either doubled or nearly doubled year to date despite recent dips.
Petrobras made big news this month by announcing the discovery of the massive Tupi oil field off the coast of Rio de Janeiro, estimated to have five to ten billion barrels of recoverable oil and natural gas, which would give Brazil the world's eight-largest oil reserves.
Petrobras (NYSE:PZE) shares jumped 14% on the Nov. 9 news, while U.S.-listed shares of the company leapt 24%. But word that extracting the oil may prove extremely expensive, together with lackluster third-quarter results, sent both share classes right back down a few days later.
CVRD, the world's largest exporter of iron ore, has benefited not just from the rising tide that has boosted all metals stocks over the past four years, but also from a direct tie to China's booming growth: the company has a long-term contract to supply that country, according to Morningstar.
China has paced a surge in worldwide demand for iron ore, which has helped CVRD repeatedly post impressive profits and sent shares skyrocketing.
Still, the company remains susceptible to downturns in a cyclical pricing environment. In addition, CVRD shares have been whipsawed by rumors connecting the company to the potential merger of its two Anglo-Australian iron rivals, BHP Billiton (NYSE:BHP) and Rio Tinto (RTP). BHP is trying to take over Rio in a deal valued at or near $128 billion, and speculation is that CVRD may either help BHP or submit a rival bid.
The Brazilian government controls both CVRD and Petrobras through special shares, and investors should be wary of such situations. Value for shareholders can take a back seat to the government's agenda.
Whether last week's pullback is a sign that the Brazilian stock party is coming to an end or just another blip on a remarkable run that has so far refused to die, no one knows. A global slowdown would undoubtedly hit EWZ hard, but whether such an event is coming is the subject of much debate.
EWZ has been on an incredible run, and investors looking to tap into China's or Latin America's growth with a small stake here have reaped the rewards. But this fund's high level of risk and volatility is also well- documented, and it should play a limited role in the portfolio of investors with the stomach to handle its spikes and dips.