When considering taking long or short positions, it is important to first recognize if a company's fundamental valuation is in or out of sync with its technical chart. When out of sync, that condition is often corrected over time so that both the fundamental valuation and technical chart are once again in sync. Voila!
I believe Bank of America (NYSE:BAC) is currently a near-perfect example. Both the fundamental valuations and the technical chart are in bearish sync.
If a company is not in sync, it is an easy conclusion for me that the company should be avoided until it is. This holds true for taking long positions in bullish cycles and taking short positions in bearish cycles. I prefer to use the words "in favor bullish or bearish" and "out of favor bullish or bearish" to describe this often temporary condition when going through my analytic procedures. That makes my comparative analysis both a lot of fun and narrows down the workload. Using my language, Bank of America is clearly an in favor bearish company.
As you know, Bank of America is one of the world's largest banks with worldwide scope in financial services. The stock price has declined over the past several years due to worries about the state of the global economy and extremely poor senior management. Over the past five years, Bank of America lost about 80% of its value; compared to other banks, this is quite meaningful to my valuation. I believe the company is again an eventual short sell given its unsound fundamentals, financial statements, valuations, and technical chart. This opinion is a loud warning.
Animated one-year and twenty-year charts are available for your review here.
Fundamental Valuation
I recently have read several articles that made the statement, "long-term trends are intact." If you are going to be a successful investor in this market that has clearly changed drastically in the past few years, you might well be advised to forget the usual meaning of the phrase "long term." My definition of long term is over one year. I share this because these are not the old days that I so fondly remember; these are hardball days that you must understand if you are seeking consistent annual profits.
I share this above opinion within my fundamental valuation in this article because even valuations are skewed and distorted by supposed experienced financial analysts to fit the story they think investors want to hear. That is, for me, a sad but accurate remark.
Current Valuation of Bank of America

| | |
| --- | --- |
| Current Price: | $8.2 |
| Target Price: | plus 10% / minus 30+% |
| Trailing P/E | N/A |
| Forward P/E (fye 12/31/13) | 7.7 |
| PEG Ratio | 0.89 |
| Price to Sales: | 1.14 |
| Price to Book: | 0.41 |
| Valuation Divergence: | (minus) - 27% |
Source of raw data: Yahoo Finance.
Notes for the above table: Target price is calculated and produces a probable range of the current price over the coming three to six months. Valuation divergence is calculated and produces a plus or minus percent of price over the following three to six months after a given bullish or bearish inflection point.
Obviously, this is not a very good valuation and target price projection. More in-depth fundamental analysis and comparative studies do not brighten its projected future. Earning growth is projected to fall to half of current figures by 2014 and reach 0% by 2015. Add to that appropriate technical and consensus analysis and you have a confirmation that Bank of America currently remains a longer-term loser. Data change over time, and therefore valuations must updated frequently. I recommend holding cash for a possible near-term bearish inflection point and at that time perhaps taking a short position.
Earnings Chart
Click to enlarge image.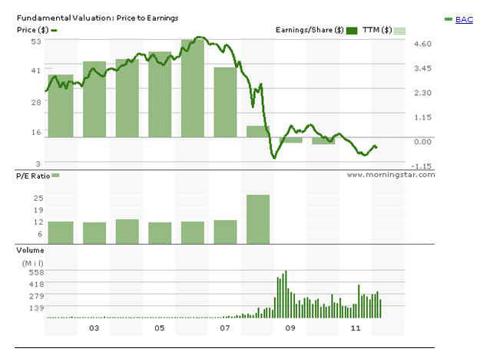 Source: MorningStar.

Regarding the above chart, note the following:
Price/Earnings (P/E): A stock's current price divided by the company's trailing 12-month earnings per share. By comparing the current financial statements, Bank of America has not come close to atoning for its past sins. Taking on debt, be it from the government or elsewhere, often spells future trouble. Although it has repaid all known debt, it remains questionable whether or not the company has truly strengthened its financial statements.
For the income statement (Source: MorningStar), click here. I have reviewed this income statement and do not find anything to take issue with.
For the balance sheet (Source: MorningStar), click here. I have reviewed this balance sheet and do not find anything to take issue with.
Technical Opinion
It is clear from the above price charts that there is a lingering and severe problem with Bank of America. It is clear that a recovery has not yet begun. (Click here for more.)
Summary
Bank of America is a company that is trading in sync with its fundamentals and technical chart. For me, that means it is in favor with my analytics. The remaining question is whether it is currently in favor bullish or bearish? The answer is that the company is clearly in favor bearish.
I suggest that any bearish valuation and technical opinion are sufficient for you to consider holding cash. For aggressive investors, perhaps waiting for an opportunity to take short positions in Bank of America is appropriate.
I suggest taking a few minutes to review of my 20-year chart, as it may be convincing graphically.
Conclusion
Bank of America, like so many Dow 30 and large-cap companies, is not the quality company it used to be. This fact is also a warning.
On my Instablog and in past articles I have written for Seeking Alpha, I frequently focus on the Dow 30 industrial components such as Bank of America. I am currently a strong bear who has focused my recent postings on Instablog on those Dow companies that I believe should not be currently held in your portfolio. It is important to understand that holding cash can be a wise choice during time frames that are questionable or bearish. I have not included Bank of America in my Instablog postings to date, but will do so in the near future.
Disclosure: I have no positions in any stocks mentioned, and no plans to initiate any positions within the next 72 hours.