Starbucks (SBUX) has slowed down after a long and prosperous run. This does not mean the stock will not continue to move up. But we see three reasons for its slowdown and expect the stock to continue in this direction. We also see an opportunity to take advantage of this temporary change.
Stock Has Grown Faster Than the Market
One reason the company has turned back is because of its quick move up. Starbucks shares had run up 65% over the last 12 months, 16 times the gain for the S&P 500. At a certain point there is going to be some form of profit-taking. As long as the news is good investors will let it ride, but once anything problematic develops, money will start flowing out and those who have enjoyed the long ride up will take their profits and move to the sidelines. A couple things have happened to cause this.
Western Europe
If you have kept up on things, you are familiar with the dark economic reality of Western Europe. In the last week, both Great Britain and Spain have entered into recession. Starbucks stock fell after the company reported EPS of 40 cents per share, just above estimates for 39 cents, but same-store sales missed estimates and the company's operations in Europe remain a weak spot. Starbucks tracks the sales from cafes open at least 13 months. These sales fell 1% in the Europe, the Middle East and Africa (EMEA) region during the latest quarter while analysts were expecting a 2.2% rise in EMEA same-store sales. This is its first decline in same-store sales since 2009.
High Cost of Coffee
The company disclosed that high commodity prices were taking their toll on costs and putting pressure on the bottom line. Unfortunately, it has locked in prices for its coffee for this year and most of next year, so the benefit from lower commodity costs will have to wait. It would be no surprise that investors appear concerned over the company's margins. Commodity cost pressure, particularly high coffee prices, helped erase $63.5 million from operating income, so there is concern about future losses.
These three observations will keep Starbucks moving in this direction temporarily, but it will turn bullish before the year ends. In the meantime, this provides perfect the opportunity to take advantage of a short-term income strategy.
Click to enlarge image.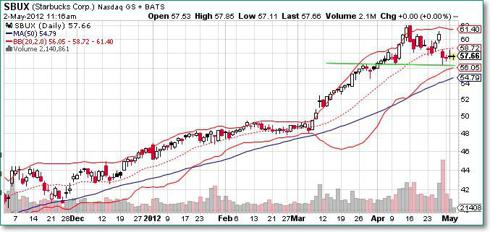 The Options Play
Buy a July 2012 put with a '57.5' strike priced at $2.77
Sell a July 2012 put with a '55' strike (priced at $1.71)
Net Debit to Start: $0.76
Maximum Profit: $1.74
Reasoning Behind the Trade
Investors are taking profits on (not-so-good) news from Starbuck's recent quarterly report. That will continue.
Bearish momentum has already started.
Higher coffee prices will continue to eat at profits through the year.