Cooper Industries (CBE) makes and sells electronic equipment that is either energy or safety related. The energy and safety equipment includes fire detection, emergency lighting, and hazardous electrical equipment. Electrical it produces includes: products includes circuits, switches, wirings, light fixtures.
Cooper has everything an investor likes to see in a quarterly report. Profits and earnings were up from a year ago. Sales were up by 9% from year to year. And the company raised its whole 2012 outlook expecting total revenue to grow from 6% to 8% for the year. A lot of this was due to stronger demand in the industrial and utility markets.
(click to enlarge)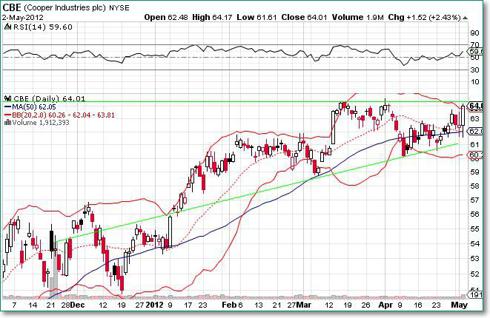 Both Piper Jaffray (PJC) and Oppenheimer (OPY) raised Cooper Industry price target (73-75) and gave it an Overweight rating. Growth in specific industries that the company targets in North America is helping. These include lighting, transmission and distribution (T&D) upgrades of lines and poles.
We are looking for continued long term growth. Presently the stock has been consolidating since mid March in an ascending triangular pattern. The ascending triangle is a bullish formation that usually forms during an uptrend as a continuation pattern. There are instances when ascending triangles form as reversal patterns at the end of a downtrend, but they are typically continuation patterns.
A good entry point would be just as the stock breaks out above the 64 resistance in increased volume. The stock should easily continue another 15% and increase as the economy grows.