Silver Wheaton
Ticker: SLW
Share Price 5/1/2012: $30.53
Shares Outstanding 3/22/2012: 353,563,679
Market Cap: $10.8B
Website here
Company Overview
Silver Wheaton (NYSE:SLW) operates as a worldwide silver streaming company. The company has 19 long-term purchase agreements, three of which are under development: Pascua-Lama, Rosemont, and Loma de La Plata (Navidad). The company acquires future silver production (and to a much lesser extent, gold) from its counter-parties for a negotiated up-front consideration plus approximately $4 Oz Ag upon delivery.
2011 Key Points
24,577,000 Oz of Ag produced
18,436 Oz of Au produced
Revenue: $730mm
Net Income: $550.0mm ($1.56 per share)
Cash: $840.2mm ($2.38 per share)
Debt: $78.6mm
Liquidity: Cash + $400mm undrawn revolver
Employees: 25
2011 Ratio Analysis: SLW

P/E

19.6

Forward P/E

17.7

P/EBITDA

17.5

Price to Sales

14.8

Price to Book

4.1

Debt to Equity

3%

Current Ratio

5.0

Gross Margin

88%

Operating Profit Margin

76%

Net Profit Margin

75%

ROA

19%

ROE

21%
Analyst Estimates: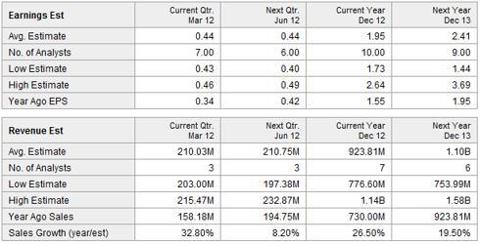 * Source:Yahoo Finance
Pascua-Lama Mine:
The Pascua-Lama mine is located on the border of Chile and Argentina in the Frontera district. As of December 31, 2011, Pascua-Lama has proven and probable reserves of 676mm Oz Ag. Production is projected to start in mid-2013. Pre-production capital is expected to be approximately $5B, of which 55% has already been committed as of YE 2011. Silver Wheaton is entitled to 25% of annual silver production for the life of the mine, which is expected to be 25-plus years. The first five years of the mine are expected to produce approximately 36mm Oz Ag annually with 25% (9mm Oz Ag) going to Silver Wheaton. The life of mine average annual production is forecast to be 20-25mm Oz Ag per annum, of which 5-6mm Oz Ag belong to Silver Wheaton. The Pascua-Lama project is the biggest contributor to Silver Wheaton's production growth, which is forecast to be approximately 43mm Oz Ag by 2015. If production is not running at a minimum of 75% of capacity, the shortfall is guaranteed by three other Barrick (NYSE:ABX) mines through 2015, greatly reducing Silver Wheaton's risk.
Analysis of Reserves: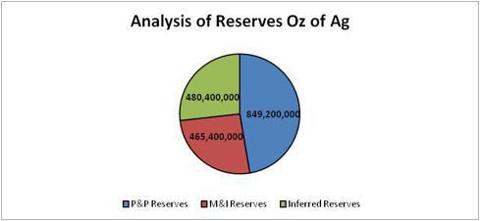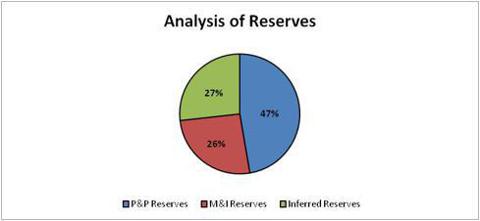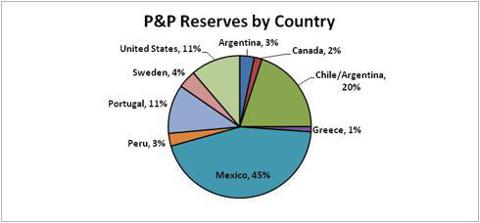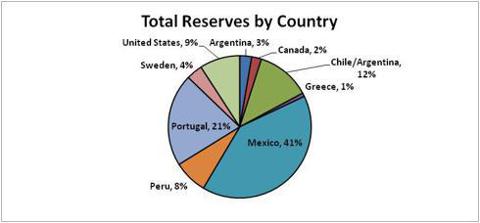 Silver Wheaton's reserves are extremely well diversified, and over 50% of its reserves are in miner friendly countries including: Mexico, United States and Canada. By diversifying Silver Wheaton reduced its production exposed to issues encountered at any single mine, and the political risk than many of their competitors face.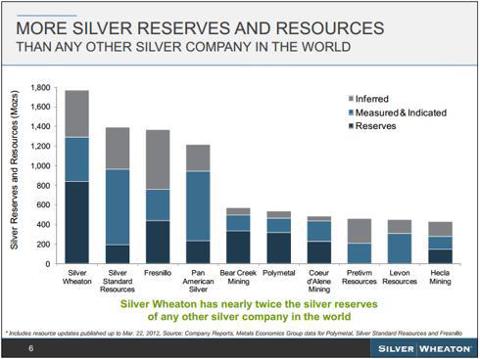 * Source: Silver Wheaton Presentation (last chart only)
With more reserves than any other silver company in the world, and having such a low cost structure, Silver Wheaton is seen as the best of breed in the silver mining industry. Any future increases in the silver price should benefit the company greatly, as they are extremely levered to the price of silver. In a declining silver price environment Silver Wheaton is much better protected that other miners with a higher cost structures, due to Silver Wheaton only paying approximately $4 Oz Ag produced on existing contracts, and keeping G&A expenses extremely low with only 25 employees.
Forecast Production and CAPEX: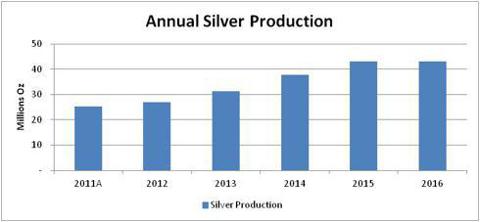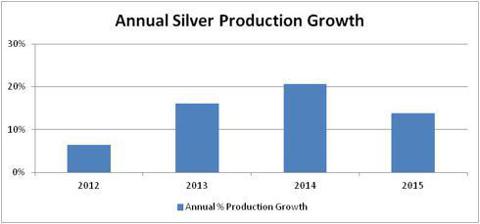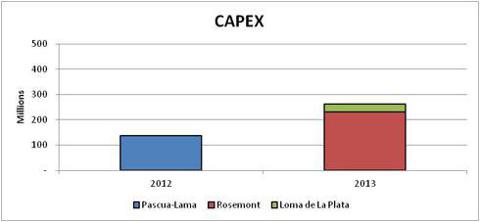 Analysis of Mines: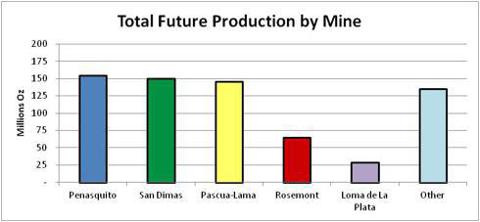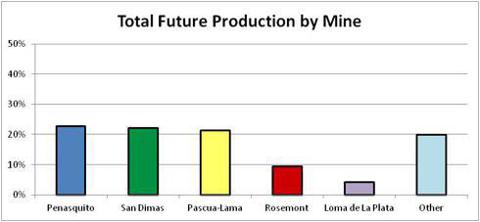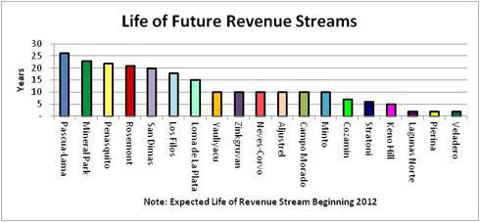 Having five mines with an expected life of 20-plus years, which includes all four of their largest mines by total forecast production, assures Silver Wheaton will have strong continued production well into the future.
Reserve Valuation Metrics:


Precious Metal Miners as a Whole:
Precious metal miners are extremely undervalued relative to the price of gold as depicted by the Gold/XAU ratio, which is currently at 10.1:1.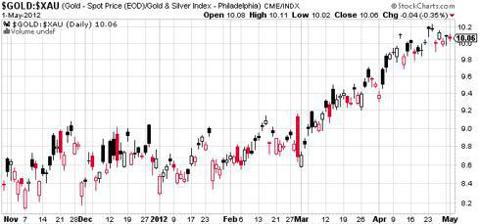 * Source: StockCharts
Silver Wheaton Projected 5 Year Income Statement: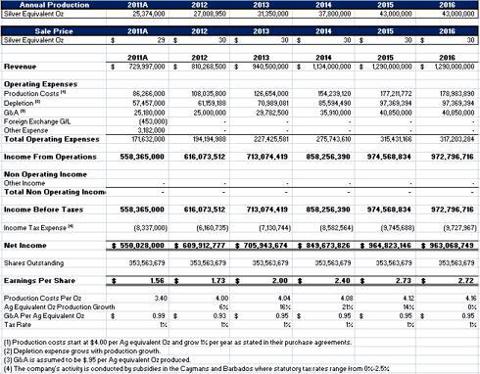 Silver Wheaton Projected 5 Year Common Size Income Statement: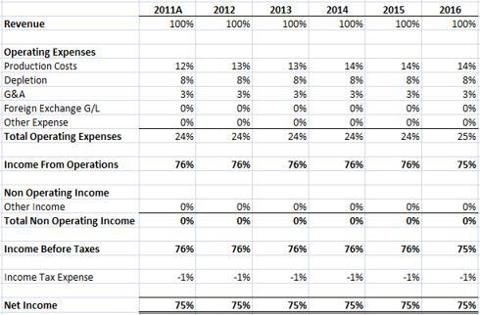 Coming in Part II:
In Part II of my analysis I take a deep dive into estimating Silver Wheaton's value per share using multiple valuation methods, including a full discounted cash flow analysis, and provide a detailed investment hypothesis.
Disclosure: I have no positions in any stocks mentioned, and no plans to initiate any positions within the next 72 hours.