The Russell 1,000 is up 4.31% since Monday's close. Since then, 904 stocks in the index are up and just 94 stocks are down. Below we highlight the 25 best and worst performing stocks in the index since the 11/26 close.
As shown, Tenet Healthcare (NYSE:THC) and VMware (NYSE:VMW) are tied for first with gains of 22.75%. These two stocks are followed by CBG, FRE, ATVI, ACF, MGI, SPLS and ETFC.
In the table we also include each stock's performance from the 10/9 market top to the close on 10/26. Of the list of best performers, just 4 of the best performing stocks over the past two days were up from 10/9 to Monday's close -- THC, ISRG, WFR and SPWR. These names have recently done well during both market declines and rises.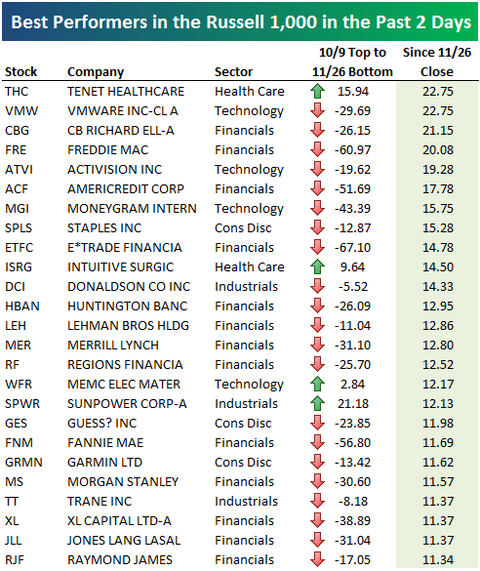 When the market has gains like this, it's tough for investors who own stocks that are down. But there are always sure to be some. Bare Escentuals (BARE) leads the list of losers over the past two days at -14.76%. BARE is followed by IAR, MBI, WNR, ABK and MRVL.