Shares of natural gas giant Chesapeake Energy Corp (NYSE:CHK) are down by just more than 40% over the past six months. The two major reasons for the decline have been falling natural gas prices and the controversy surrounding CEO Aubrey McClendon. However, because of the price drop, there are now some reasons to consider CHK.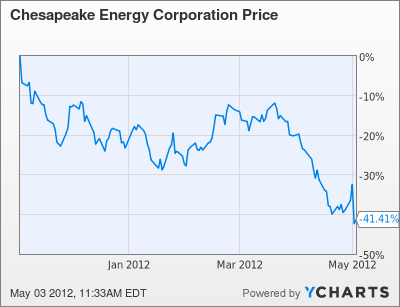 Capitulation
Yesterday, May 2, 2012, CHK stock fell by nearly 15% on massive volume of 146 million shares. The stock sold off following disappointing earnings and concerns about CEO McClendon. The massive volume coupled with bad news could signal that CHK has finally capitulated.
Valuation
CHK trades at just 0.597 times book value. This valuation represents an all time low for the stock. Other natural gas companies are trading at a significantly higher valuation. Southwestern Energy Co (NYSE:SWN) trades at 2.73 times book value while EQT Corp (NYSE:EQT) trades at 2 times book value.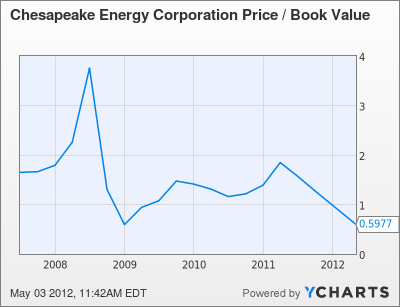 Natural Gas Price Rally
As shown by the chart below, Natural Gas prices have rallied substantially over the past few days. Over the past month, spot natural gas prices are up over 18%. CHK shares have not responded to the rally in gas prices as the stock has been trading on concerns over CEO McClendon. The increase in natural gas prices increases both the value of CHK's assets and earnings. The gas price increase is especially important because CHK is mostly unhedged. From the conference call:
We remain unhedged on the gas side and are hopeful some of the worst gas prices may be behind us. From a liquids perspective, we are 60% hedged for the remainder of 2012 at an average price of approximately $103 per barrel. I would like to mention that we removed our oil and natural gas hedges during the market swing caused by Greek debt worries early last fall. The plan was to put them both back on, but gas prices never recovered enough to do so, in large part due to the abnormally warm winter.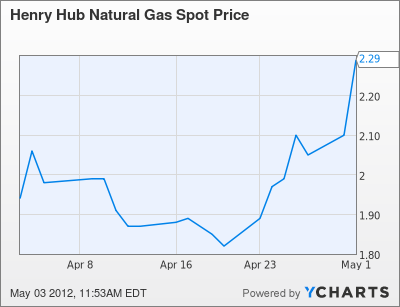 Buyout Potential
Because of the decline in share price, and the lack of clarity over the leadership of the company, CHK is now an attractive takeover target. CHK has already had a great deal of success in selling certain assets such the Fayetteville Shale asset sale to BHP Billiton (NYSE:BHP) for $4.75 billion. Other oil giants such as Exxon Mobil (NYSE:XOM), BP PLC (NYSE:BP), and Conoco Phillips (NYSE:COP) have all shown a desire to acquire natural gas assets in the past. In 2009, Exxon decided to buy natural gas producer XTO Energy for $41 billion. In early April, CHK announced a $2.6 billion asset sale to Exxon. CHK CEO McClendon said:
We plan to monetize other non-strategic assets during 2012, including our assets in the East Texas Woodbine play where we own approximately 50,000 net acres of leasehold.
With CHK now worth about $11 billion, it is possible that a major oil company comes in and acquires all of CHK at a substantial premium to the current price.
Conclusion
While the market seems to be focused on the negatives for CHK, there are some reasons to be bullish on CHK. The situation surrounding the leadership of the company may continue to worsen, but the stock has largely priced that in. CHK's valuation along with higher natural gas prices and buyout potential make CHK a better long than a short right now.
Disclosure: I have no positions in any stocks mentioned, but may initiate a long position in CHK over the next 72 hours.