Even though Avon (NYSE:AVP) has been boosting its dividend payouts over the past several years, the beleaguered cosmetics producer is now facing financial distresses that may endanger the company's generous dividend disbursements. Dividends at Avon have increased, on average, by 10 percent annually since 2003, or, cumulatively, by nearly 120 percent between 2003 and 2012. In the past, strong earnings performance was the key driver behind dividend increases. However, in recent years, the higher ratio of payouts out of earnings has sustained growth in dividends. Now, the fall in profitability and the absence of a potential for maneuvering the dividend payouts are threatening the continuity of high dividends at Avon.
Avon is currently paying $0.92 a share per annum in dividends to its shareholders. At current market prices of Avon's stock, this payout equals to a hefty 4.6 percent annual dividend yield. Avon's dividend yield is much higher than the industry average yield paid by the company's peers, which currently hovers around 3.1 percent. Estee Lauder (NYSE:EL) yields only 0.8%, whereas Inter Parfums (NASDAQ:IPAR) has a dividend yield of 2% and Revlon (NYSE:REV) stopped its dividends after 2009. What's more, partly due to the decline in Avon's stock price in recent years, but mainly because of the consecutive increases in dividend payouts, Avon's dividend yield is today 1.4 percentage points higher than its average for the past five years. For many investors, these observations may suggest an attractive investment opportunity in Avon's stock; however, a closer look at the trends in Avon's operations and dividends paints a less rosy picture.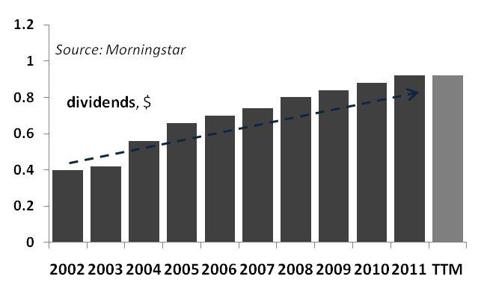 Click to enlarge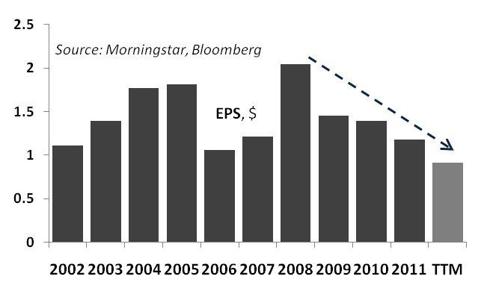 Click to enlarge
While Avon has increased considerably its dividend payout over the past few years, the increases in more recent times have come mainly as a result of a higher payout ratio, not the strong earnings performance. Between 2002 and 2011, Avon's dividend payout ratio averaged 50 percent. In 2011, it increased to 78 percent of Avon's earnings. The recent trend of increases in the payout ratio stems from the company's commitment to increasing the shareholder value by returning cash to investors. This commitment has resulted in a 15 percent increase in dividends since 2008. However, the noted dividend boost has taken place amid a decline in the firm's earnings of 42.2 percent over the same period. These developments have resulted in a progressively much larger share of Avon's earnings being disbursed as dividends.
The higher dividend payouts may also be indicative of the absence of the potential for growth, while the drop in earnings is suggestive of the high costs structure and poor management at Avon. Indeed, in the past three years, Avon has seen a moderate growth in revenues, while costs have increased substantially, hurting the company's bottom line. Net income and earnings per share have been deeply in red for the past three years, and free cash flow has increased weakly. Future growth prospects are not bright, as the company struggles in North America and Europe. These trends suggest that Avon will find it increasingly difficult to continue to grow its dividends. It should also be noted that the recent developments have turned Avon into a takeover target, with a smaller, privately-held rival Coty Inc. submitting an unsolicited, non-binding bid for $10 billion. The bid was rejected on the grounds it was opportunistic and the one that undervalues Avon.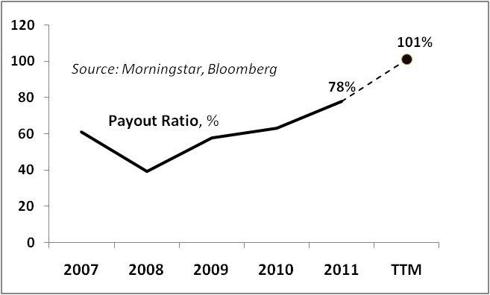 Click to enlarge
With the drop in profitability, Avon may have already reached its limits regarding the dividend growth policy. Avon has indicated that it is committed to keeping its dividend at the current level in 2012. This is the first time since 1989 that the company will not hike its dividend. What's more, judging by the statements of the just-released quarterly earnings report, presented on May 1, 2012, in which Avon said it would consider its dividends in the context of a broader strategic restructuring, the company may even cut its dividend later this year or early next year. This view is supported by an observation that, at the current dividend rate and using earnings on a trailing-twelve-months basis, Avon may be already paying more than all its earnings in dividends (see the chart above).
The lackluster growth and escalating costs imply that any improvement in the firm's bottom line will remain elusive. Without growth in earnings, Avon will not only be unable to increase its dividends, but will likely have to sacrifice the payouts in order to shore up the company's prospects.
Disclosure: I have no positions in any stocks mentioned, and no plans to initiate any positions within the next 72 hours.