Pain Therapeutics (NASDAQ:PTIE) is focused on the development of improved treatment options for pain management, as well as earlier stage research programs for metastatic melanoma and hemophilia. The Company's lead pain drug candidates are designed to produce safer, abuse-resistant forms of opiate analgesics, which represents a $5.8 billion annual market in the United States alone based on 2006 IMS Health data.
Remoxy is the Company's lead drug candidate with pending Phase 3 results due before year-end. Remoxy is an abuse-deterrent form of twice-daily, controlled-release oxycodone (OxyContin is the well known brand name version) which is resistant to injection, snorting, and other tactics designed to get high by circumventing the controlled-release mechanism and releasing large amounts of the drug. Under the terms of the SPA agreement with the FDA for Remoxy, just one pivotal Phase 3 trial is required to file a NDA. The randomized, double-blind, placebo-controlled, multi-center pivotal trial will randomize patients to receive either Remoxy (10 – 80 mg daily) or placebo for 12 weeks. The primary endpoint is reduction in pain scores over three months compared to baseline, which should be easily attainable for Remoxy since its active ingredient is the widely used opiate painkiller oxycodone, and it is being compared to placebo for pain relief in this key clinical trial. An existing $400 million strategic alliance with King Pharma (KG) to develop and commercialize Remoxy along with three other abuse-deterrent opiate analgesics includes the following terms: an upfront payment fee of $150M cash, $150M in clinical and regulatory milestones, $100M in R&D expenses, and a 20% royalty (after an initial 15% royalty rate on the first $1 billion in cumulative net sales).
I expect the Company to report successful Phase 3 results in its pivotal trial for Remoxy before year-end supporting a filing with the FDA. The Company is set to receive $15M upon filing and another $15M upon Remoxy approval, in addition to $115 million in remaining milestone-based payments for clinical/regulatory events for Remoxy and other abuse-resistant opiate compounds as part of a late 2005 development and commercialization agreement with King Pharma. At expected late 2008 Remoxy approval, the Company should have roughly $350M in cash and zero debt with a current market cap that is just $450M. My conservative sales estimates of $400M in 2009 and $600M in 2010 with over $1 billion peak sales potential result in $60M (2009) and $90M (2010) in royalties from King Pharma. My expected 2009 - 2010 price range of $30 – $40 is based on 30X – 40X earnings power of at least $1/share in 2010.
Many states have launched legislative efforts to curb and/or monitor the illegal use of OxyContin. Privately held Purdue Pharma also faces the possibility of OxyContin removal from the market once an abuse-deterrent equivalent such as Remoxy is approved. Purdue Pharma has faced increased scrutiny from multiple government agencies including the DOJ, FDA, DEA, and state legislators. Thus, Purdue Pharma is unlikely to file a patent infringement suit to delay Remoxy as the widespread abuse and diversion of OxyContin is well known among legislators and government agencies. Also, Purdue Pharma and several top executives agreed to pay $634.5 million earlier this year as they plead guilty to fraudulently marketing of the drug OxyContin, which generated $2.8 billion in sales from January 1996 to June 2001 (the period under investigation by the DOJ). Despite this increased scrutiny on Purdue Pharma, OxyContin still generated 1.4 million prescriptions and $682 million in sales during 2006, which is down from a peak of about 6.6 million prescriptions during 2003. Finally, short interest in Pain Therapeutics currently stands at about 4.5 million, representing over 10% of total shares outstanding and a massive 20 days to cover -- setting up for what should be an explosive year-end with the release of expected positive pivotal Phase 3 Remoxy results.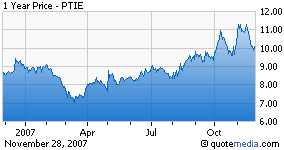 Disclosure: none