While November has likely been the most difficult month to trade this year, American Public Education (NASDAQ:APEI) has spent the month doubling from its IPO price. The company offers online postsecondary education directed towards the needs of military and public service communities. While 80% of its students either serve in the military or are military veterans, the school is building a following among professionals in the police force, firefighters, ambulatory personnel and other civilian demographics. Revenue growth has averaged roughly 40% per year since 2002 and the majority of this growth has come as a result of personal referrals which helps to cut down on the marketing expense necessary to drive such growth.
This year has been a watershed event for the company not only because of its public listing, but more so because of its astounding growth. In Q4 of 2006, the groundwork was laid as the school gained provisional access to the Title IV program. This program allows students to access the Federal Student Loan Program making the educational programs much more affordable to many prospective students. The additional enrollment as a function of the Title IV program was so great that management made a decision to cut back drastically on the marketing spend while they coped with the additional demand from the program. Access to the program is provisional as the company completes its introductory period and continues to work on compliance with the regulations. It is expected that the provision will be marked as permanent sometime in mid 2008 assuming management is able to keep up with compliance standards.
The significant growth has placed a bit of strain on the company's operations and has required additional investment in infrastructure as well as personnel. A new information technology system has been installed and dubbed the PAD system (Partnership At a Distance). This new system will go a long way to organizing scheduling of 600+ classes that offer monthly semester starts, and managing other administrative tasks which come along with the growth. Management noted that they had a robust waiting list of qualified teachers, but that it took a bit of time to get them trained and integrated into the system. Due to the challenges, management decided to pair back its marketing efforts but has now stated that it will ramp those promotion levels back up in Q4 and into 2008.
New course offerings should continue to offer attractive options for students. APEI is adding new masters programs and is also working on beginning work on doctoral programs. Relationships have been established with some other key educational facilities to allow transfer of credit hours to other institutions. Having this flexibility should make APEI even more attractive to potential students who may start their education with APEI while serving on assignment overseas. The student would still have the ability to complete the program at another school once he or she returns to the United States.
Looking to the future, the company faces tough comparables from its hefty growth in 2007. While building on the growth from last year may be challenging, management seems very much up to the task and is projecting net income of 2.3m to 2.7m for Q4 (significantly higher than last year). The stock is pricing in a good bit of growth trading at nearly $40 with earnings likely to be near $0.70 per share this year. However, management has proven its ability to ramp up its programs and this appears to be a very dynamic and exciting environment for the company and the niche they serve. While I do not currently have a position, and would not recommend buying at these levels, this name is one I want to keep on my radar so that I can pick up some shares on a pullback to a more reasonable level.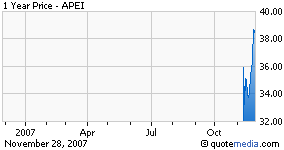 Disclosure: Author does not have a position in APEI