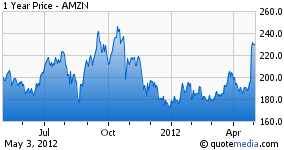 I don't own any Amazon (NASDAQ:AMZN) stock and don't plan to buy any now, precisely because the P/E ratio is too high. With that said, though, that doesn't mean I'd be selling if I did have it; I simply would refrain from accumulating, because it only makes sense to buy when something is undervalued - not fairly valued or overvalued. And I do believe that Amazon's exceedingly high P/E ratio (currently over 188) is warranted when one considers the growth opportunities the company is positioned for.
Here are the biggest opportunities I see in front of Amazon (AMZN):
1. Energy and Transportation. With its massive infrastructure of shipping warehouses, data centers and now stores and movie studios, Amazon is a titan in all regards. As macro trends drive up the cost of energy and transportation for all, Amazon will face increasingly greater incentives to vertically integrate in ways that reduce its energy and transportation costs. Amazon founder and CEO Jeff Bezos is an investor in nuclear fusion startups, I think the organization may have the awareness of how to capitalize upon this opportunity.
2. Movie Studios. Media will be all about vertical integration. In other words, one company will provide you the device, catalog of artists/digital jukebox service, and perhaps other things like merchandise and social networking. Amazon is already working on its own movie studio, has its own line of tablets, as well as its own video app widely being incorporated into the emerging class of TVs and set top boxes (like Roku). Online movie incumbent Netflix (NASDAQ:NFLX) still lacks its own hardware, does not have the kind of experience with media integration that Amazon has via its Kindle books endeavors, and does not have the same merchandising opportunities it can draw upon. In other words, Amazon is extremely well-positioned to leverage its network to develop new business models and new ways of financing movie production that Netflix and many others will have difficulty matching. And given Amazon's competence in entering diverse lines of business and putting it all together, it seems the company has the management structure needed to pull this off.
3. Hardware. I believe in hindsight the greatest contribution Apple (NASDAQ:AAPL) will have left the world is the blueprint by which a company can sell multiple devices to customers - using the sale of each new device to drive sales of all the others. While Apple may have pioneered this strategy, though, I believe Amazon will be the ones who perfect it. Some analysts who have researched Amazon's supply chain expect a Kindle phone is set for Q4 2012. The more hardware Amazon gets out there, the more it is putting its a personalized storefront with one click checkout within reach of the customer as possible - all of which will drive greater media sales, app/game sales, ecommerce sales, hosting/carrier fees, ads for daily deals, and whatever else Amazon may incorporate in the future.
Of course, amazing opportunities require a top management team to execute them. And that is where I believe Amazon shines brightest. The vision CTO Werner Vogels has brought to Amazon Web Services has provided the company with a unique and vital competitive advantage, and of course Jeff Bezos has already been hailed as the heir to throne left vacant by Steve Jobs. Here is an interesting paper citing the tendency of companies whose CEOs are founders to outperform other companies. I'm always skeptical of such studies and their ability to properly control for all other factors, but intuitively, it is a concept I'm very much in agreement with and is generally something I insist upon before making a personally significant investment in a company.
Because Amazon understands vertical integration, and because management has proven itself capable of generating network effects in terms of add-on sales and getting more revenue from each customer, I think the stock's P/E ratio currently at 188 holds justification - and that shorts expecting the stock price to collapse may not be on solid ground. I only wish I had purchased Amazon before its stock came to a more full valuation.
Disclosure: I have no positions in any stocks mentioned, and no plans to initiate any positions within the next 72 hours.