MACRO AND HOUSING
Markets Soar After Fed Comments Rekindle Rate-Cut Hopes
U.S. equity markets were up strongly Wednesday after Fed Vice Chairman Donald L. Kohn rekindled investor hopes for interest rate cuts, sending the Dow Jones Industrial Average soared 335 points (2.59%) to close at 13,293. Kohn said some of the economy's improvement has unraveled over the past few weeks amid renewed economic turbulence. He reiterated the need for "nimble" Fed policy in order to address economic risks. "The increased turbulence of recent weeks partly reversed some of the improvement in market functioning over the late part of September and in October," Kohn told the Council on Foreign Relations. "Should the elevated turbulence persist, it would increase the possibility of further tightening in financial conditions for households and businesses," he said. The statement comes in contrast to those of other Fed officials, who over recent weeks have signalled they are generally satisfied with present interest-rate levels in view of the present economic outlook.

"Now you have Kohn pointing out the Fed can take action to offset what is happening in the financial markets; it does suggest the Fed is being responsive and is not just focused on inflation," said LPL Financial strategist Jeffrey Kleintop. The vice chairman said that while reducing interest rates in the face of risk-induced crises may reduce the penalty incurred by those who exercised poor judgement, "we should not hold the economy hostage to teach a small segment of the population a lesson." He concluded: "Uncertainties about the economic outlook are unusually high right now. In my view, these uncertainties require flexible and pragmatic policymaking... we will act as needed to foster both price stability and full employment," (full speech).

WSB Sponsor
Home Resales Fall; Mortgage Availability Improves
Existing home sales fell for the eighth straight month in October, driving home supplies to 22-year highs, the National Association of Realtors reported Wednesday. Sales fell 1.2% to 4.97 million, the slowest pace in eight years. Unsold home inventory was up 1.9% to 4.45 million, a 10.8 month supply, also the highest level since 1999, and the highest since 1985 for single-family homes. The median home price was $207,800, down from $218,900 in October 2006 and $210,400 last month. On a brighter note, NAR chief economist Lawrence Yun Yun noted mortgages were becoming more consumer-friendly: "Mortgage availability has improved as evidenced by much lower mortgage interest rates and a sharp jump in FHA endorsements for home purchases. A trend away from subprime mortgages to FHA loans, which often carry much lower interest rates, is a positive development for consumers and the housing market going forward." Other economists were more circumspect. "Until credit conditions return to something approximating normality and prices fall further, the existing home sector will not see supply and demand move back towards equilibrium levels," IDEAglobal's Joseph Brusuelas said. "There seems to be no silver lining in the darkening cloud overhanging the housing market. The risks that the weakness in this sector will pull the overall economy into recession are rising by the hour," David Resler of Nomura Securities remarked. Economists are concerned consumers will cut back in the face of deflated property values, compounding a slowdown in economic growth. "Inventories are helping put tremendous downward pressure on prices," said FTN Financial economist Christopher Low. "I expect we're going to see a pretty significant slowdown in consumer spending in the first half of next year."

Beige Book: Growth Slowing; Housing Slump To Last Through Late 2008
The Federal Reserve said in its Beige Book survey, released Wednesday, that the housing sector is still "quite depressed" and unlikely to emerge from its slump until late 2008 at the earliest. "The national economy continued to expand during the survey period of October through mid-November but at a reduced pace," the report said. "Demand for residential real estate remained quite depressed, with only a few tentative and scattered signs of stabilization amidst the ongoing slowdown." Seven out of 12 districts posted slower economic activity, with the remaining five seeing "modest expansion or mixed conditions." Labor markets were "relatively tight overall but loosened in some areas," while wage pressures stayed unchanged. Price pressure on goods and services "remained modest," excluding food and energy. Prices on energy and agricultural products saw "significant" increases. Most retailers surveyed expect sales "to be modest at best in the upcoming holiday season." Also Wednesday, Fed Vice Chairman Donald Kohn made comments about the Fed's concern about reduced credit availability for businesses and individuals that were interpreted to suggest the Fed might lower interest rates at its December 11 meeting (full story). That speculation set the DJIA on a 335-point tear and contributed to a 2.6% advance on the S&P 500.

FINANCIAL
Citadel Takes 20% Stake in E*Trade; Shares Up 25%
Shares of troubled online broker E*Trade Financial (NASDAQ:ETFC) surged 25% to $6.60 Thursday morning after the firm said it will get a $2.55 billion cash infusion from a consortium led by Citadel Investment Group LLC. CEO Mitchell Caplan will step down, to be replaced by COO Jarrett Lilien until a replacement is found. E*Trade floundered after Caplan's ill-fated effort to boost yields by converting the brokerage into a bank backfired when borrowers fell behind on loan payments and the U.S. housing market began to slide.

In a plan overseen by federal bank regulators, Citadel will make a two-part investment in E*Trade. First, it will buy E*Trade's entire $3 billion portfolio of asset-backed securities for about $800 million; E*Trade will take a $2.2 billion charge on the sale. Second, it will buy $1.75 billion in 10-year notes yielding about 12.5%. Citadel will end up owning almost 20% of E*Trade and receive a seat on the company's board. The Wall Street Journal says the deal could signal a vote of confidence for mortgage markets plagued by fear and doubt. It will allow E*Trade to get the most-troubled of its holdings off its books. About 30 bidders approached E*Trade, the Journal says. In the end, E*Trade went with the capital infusion as opposed to a sale to a rival like TD Ameritrade (NASDAQ:AMTD) or Schwab (NYSE:SCHW) because they were only interested in its brokerage unit. "E*TRADE's core business is strong," said Lilien. "This transaction with Citadel is not only a major vote of confidence from one of the world's leading financial institutions but also allows us to directly address customer concerns and get back to our real business, which is providing industry leading products and services to our customers."

Pershing's Ackman: MBIA and Ambac Could Be Belly-Up By Q2 2008
William Ackman, president of Pershing Square Capital Management, said Wednesday that he believes MBIA Inc. and Ambac Financial Group, the holding companies for the two largest bond insurers, could fail as early as next year. "We're short the holding companies because we think they'll run out of cash and go bankrupt," he said succinctly. Ackman forecasts that MBIA will incur $2.2 billion and Ambac $4.2 billion of losses in Q4. Their exposure to subprime products is similar to that of Merrill Lynch and Citigroup, he said, but they have relatively little capital, so a few bond defaults could be catastrophic. Bond insurer shares have been in freefall on fears that the disintegrating credit ratings of subprime mortgage


assets could force them to take big writedowns. "We stand by the internal ratings of our book of business, which are almost 100% investment grade," said Ambac spokesman Peter Poillon. "We strongly disagree with Mr. Ackman's statement that the company will be insolvent in the second quarter of 2008," said Jeff Lloyd, a spokesman for MBIA. "He made similar statements in 2002, none of which have come true." If MBIA and Ambac do fail, Pershing stands to make "multiple billions of dollars," Ackman said. He will reap a personal windfall on the order of $500 million that he said he will donate to the Pershing Square Foundation. "The hedge fund business is profitable. I've made more than I need," Ackman said. "I also think it's the right thing to do."

TECHNOLOGY
TiVo Tops Targets; Issues Bright Q4 Outlook
Shares of video-recording pioneer TiVo (NASDAQ:TIVO) were up 6% to $6.32 in extended trading Wednesday after it narrowed its Q3 loss on an 11% revenue gain. Its Q3 loss of $8.2 million ($0.08/share) on revenue of $58.3 million compares with a $11.1 million loss (-$0.12/share) on revenue of $52.5 million a year ago. Both income and revenue figures beat analyst expectations; analysts were looking for a $0.13/share loss on revenue of $56.7 million. Looking ahead, TiVo expects to lose $9-$12 million in Q4 on revenue of $58-$60 million; analysts had been expecting a loss of $14.1 million on revenue of $58.6 million. Monthly churn (cancellations and non-renewables) rose to 1.3% from 1% a year ago. Operating expenses increased to $40.2 million from $32.5 million. TiVo-Owned subscription gross additions were 69,000, vs. 101,000 last year. TiVo said its much-anticipated deal with cable giant Comcast (NASDAQ:CMCSA), which will allow Comcast subscribers to download TiVo software to their DVRs (full story), will begin shortly. "We are very excited by the emphasis that Comcast has placed on this product within its organization and their plans to aggressively market it... Further, we are pleased with Comcast's plans to promote and market the value of the TiVo experience, which will leverage many of their marketing assets including cross-channel TV," it said (press release, earnings call transcript). Earlier this week, TiVo announced NBC would become the first media company to buy its new proprietary viewer statistics that gives ad producers a better idea of exactly who's watching their ads and who's skipping them (full story).
INTERNET
Adobe, Yahoo to Partner in PDF Ad Platform
Adobe (NASDAQ:ADBE) will announce Thursday a program that will allow publishers to run ads from Yahoo's (NASDAQ:YHOO) ad service alongside PDF documents, the Wall Street Journal reports. Currently, publishers are forced to insert static ads into PDFs, meaning they must sell and produce the ads on their own. Now publishers will be able to display ads alongside PDFs by uploading the PDF to Adobe's website and ad-enabling it. The platform will also allow advertisers to use Yahoo's existing self-service ad system to buy text ads that will appear to the right of PDF documents. The ads will be contextually placed based on the content of the PDF. Ad revenue will be shared between the publisher, Adobe and Yahoo; the firms gave no details as to the revenue split. Publishers participating in the program, called Ads for Adobe PDF Powered by Yahoo, include Meredith (NYSE:MDP), Reed Elsevier plc (RUK) and Pearson plc's (NYSE:PSO) Pearson Education.
MEDIA
FCC Chairman Proposes Waiver for Tribune Deal
Tribune Company shares rose 10% to close at $30.00 Wednesday after FCC Chairman Kevin Martin proposed a vote this Friday on waivers that would permit Sam Zell's $8.2 billion buyout of the company to move toward completion by year-end. "If the FCC approves, the deal is done," said Ed Atorino, an analyst at Benchmark Co. The waivers will permit Tribune to own newspaper and broadcast properties in the same market, thus obviating the need for Tribune to divest assets. If the waivers are granted, Tribune will be exempt from cross-ownership restrictions for at least two years. Should they be challenged in court, they will remain in place until six months following the end of litigation. Martin told reporters

Wednesday the waivers "would allow for Tribune and purchaser to still have the 20 business days that I understand they need to try to close the transaction by the end of the year." The matter was urgent for Tribune and Zell, who must close by year-end and have a corporate structure in place to guarantee the tax breaks on which the transaction is based. They applied for the waivers in May, and the long delay in setting a vote led the FCC's two Democratic commissioners to accuse Martin of using the deal to gain support for a wider political agenda. "Tribune, long a respected and influential institution of American journalism, has been used as a human shield to provide cover for broader rule changes, even at risk to the life of the hostage itself," said commissioner Jonathan Adelstein on Tuesday.

RETAIL
Sears Tanks as Q3 Net Plunges 99%
Sears Holdings reported early Thursday its third-quarter net income dropped 99% to $2 million, or $0.01/share, compared to $196M, or $1.27/share last year. Gross margin fell $223M due to sales declines and an overall decline in margins (27.4% vs. 28.3% last year), the company said in a statement. Sales were off 3% to $11.5B.

Analysts were expecting EPS of $0.50 on sales of $11.6B, on average. Same-store-sales declined 4.2% at Sears and 5.0% at Kmart. "We are very disappointed in our performance for the third quarter. We cannot blame our results entirely on the retail and macro-economic environments. We have much on which to improve and are working hard to do so," commented Sears CEO Aylwin Lewis. Sears Holdings reported it had cash and cash equivalents of nearly $1.5B at the end of Q3, compared to $2.6B in Q2, primarily due to $900M of share repurchases. Sears Holdings said November month-to-date (Nov. 4 to Nov. 27) comparable sales were up 1.9% at Sears, but down 3.3% at Kmart, for an overall decline of 0.4%. Similar to Q3, home electronics sales are partially offsetting weakness in other categories, but Sears noted electronics have lower margins. Shares of Sears gained 4.3% to $116.34 on Wednesday and were last down 13% to $101.25 in thin pre-market activity.
TRANSPORT AND AEROSPACE
AMR To Divest American Eagle
American Airlines parent AMR Corp. said Wednesday it will divest its American Eagle regional carrier in an effort to save costs and boost the company's share price. "They're getting rid of a millstone," said Mike Boyd, president of airline consulting firm Boyd Group. "It shows good solid vision at American Airlines." According to Bear Stearns analyst Frank Boroch, American Eagle could fetch $600 million to $1.1 billion, with a likely price somewhere in the middle. The divestiture could take the form of a spin-off to shareholders, an outright sale, or other transaction. A sale might not be easy in the current environment. "I think it's a tough market in which to sell it because of the overhang of 50-seat aircraft," said airlines consultant Robert Mann. "Whoever buys it is going to want an ironclad buy/sell arrangement with American, and

American may want exclusivity, so there's a whole series of issues that have to get ironed out." Activist investors have been pressing AMR, which -- like the rest of the airline sector -- is contending with high fuel prices and a softening economy, to unload assets to prop up its sagging share price. The Icelandic investment firm FL Group, which owns 9.1% of AMR and has been urging it to divest its frequent-flier program, said in response to the Eagle divestiture, "We welcome any initiative that looks to enhance shareholder value." AMR doesn't break out American Eagle's profitability, but expects its overall regional operations to post $2.3 billion in revenue this year against $2.5 billion last year. AMR shares closed up 6.9% at $21.98 Wednesday.

ENERGY AND MATERIALS
Major Pipeline Explosion Reverses Crude Oil Losses
Crude oil prices took traders on a wild ride over the last two days, posting their largest decline since early January Tuesday and Wednesday, only to see a rapid reversal Thursday, after a Wednesday evening explosion shut down Canadian pipelines that typically supply 15% of total U.S. oil shipments.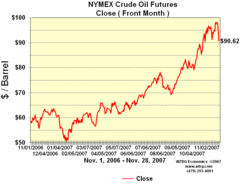 Crude fell 7.2% since Tuesday, its biggest two-day drop since January 3-4 when prices slid 8.9% on unseasonably warm weather, after a U.S. government report that showed stockpiles declined less than expected. Meanwhile, refineries operated at 89.4% capacity, their highest level in over two months, indicating ample ongoing supply. The decline also had a technical basis: "We started moving lower a few days ago when a lot of people were surprised we didn't break through $100. We are now heading for the $90 area," one New York-based broker said. But sub-$90 oil wasn't in the cards after an explosion ripped through the largest U.S.-Canadian oil pipeline, shutting it and three other lines down for repair and further inspection. The tragedy claimed the lives of two Enbridge Inc. employees. A fire was still reported burning at the Clearbrook terminal in Minnesota where the pipelines enter the U.S.; it is not yet clear when they will be cleared for use again. An Enbridge spokesman said, "One of the set of four pipelines will require repairs and regulator inspections, while the largest is not likely to start up any time soon." The pipelines supply roughly 1.5 million bbl/day, roughly 15% of U.S. total crude consumption. After January 2008 crude closed at $90.62 in composite NYMEX trading Wednesday, prices shot up 2.7% to $93.10 in Thursday morning trading on news of the explosion (chart courtesy of wtrg.com).

MUST-READS ON SEEKING ALPHA TODAY
Have Wall Street Breakfast emailed to you every morning before the market opens.