When it comes to increasing shareholder value through consistent dividend increases, no other company can beat the dividend champion Leggett & Platt (NYSE:LEG). This maker of home, office, and commercial furniture and furnishings has been paying dividends since 1939. Even during times of weak profitability, Leggett & Platt was able not only to maintain its dividend, but also to boost it when most other companies were looking for ways to preserve cash in order to secure their financial well-being. In recent years, the dire conditions in the residential and commercial real estate markets depressed sales of furniture and home furnishings. However, the latest indicators point at a nascent recovery in the home and office markets, signaling better days for Leggett & Platt.
Because of a challenging operating environment, Leggett & Platt's revenues declined between 2007 and 2009. Over the same period, the company's earnings were subpar, including a year in which profits dipped $0.06 per share. Revenues rebounded in 2010, and, since, the company has been able to grow its top line by more than 9% per year. Earnings have also improved, although the company reported a 9.5% drop in earnings in 2011 compared to the year earlier.
Yet, in a true testament to its commitment to shareholders, Leggett & Platt has been able to withstand the poor macroeconomic climate, maintaining high dividend payments regardless of its earnings performance. In 2007, when its earnings plunged, the company boosted dividend payouts by 16.4%. It proceeded with yet another hike the following year, when its earnings improved, increasing dividends by 28.2%. Currently, the company boasts a 5.1% dividend yield, which dwarfs the industry's average yield of 1.6%. Its competitors, such as Ethan Allen (NYSE:ETH) and Bassett Furniture (NASDAQ:BSET) have dividend yields of 1.5% and 1.9%, respectively. Some industry peers, such as Tempur Pedic (NYSE:TPX) and La-Z Boy (NYSE:LZB), do not pay any dividends.
Ample free cash flow has enabled Leggett & Platt to uphold its dividend policy, both in good and bad times. Even though the current dividend payout of $1.12 a share per year translates into a payout ratio of 108% (based on the last year's earnings), Leggett & Platt has not experienced any difficulties in financing its high dividend. As the following charts summarizes, between 2002 and 2011, the firm's dividend payout as percentage of free cash flow per share averaged 45%. While this ratio is currently at its highest in years, at 64% it is nowhere near the levels that would be a cause for alarm. The company has plenty of room to maneuver any additional dividend increases. What's more, the ratio is likely to come down once an improved operating environment bolsters revenues, earnings, and cash flow.
Click to enlarge all images.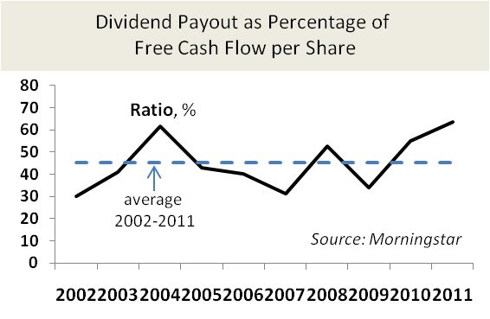 Click to enlarge
Indeed, several market indicators suggest a brightening outlook for furniture sales. The housing market has experienced robust activity in the past two months. This has prompted some market analysts to call a bottom in home sales and construction. Advanced monthly sales of furniture and home furnishings have also rebounded at a brisk pace, growing in excess of 8% on a three-month moving average basis (see the charts below).
In its forecast from the beginning of April, the company projects that in-store sales of home furnishings will increase 8%, while online sales will jump 28.4% on the quarter. Anecdotal evidence from sales agents likewise suggests a rebound in sales activity. These developments bode well for the company's top and bottom line. In fact, even though some analysts are still downbeat on the Leggett & Platt's stock, it is generally expected that the company's bottom line will grow by double digits over this year and the next.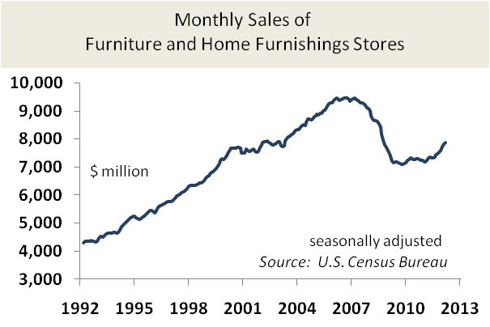 Click to enlarge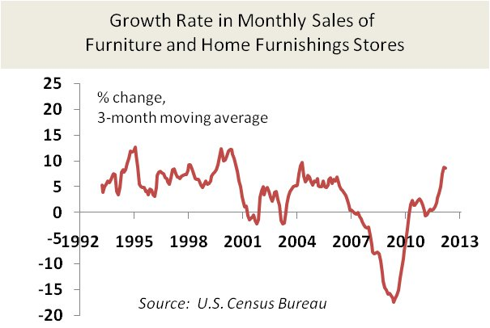 Click to enlarge
As earnings are likely to benefit from the rising sales activity, the capacity of Leggett & Platt to continue its high dividend policy will improve. This year and the next, the company should be able to pursue its dividend commitments toward its shareholders with greater ease.
Disclosure: I have no positions in any stocks mentioned, and no plans to initiate any positions within the next 72 hours.