With Exelon's (EXC) upcoming dividend payment of $0.38 per share for record holders as of May 15, 2012, entering a protected covered call position for Exelon is considered. A protected covered call enables an investor to receive dividends, as the position is long the stock, yet the position is protected against significant dips in stock price. The protected covered call may be entered by selling a call option against a stock and using some of the proceeds to purchase a protective put option. Selling the call option is analogous to leasing a house with an option to purchase, and the purchase of the put option is analogous to purchasing insurance for the house. The income from leasing the stock is greater than the cost of the cost of purchasing the insurance.
Using PowerOptions tools, a protected covered call for Exelon was found with a potential return of 5.3% (7.4% annualized) and a maximum potential loss of 8.2%. The potential return and the maximum potential loss assume receipt of $1.56 of dividends during the holding time for the position. The specific call option to sell is the 2013 Jan 39 at $1.45 and the put option to purchase is the 2013 Jan 33 at $0.70. A profit/loss graph for one contract of the position is shown below: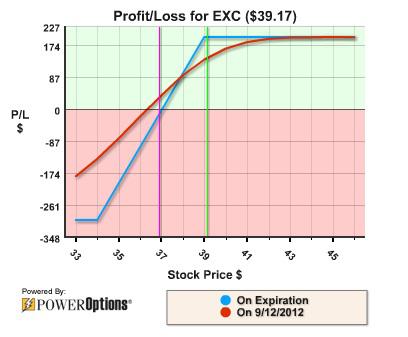 For a stock price below the $34 put option strike price, the value of the protected covered call remains unchanged, even if the price of the stock goes to zero. If the price of the stock increases to around the $45 to $50 range, the position can most likely be rolled in order to realize additional potential return.
When two energy giants get together, more than sparks will fly. The merger of Exelon and Constellation Energy, completed in March of this year, will generate not just electricity but increased synergy-driven profits as well. The company's management expects the effects of the merger to add around 5% to revenues in the first full year. Combined assets are approximately $75 billion, and total annual revenue of the newly-merged operations should be around $33 billion. Exelon claims to be the largest competitive power generator in the U.S. and the second-largest regulated distributor of electricity and natural gas. It has operations and business activities in 47 states, the District of Columbia, and the Canadian provinces of Alberta, British Columbia, and Ontario. It also claims to be one of the cleaner power generators, with a current mix of about 55% nuclear energy, 28% natural gas, and 8% renewable/hydro.
There are three operating divisions: Energy Generation (approximately 34,650 megawatts of generating assets, the largest owner and operator of nuclear plants in the U.S., and a renewable energy development business headquartered in Baltimore); Energy Delivery (electricity for around 6.6 million regulated customers in Maryland, Illinois, and Pennsylvania and natural gas for approximately 1.2 million Maryland and Philadelphia customers, delivered by Exelon subsidiaries BGE, ComEd, and PECO); and Competitive Energy Sales (new acquisition Constellation provides energy products and services to 100,000 business and public sector customers and 1 million residential customers, in much of the U.S. and in parts of Canada). There are now around 27,000 employees and 7,350 miles of electricity transmission assets.
Exelon has plenty of fans: It was the No. 1-ranked U.S. utility for the second year in a row on Forbes Magazine's 2011 list of the world's 2,000 largest, most powerful public companies. It has been the top-ranked electric and gas utility on the Fortune 500 list for four years running, and it was the No. 1-ranked U.S. electric utility on Platts' Top 250 Global Energy Companies list in 2011.
As the largest nuclear generator in the U.S. (19,000 megawatts), Exelon would clearly benefit from any climate change legislation for the limitation of carbon dioxide emissions. Some of its executives, according to newspaper reports, have close ties with the Obama administration, and Exelon has made investments to prepare for the transition to cleaner air under the Clean Air Act. It plans to invest billions of dollars in clean energy projects between 2010 and 2015, including nuclear programs.
However, the 2011 explosions and radiation leaks at Japan's Fukushima nuclear plant have posed public relations problems for Exelon, and for its nuclear generating competitors like Duke Energy (DUK), Southern Company (SO), Dominion Resources (D) and FirstEnergy (FE). Exelon finds it necessary to issue press releases reaffirming the safety of its nuclear plants. Other ongoing challenges are centered on commodity price risk, and Exelon attempts to mitigate the effects of a volatile fossil fuel market, fluctuating power demand, and a regulated retail market using the wholesale activities of its Generation division as well as hedging contracts.
Former chairman and CEO John Rowe (who retired following the merger and was replaced by Christopher M. Crane) shed some light on a few of the company's 2011 difficulties during the Q4 2011 earnings call. He welcomed the December 2011 issue of the final Air Toxics Rule by the EPA, which will see the retirement of older and more inefficient coal plants by 2015 and will have a greater impact on some competitors than on Exelon itself. However, electricity prices reacted negatively to the postponement of the Cross-State Air Pollution Rule in late December, and also fell into line with the downward movement of natural gas prices, which dropped more than 15% during the year. The gas price fall was partly driven, ironically, by milder winter conditions. "We don't like the current state of the power markets at all," he observed, while assuring listeners that the company would continue to find ways to beat the situation. "Exelon is a great company, and with Constellation ... it's going to be an even greater company. The only thing that could make me happier would be if power prices and earnings forecasts were back where they were in 2007 and 2008."
The Q4 2011 earnings news release and earnings tables reveal that Exelon's $19.2 billion in annual revenues for 2011 showed a modest 2.9% increase in a year of unfavorable economic, market and weather conditions. Revenue fell significantly in the PECO (Pennsylvania utility) sector, and operating income was lower than in 2010 across all divisions. Results were impacted by the price setting activities of the Pennsylvania, New Jersey, and Maryland regional transmission organization, by nuclear refueling outage delays, and by power outages during summer and winter storms. Since operating margin declined from 2010's 25.3% to 23.4% in 2011, operating income of $4.5 billion was lower than in the previous year. Net income of $2.5 billion was also slightly down. Obviously, these figures will increase dramatically from the second quarter of 2012, but since the "old'" Exelon operations are still expected to generate more than 50% of new consolidated revenue, their past performance is significant. Q1 2012 results will be released on May 4, 2012.
The new, more balanced Exelon expects to have a business mix of roughly 50% competitive generation, retail and wholesale and 50% regulated utilities. Its power generation base is already diversified across a mixture of fuel types and geographic regions, spreading its risks. As it takes its place at the forefront of North American energy providers, Exelon aims to deliver more than just the sum of its parts.
Exelon's stock price has been down and erratic for the last several months, as shown below: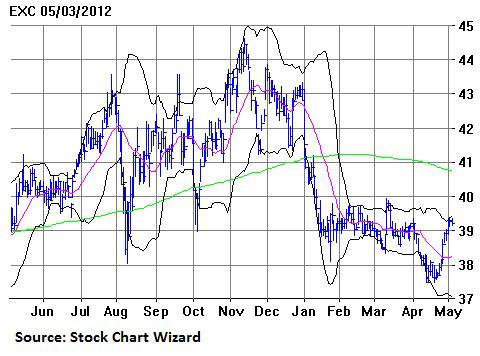 Entering the protective covered call as described above can smooth out some of the erratic behavior of the stock and enable an investor to receive dividend payments, as well as give an investor some peace of mind by knowing the maximum potential loss of the position up front.