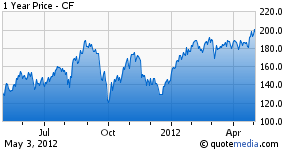 CF Industries (CF) beat on Q1 2012 earnings by over 15% on the headline - $5.54 versus average Street analyst estimates of $4.81 and up 41.7% over a rain delayed $3.91 in Q1 2011.
CF basically crushed the nitrogen ball deep into the corn belt fields and it was a record first quarter even though 2012 is not the earliest start to planting - 2010 was earlier by a few days.
The stock was bid up slowly to $203 in after hours and then sold off to $193.01 currently, but this is on low volume. We think the stock will recover to over $200 after the strength of the earnings sinks in.
Perhaps traders think this is a case of "sell on news" as perhaps some nitrogen volumes will be weaker as Q1 may have stole sales from Q2.
Maybe people are spooked by the jobs number tomorrow (remember - that's non-farm payrolls). Maybe it's the elections coming in France and Greece on Sunday.
But I think the stock will be pushed higher and over $200 due to the strength of the cash flow generation shown here ($602 million), and the cash on the balance sheet growing ever larger ($1.3 billion net of customer advances versus $0.95 billion at year-end).
Cash flow per share was a crushing $8.86 per share versus our estimate of $6.60, driven by lower average natural gas costs, better ammonia, urea and UAN volumes and prices, and higher gross margins.
Extraordinary losses totaled $44.7 so adjusted earnings would have been another 44 cents on top of that for a total of $5.98.
The natural gas forward sale executed during December was not as punitive as we had guessed, and totaled $55.9 million pre-tax.
Average natural gas cost was $3.48 in Q1 2012 versus $4.32 Q1 2011 and reduced the cost of natural gas by 84 cents/mmBTU, helping nitrogen gross margins.
Total revenues came in at $1.527 billion versus $1.17 billion in Q1 2011 and average analyst estimates of $1.26 billion.
The results were driven by higher nitrogen revenues ($1.27 billion vs. 926 million and sales volumes of 3.2 million tons vs 2.84 million in Q1 2011, also higher nitrogen gross margin of $662 million or 52.1% of revenues vs $442.5 million or 47.8% of revenues) due to favorable ammonia and urea sales and price realizations. Note CF reports prices including freight which goes into cost of sales whereas fertilizer MLP's report prices based on plant gate.
We expected anhydrous ammonia sales to be strong due to the warm weather and winter application and they were, at 672,000 tons of NH3 versus our 600,000 estimate, with price realizations at $598 vs. our estimate of $550. Last year sales were 410,000 tons at $494/short ton.
Dry urea was a star as well, with 758,000 tons sold versus our estimate of 600,000 tons and 604,000 tons last year. Realizations came in at $461 versus our $475 estimate and $371 in Q1 2011. The dry urea price spike came after the quarter had ended in late March and April. Q2 urea realizations should be even better.
The third major fertilizer sold by CF, UAN, had slightly lower sales at 1.4 million tons versus 1.45 million in Q1 and well ahead of our estimate of 1.25 million tons. We expected slower sales but they didn't happen. Price realizations were $302 versus our $305 estimate and $277 year over year.
Phosphate revenues were slightly higher at $256 million versus $248 in Q1 2011 even though sales volumes were higher at 516,000 st versus 440,000 and our 400,000 estimate. Gross margin dropped to $49.7 million from $82.5 million. Prices were $494 and $506 for DAP.
Phosphate volume was driven by exports (191K versus 46K in 2011) and lower pricing in North America. Domestic phosphate volumes were 325K versus 394K and production was curtailed by CF and others.
CF stock was trading down at $195 in after hours trading after hitting a high of $203.32 today.
However, this is on low volume and probably reflects the generally weak stock market and the upcoming elections in France and Greece.
Disclosure: I am long CF.