After going through nominations for dozens of people who are vying for CEO of the year, a light bulb went off this morning. Even though he wasn't nominated, I'm beginning to think that Sears Holdings (NASDAQ:SHLD) CEO Alwyn Lewis will be a shoe-in. It's not official yet — and I hate to steal my own thunder before results will be announced next week, so don't assume anything. However, this morning's press release from Sears may be the last straw.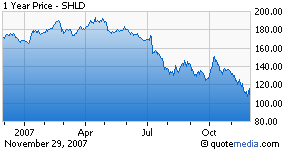 Doug McIntyre, at 24/7 Wall Street, is going so far as to wonder whether Lewis will be fired. (If he is before my Worst CEO column comes out, he will be disqualified from the running.)
This morning Lewis was quoted as saying, "We are very disappointed in our performance for the third quarter. We cannot blame our results entirely on the retail and macro-economic environments. We have much on which to improve and are working to do so."
It's hard to argue with humble and candor; it's good for deflecting criticism. However, eventually you have to shut up or get up — and Lewis keeps saying the same thing every quarter.
As I noted back on July 10, when I proclaimed that the concept of Sears as a retailer was officially bust, Lewis was equally humble when he said: "Our recent performance underscores our ongoing need to become more relevant to consumers while improving our discipline around expense management."
On May 31, when announcing first quarter earnings, he said the company needs to do "better controlling costs…"
When fourth quarter earnings were announced March 1: "…We still have much work to do."
Second quarter results August 17: ""While we are making progress, we must continue to focus on our customers, improve the shopability of our stores and continue to give our customers reason to shop our stores more frequently."
And with the first quarter of a year ago, he referred to the need to "dramatically" improve "the customer experience."
The only defense of Lewis is that his job was nearly impossible from the start, via Eddie Lampert's ill-conceived Sears strategy, which only made sense to many observers as a play on real estate, not retail. Lewis now risks getting hung out as the scapegoat.
Sears, meanwhile, is now trying to buy Restoration Hardware (RSTO). Restoration Hardware?! That's a retail concept that always sounded better in principle than in practice. How it fits the Sears strategy is anybody's guess. Jeff Matthews has the best take on this. And while there, make sure to read his piece on Alan Greenspan.
The beat goes on…