Obagi Medical Products, Inc. (Nasdaq: OMPI) wants to keep you looking young even though you are old. The skin care industry thrives mainly on faith and fantasy, or at least the softening of mean facts: a wrinkle becomes a soft tissue deficit. Obagi says it can repair these epidermal shortcomings even as the rest of you falls apart.
The company counts on customers similar to 1950's Sunset Boulevard's Norma Desmond, who couldn't bear her tissue deficits, or her age, which was fifty; it drove her mad. Apparently, there are plenty of Normas (and a few Normans) still around. The global skin-care market was at $36.2 billion in 2005, and 62% of that was for facial skin care, according to industry data.
Customers are increasingly turning away from over-the-counter anti-aging products toward physician-dispensed products, such as Obagi's. They also are leaving behind old-fashioned plastic surgery for less-invasive cosmetic procedures, including Botox injections, laser hair removal and microdermabrasion.
These procedures, and the use of attendant lotions that calm inflammatory responses, are gaining wider and wider acceptance. The American Society of Plastic Surgeons says minimally-invasive cosmetic office procedures increased 72% to 8.4 million in 2005, and some estimate these have now reached 10 million. Facial procedures, such as Botox, were up 242% and injectable fillers 990%. From 2005 to 2010, more than 70 million people in the United States are expected to receive cosmetic facial procedures for which they will collectively pay over $60 billion.
So much for those bullheaded crow's feet. Long Beach, Calif.-based Obagi is a pharmaceutical company that develops and markets prescription-based skin health systems. It sells them primarily in the United States; international sales were 18% of the total in 2006. Products include those for premature aging, photo-damage, hyperpigmentation, acne and wrinkles, and soft tissue deficits.
Nu-Derm System is Obagi's signature product and, in 2006, the company started selling Nu-Derm Condition and Enhance System for use with Botox injections. Its Nu-Derm products accounted for about 70% of 2006 sales. The company launched ELASTIderm in 2006 and CLENZIderm in February to start its move into the traditional dermatology market.
Baby boomers, of course, are behind this you-look-great! trend. As the life expectancy of the U.S. population grows and people age, more will seek dermatologic products. Obagi says women tend to put more emphasis on their appearance, and the number of women between the ages of 35 and 65—the main users of Obagi's products—grew by 35% between 1990 and 2004.
Solid demographics, Obagi's product line and its dispensary links with physicians should yield a strong financial performance in years to come, according to certain analysts. R.W. Baird and Co. analyst Lawrence Neibor sees revenues climbing to $167 million in 2010, more than doubling the $78 million at the end of 2006.
Neibor, who has an "outperform" rating on Obagi, notes the growing market for less-invasive, office-based procedures. Obagi also has been increasing costs to develop new products, increase penetration of existing markets and allow it to launch into new markets.
Then there are margins, which have been dulled by expansion of Obagi's product line and sales team. Neibor expects margins to snap back as these moves create operating leverage. "Operating margins could return to 30+% from the 20% to 25% level expected in 2007, driving EPS growth faster than the 20% to 25% sales growth we forecast for the company," Neibor said in a report Nov. 21.
On Nov. 13, Obagi said sales rose 38% to $26.3 million and operating income increased 87% to $6.7 million in the third quarter ending Sept. 30. Earnings per diluted share on a non-GAAP basis were $0.20; on a GAAP basis, earnings were $0.18 per share, compared with $0.06 in the same quarter a year ago. Analysts are looking for fourth-quarter earnings at $0.25 on revenues of $29.5 million. For 2008, earnings are estimated at $0.98 per share and revenues at $126.5 million.
Obagi reiterated 2007 sales expectations for $102 million to $106 million, which would represent year-over-year growth of 31% to 36%. The company said non-GAAP earnings per share would be in line with previous guidance of $0.76 to $0.79.
Angela Larson, analyst at Susquehanna Financial Group, has a "positive" rating on Obagi and likes the current valuation. Given Obagi's growth rate of more than 30% year-over-year for both 2007 and 2008, Larson said in a research note Nov. 14 that the company merits a 20% to 30% premium to its peer group's price-earnings multiple of 20.
If Obagi was a good deal then, it's a better one now. On Nov. 14, shares closed at $20.34 each; they closed Wednesday at $18.13. The $392-million company has a 52-week range of $8.75 in January to early November's high of $25.60.
J.P. Morgan is less enthusiastic, noting—as do the other analysts—the risks to the company because of pending FDA decisions on hydroquinone, an ingredient that bleaches skin, dimming age spots and turning people of color toward the white side. Hydroquinone has been regulated in some European markets and elsewhere, and prescription strength hydroquinone could be banned in the United States.
Noting that Obagi is trading at a premium to the specialty pharmaceutical group, Morgan analyst Adam Greene said: "We feel the premium valuation is unwarranted given the still pending hydroquinone overhang, which potentially puts a large percentage of revenues at risk, and that investors are not being paid for this risk at current prices." He reiterated Nov. 13 his "neutral" rating on the shares.
Greene said the FDA-proposed rule governing hydroquinone use could translate to market withdrawal and/or require all manufacturers to seek NDA (new drug application) approval of prescription-strength hydroquinone. Obagi's Nu-Derm and CRx System—the only prescription-strength vitamin C and hydroquinone system—contain hydroquinone and accounted for about 80% of 2006 revenues, Greene said.
The FDA issued a proposed rule in August of 2006 citing evidence that hydroquinone may be a carcinogen and related to a skin condition called ochronosis, which causes darkening and thickening of the skin. The FDA said it could not rule out the potential carcinogenic risk from topically applied hydroquinone. In its annual report, Obagi acknowledged the hydroquinone risk and said too that patients who have side effects from Obagi's products may bring liability claims.
Greene said other risks include Obagi's dependency on its core Nu-Derm performance, and the chance that new product launches may fail to offset the reliance on Nu-Derm and CRx franchises. There also are low barriers to entry from new competition, Greene said.
Competition is stiff, and much of it comes from larger companies with more to spend on research, development and marketing. Competitors in the physician-dispensed channel include BioMedic from La-Roche Posay, TNS from Skin Medica, Inc., Kinerase from Valeant Pharmaceuticals International, and various products from SkinCeuticals, a division of L'Oreal S.A., and M.D. Forté and PREVAGE from Allergan, Inc., among others.
Obagi (OMPI) has grown fast, and 2008 may be another very good year. But there are imperfections in the company's investment picture. Better to grow old waiting for a resolution from the FDA on hydroquinone than jump in with the impudence of youth.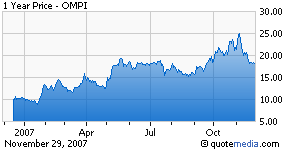 Disclosure: none