Fuel Systems Solutions' (NASDAQ:FSYS) worse than expected first quarter earnings results definitely caused a "sell now, ask questions later" reaction. In reality, the earnings were actually not that bad when analyzed closer, and reveal that the earnings shortfall was due to something the company had no control over - foreign exchange ramifications.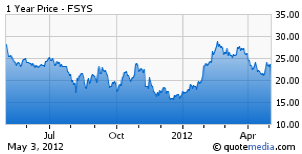 If you disregard the negative impact of a $2.9 million foreign currency exchange charge, the alternative fuel supplier would have actually earned 8 cents (a 60% earnings beat) instead of losing 6 cents. Earnings were also softened from a 10% hike related to R&D expenditures (not necessarily a bad thing) and a 150 basis point jump in the company's SG&A costs to 15% (a bad thing).
There is absolutely no doubt the market took the shares behind the woodshed and beat them beyond recognition and without justification (nearly a 20% bloodletting). The fact that the company was unable to provide 2012 guidance until second quarter results are posted (due to lack of visibility in the alternative fuel market, until new models are launched) was probably the straw that broke the camel's back. I guess it is safe to say Mr. Market absolutely loathes uncertainty, providing potential investors a righteous entry point.
Pristine balance sheet: The company has virtually zero debt, $75 million in cash and shareholder's equity of $334 million, nearly equating to FSYS's total market cap. These solid numbers gives the company the flexibility to initiate a cash dividend or a stock buyback plan, besides making it very inviting to a potential suitor.
The bottom line: The stock will bounce back. It has simply gone down too much, in too short of a time frame. This oversold condition leaves the shares vulnerable to a "dead cat bounce", as buying fuel is provided by shorts covering to book profits, and bargain hunters who are simply unable to pass up a fire sale.
Disclosure: I am long FSYS.