I watched a remarkable selloff continue Thursday in shares of Herbalife (NYSE:HLF). As much as we watched in amazement as Apple (NASDAQ:AAPL) shares had its parabolic rise over a 3 month span, Herbalife has dropped almost the same percentage as Apple's rise, but in less than 4 days.
I will be the first to admit that I have not followed Herbalife, never owned a share, and have never even looked at any of their financial reports, until yesterday. Simply put, I smell money.
The Basics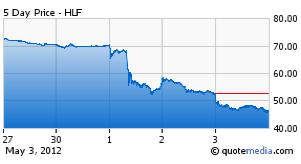 Herbalife : Price: $45.70/share, Dividend Yield: 2.30%, ESS Rating: Bullish
Let's look at a few key statistics from this overview which nicely outlines everything as follows:
Revenue: Rose 21.3% to $964.2 million from the year-earlier quarter.

Actual vs. Wall St. Expectations: Herbalife Ltd. beat the mean estimate of 81 cents per share. It beat the average revenue estimate of $892.9 million.

Results: Net income for Herbalife Ltd. rose to $108.2 million (88 cents per share) vs. $87.6 million (71 cents per share) in the same quarter a year earlier. This marks a rise of 23.6% from the year-earlier quarter.

Quoting Management: "Our business momentum has continued into 2012, with strong sales performance from each of our six regions," said Michael O. Johnson, the company's chairman and CEO. "The financial strength of our business model is once again reflected in our cash flow generation in the quarter."

Key Stats: For the past five quarters, the company has seen double-digit year-over-year percentage revenue growth. Over that span, the company has averaged growth of 25.5%, with the biggest boost coming in the third quarter of the last fiscal year when revenue rose 30% from the year earlier quarter.

The company has now seen net income rise in three straight quarters. In the fourth quarter of the last fiscal year, net income rose 30.1% and in the third quarter of the last fiscal year, the figure rose 42.6%.

Looking Forward: For next quarter, analysts have a more positive outlook about the company's expected results. The average estimate for the second quarter is 95 cents per share, up from 94 cents ninety days ago. Over the past three months, the average estimate for the fiscal year has climbed from $3.49 per to share to $3.64.

(Company fundamentals provided by Xignite Financials. Earnings estimates provided by Zacks)
Now these are not my figures, nor were they "made up" by anyone else. These statistics came directly from the company's latest 10Q on April 30th, 2012. (Read the entire report here.) I have just one question - has anything changed from this report to cause the share price to tank?
Aside from the "grilling" that David Einhorn gave the company executives several days ago, regarding who the actual customers are of Herbalife, I see nothing that has fundamentally changed whatsoever. Einhorn asked some basic questions which on the surface seemed like an indictment of Herbalife policies. Now I am no genius, but quite frankly, do we, as potential investors really care who the customers of a company actually are?
I mean, as long as they are real, have paid their bills, have been accurately and legitimately accounted for, as well as having a complete audit done of Herbalife, as the company has done basically forever, who really cares?
Not only that, but the company has been completely transparent about those customers, as noted in this report from Reuters:
The company said that at the low end of its distributors, 27 percent were people who bought products for their own use; 61 percent used the products personally and sold modest quantities to friends and family; and 12 percent signed up with the intention of seeking a promotion in the distributor hierarchy.
Not only that, but this 8k report was filed on May 2nd 2012, directly with the SEC. It clearly and directly answers the questions from Einhorn by outlining not only the answers but question by question.
The Trade
This is not a trade for or investment for everyone. Let's face it, maybe where there is smoke there is fire. I just cannot even smell the smoke, but it could be there regardless. Even the company has decided to buy a bunch of shares back as soon as possible I suppose. (Read the press release here.)
The company itself reported:
The company, which has now lost about a third of its value...said it would buy back about $428 million worth of shares because it felt they were undervalued.
I admit that the CEO has made a whole bunch of money, but that was already known, and according to a CNBC report, 1/2 of that money came from sales of the company shares, which might be "cause to pause" I suppose, but that information was already known also.
Technically, the RSI (Relative Strength Index) has dropped below 20 and in my old trading days anything under 40 was on my radar. Herbalife being under 20 has moved from the radar directly into my lap.
On April 30th the PPS was about $70.00 and it closed Thursday at $45.70. I decided to buy the June call options 55 strike, straight up, no hedge, for a quick rebound. The contracts cost me $200 per and I am hoping to double my money quickly.
Once I hit my profit target I am out. I have some time which will take into account the speech that David Einhorn is scheduled to give on May 16th as reported by Reuters:
Einhorn's position in Herbalife is not known, but investors will be watching for his presentation at the annual Ira Sohn Investment Research Conference on May 16 in New York for any mention of the company.
For now I am obviously taking some analyst's position, for this trade: "Some analysts agreed. "We feel this recent sell off in shares of Herbalife will ... prove to be an attractive entry point for the stock," said Rommel Dionisio at Wedbush Securities. Linda Weiser of Caris & Co reiterated her 'buy' rating on the stock on Wednesday, dismissing market chatter that lumped Herbalife with Green Mountain Coffee Roasters Inc (GMCR), another stock that Einhorn has targeted."
My Opinion
This trade for me is a bet that I am right, that the company is completely candid and has nothing to hide, and that there is no "smoke" and no "fire". I could be wrong of course, and this trade is not for the faint of heart and for those who are even contemplating this, you should only use money you can afford to lose.
This is a RISK trade, not an investment. I occasionally take a few of these risks each year, and for those who have followed my Apple option trades already know that I was fortunate with that one.
It does not mean that I will have similar results and I might lose all of the money I am placing on this trade. That being said...I smell money.
Disclosure: I am long HLF.
Additional disclosure: I own HLF call options, no shares.