After the bell Thursday, solar leader First Solar (NASDAQ:FSLR) reported its fiscal first quarter results. Expectations were quite mixed going in, with shares hitting a new 52-week low during Thursday's trading. The company was expected to see a 20% increase in revenues, but earnings per share were expected to fall by more than half. The solar sector right now is seeing prices come down, and margins have been sliced thin as costs stay elevated.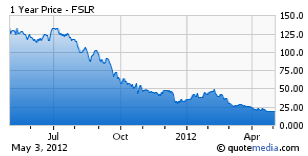 Well, First Solar reported a very mixed quarter. The company did miss on both the top and bottom line, and did report a huge net loss. However, most of the loss was due to their restructuring efforts. Guidance was actually raised despite the huge quarterly miss, thanks to the company's belief that the restructuring plan will cut costs for the rest of the year. They also named a new CEO.
To see how bad things have been in the past, here are two of my previous articles on the company.
First Quarter Results:
First Solar announced revenues of of $497 million, well below expectations of more than $681 million. Revenues were down nearly $70 million from the year ago period, which saw $567 million in revenues. The company blamed lower volumes for module only sales, and lower average selling prices.
The company posted a non-GAAP net loss of 8 cents, which was well below the $0.59 expected profit the street was looking for. However, as I mentioned above, the company took a huge restructuring charge, as well as some other charges, and those had a huge impact on the bottom line. The company took a $401 million charge (EPS impact of $4.64) due to the restructuring, and a $43 million charge (EPS impact of $0.48) due to ongoing issues with warranties. The warranty issue has grown in recent quarters, despite the company originally claiming it was a short term issue.
After all of the charges, the company posted a GAAP net loss of nearly $450 million dollars, or $5.20 in EPS.
The following table shows Q1 margins from 2009 to 2011.
| | | | | |
| --- | --- | --- | --- | --- |
| Q1 Margins | 2009 | 2010 | 2011 | 2012 |
| Gross | 56.26% | 49.66% | 45.77% | 15.44% |
| Operating | 40.18% | 33.65% | 22.81% | -91.80% |
| Profit | 39.36% | 30.34% | 20.44% | -90.42% |
Included in those above margins are the warranty costs and the restructuring charges. We can easily take the restructuring charges out because they were a line item in the operating expense category. However, because the warranty charges are included in both the cost of goods sold and operating expenses, it is impossible to take the impact out of gross margins. However, I can tell you, the numbers are still way down from last year's numbers. If we take out the two charges, the operating margins end up at -2.47%, and the net profit margin is -1.35%. No matter how you slice the numbers, they are well below last year and well below expectations.
Guidance:
Despite the huge first quarter miss, First Solar actually raised guidance for the year, given the benefits expected from the restructuring. The company gave the following guidance:
EPS guidance of $4.00 to $4.50, compared to prior guidance of $3.75 to $4.25. This guidance excludes any further restructuring, warranty, and impairment charges.
Operating cash flow guidance of $850 million to $950 million, compared to previous guidance of $800 million to $900 million.
No revenue guidance was given. Previous guidance was for 2012 revenues of $3.5 billion to $3.8 billion.
Conclusion:
Obviously, even after taking out the charges, this was not a very good report. The company still posted a loss, and the revenue numbers were absolutely terrible. Again, this was not a one quarter issue, the company has been troubled for several quarters now.
When shares initially opened for trading at 5:20 pm, they were down about three percent. They quickly rebounded into positive territory, but were all over the place in after hours trading. My recommendation at this point is to let the name settle down and take a closer look in the following weeks ahead.
Disclosure: I have no positions in any stocks mentioned, and no plans to initiate any positions within the next 72 hours.