A few days ago, we presented our analysis of MGM Resorts International (NYSE:MGM), which can be found here. We believe that MGM can reach $24.00 per share by 2014 based on a Las Vegas recovery, with additional upside from growth at MGM China, growth at CityCenter, potential legalization of online gambling and other opportunities.
Q1 Earnings
Q1 earnings were a disappointment to the Wall Street analysts. Despite a couple of factors that negatively impacted results, the numbers showed the continuation of some positive trends.
MGM's wholly owned domestic resorts (mainly its Las Vegas casinos) generated Adjusted Property EBITDA of $321 million in Q1, a 7% increase from the prior year's period. However, these casinos were negatively impacted by a lower than expected hold percentage in Q1. The hold percentage was 18.7% in Q1 compared to a normal range of 19%-23% (last year was also low, at 17.7%). Simply, the casinos had bad luck.
On the conference call, management said that Adjusted Property EBITDA would have been $25 million higher if the hold percentage was in the middle of its normal range. CityCenter was also negatively impacted by low hold, but MGM China experienced a higher hold percentage than normal.
The other negative for MGM in Q1 was a tough convention comparison. The convention segment of MGM's business is significant to the company since it provides visibility into future room demand and the company can plan its pricing around the base of convention bookings. Conventions also bring an attractive demographic to the company's casino resorts mid-week.
The CONEXPO-CON/AGG, a 100,000 person convention, took place in Las Vegas in last March, but only occurs every three years. MGM had said that the lack of this convention would impact the March results this year, so this is not much of a surprise. Still, it had an impact on the year-over-year comparisons.
Las Vegas Momentum
We listen closely to management's tone during the quarterly conference calls about the momentum of the Las Vegas recovery. Our long term investment thesis is based on MGM continuing to rebound to the peak financial results it achieved in 2007. MGM's results are still significantly below peak, so there is room for growth.
We were encouraged by the following:
RevPar guidance for the Las Vegas resorts called for a 2-3% increase, but the company generated a 4% increase. It would have been 7%, adjusted for the impact of the CONEXPO-CON/AGG convention.
RevPar growth for the year is still expects to be, at least, in the mid-single digits.
Casino revenues were up 9% and table game volume was up 5%.
The event calendar for the rest of the year seems strong with two big boxing events.
Management also disclosed interesting information about the convention trends in Las Vegas. At the peak, there were 6.3 million convention room nights per year in Las Vegas. In 2011, however, there were only 4.8 million convention room nights.
MGM's statistics are more encouraging. MGM's peak occurred in 2007 when there were 1.8 million convention room nights. In 2011, it had 1.6 million convention room nights. Including Aria (part of CityCenter, which was built after 2007), MGM had close to peak convention room nights in 2011 and is projecting roughly the same amount for 2012. Although the convention room nights will be roughly flat in 2012, the convention mix will increase because MGM has some rooms out of service for remodeling.
MGM's convention business has rebounded nicely, but management said that it will not be able to push through rate increases until the citywide convention business improves and absorbs the extra capacity. We think that the Las Vegas trends will continue to improve, which will benefit MGM as it will be able to increase convention room rates.
One of the reasons why we like MGM is the operating leverage the company has. Management mentioned on the call that it does not expect to add FTEs this year, despite the growth. Previously, MGM's management has presented the following slide to explain its operating leverage.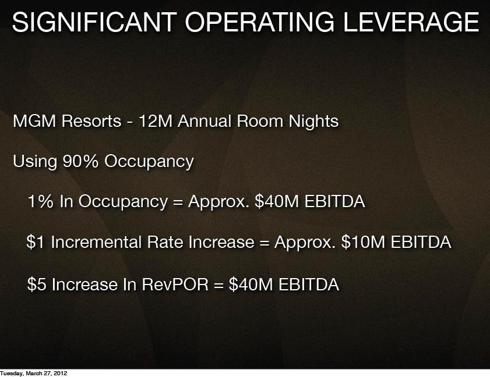 Click to enlarge
(Source: MGM's investor presentation at the Barclays Capital High Yield Bond & Syndicated Loan Conference)
Management said on the call that the company had a good January and February. Assuming that the hold percentage is normalized in the coming quarters, the company should benefit from continued momentum in Las Vegas. The company's operating leverage should continue to assist its turnaround/growth prospects.
MGM China
There was good news on the call about MGM China's expansion plans. Management said that it expects "imminent" approval from the government for its Cotai expansion plan. Management said that the recent approval of the Cotai plans for Wynn Resorts (NASDAQ:WYNN) is a good indication from MGM China. MGM China's expansion could be a catalyst for the stock. MGM Resorts is more focused on Las Vegas than Las Vegas Sands (NYSE:LVS), which has a larger presence in Macau. Therefore, the new expansion is important for the company to increase its base in Asia.
However, in the near term, MGM China expects to raise $2-$2.5 billion of financing for the project. MGM China does not have a lot of leverage and can take on more debt, but with high overall debt at MGM Resorts the new debt could weigh on the stock in the near term.
Investment Plan
As discussed above, and in the previous article, we recognize that MGM has been trading in a range from $9.00 - $16.50 going back to 2009.
click to enlarge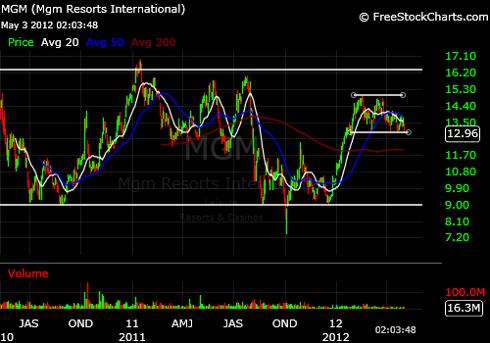 Click to enlarge
We think that MGM has been in this range as it grows into its seemingly high multiple. However, we think that investors are not giving enough value to the growth prospects associated with the Las Vegas rebound, which still has a way to go, and other upside opportunities. We last added to our positions at the lower end of the $9.00 - $16.50 range and we would add more if the stock breaks out of the range. We think that these are the most attractive entry points.
MGM was down midday following earnings and it may break down from the $13.00 -$15.00 range that it has been trading in since February. If it can maintain this range, we may add to our position for a short term trade with a target at ~$15.
Disclosure: Long MGM stock and bonds. We may add to these positions or reduce them at any time, including in the next 72 hours.