The 1st quarter 2012 earnings season is in full swing, and all but 5 of the 30 Dow Jones Industrials have reported. Earnings have run the gamut, from Boeing (BA), with 54% year-over-year 1st quarter growth, all the way down to Bank of America, (BAC), with -82%.
The following 2 Dow components had the best 1st quarter earnings growth year-over-year: Boeing and Caterpillar, (CAT):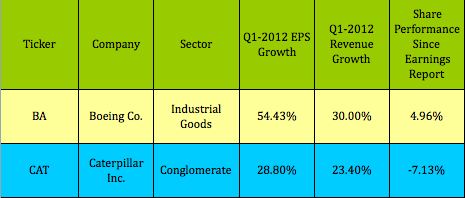 Oddly enough, CAT's share price has declined since its 4/25/12 report, even though it beat earnings estimates by over 11%, by posting a record $1.586 billion in earnings, and also raised its 2012 guidance from a $9.25 EPS midpoint range, up to a $9.50 EPS midpoint.
CAT says that this $9.50 EPS will give them their 2nd record earnings year in a row.
CEO Oberlmann stated,
These outstanding results demonstrate our continued focus on execution and controlling costs as we increase production and expand capacity to meet increasing demand from our customers. We're seeing strong global demand for most mining products and significant growth in replacement demand for products in the United States, which more than offset slowing in China and Brazil.
The acquisition of mining equipment giant Bucyrus added over $1 billion to quarterly sales, and the Motoren-Werke acquisition added $143 million in sales. All told, these acquisitions added approximately $53 million in quarterly profits, mostly attributed to Bucyrus. (Source: Caterpillar website)
Here's how CAT's Revenues broke down by geographic area and segment: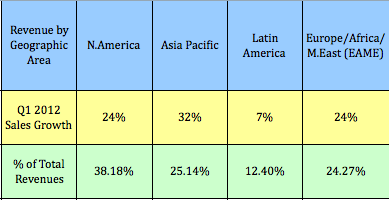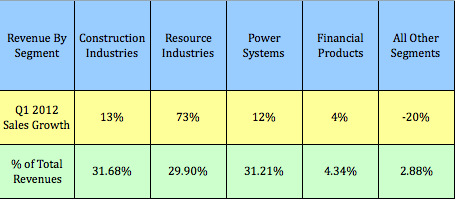 Earnings Valuations: With such robust earnings, both BA and CAT look undervalued on a P/E and PEG basis vs. their industry averages.
BA is near the low end of its 5-year P/E range of 11.70 to 28.93. CAT's current 13.87 P/E is also much closer to the low end of its 5-year P/E range of 7.89 to 39.86
(click to enlarge)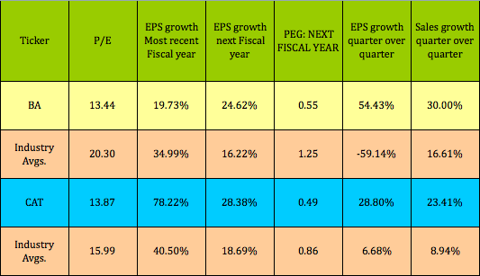 Cash Secured Puts: Given all of this upbeat news for CAT, and the fact that the market hasn't rewarded its share price, how should you play it?
By selling cash secured put options below a stock's current price, you can achieve a lower break-even cost. You won't receive any dividends, but you will receive the put option $ within 3 days of selling the puts.
Your broker will hold/secure enough funds in your account to pay for 100 shares at whatever strike price you sell the put options at. (In this example, the broker would hold $10,000.00 until expiration: 100 shares x the $100.00 strike price.)
In general, you'll receive higher option premiums the further out in time that you sell. At expiration time, if CAT is below $100.00, you'll be assigned/sold 100 shares at $100.00 for each put contract you sold. However, your net cost will only be $91.10, (the $100.00 strike price minus the $8.90 put bid premium.)
Due to its higher volatility, CAT has high options yields, which outpay its quarterly dividends significantly:
(click to enlarge)

(You can see more details for these and over 30 other high yield Cash Secured Puts trades in our Cash Secured Puts Table.)
Covered Calls: Alternatively, if you're moderately bullish, you may want to consider selling covered call options, which also allows you to collect dividends. Even though CAT or BA aren't high dividend stocks, you can increase your dividend income from them significantly by selling covered calls.
In the 2 trades below, BA's $77.50 strike price is much closer to its current $76.83 share price, so your potential assigned price gain is only $.67/share, (the $77.50 strike price minus $76.83 share price). CAT's $105.00 strike price affords you the potential for a $4.33/share assigned price gain, which you'd realize if CAT is above $105.00 at or near expiration in August.
If CAT doesn't rise above $105.00 then, your "Static Yield" profit would consist of the $.46/share in dividends and $4.05/share in call option premiums that you received when you sold these options. Selling covered calls requires you to buy the underlying shares first, in 100-share lots, as each option contract corresponds to 100 shares of stock.
(click to enlarge)

(You can find more details for over 30 other high options yields trades in our Covered Calls Table.)
Dividends: BA is going ex-dividend next week.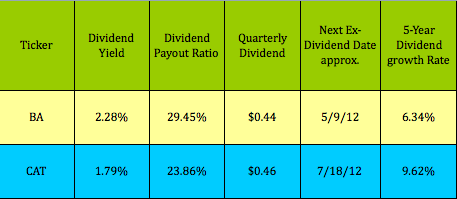 Financials: Judging by management efficiency and interest coverage, both of these firms outshine their peer industries:
(click to enlarge)