With slowing GDP growth and mounting inflation hitting the headlines, there is a growing pressure to increase food supply in the developing countries. The problem these countries face is that food and energy prices are a much bigger percentage of an emerging consumer's shopping basket than for a developed consumer's basket. Food and energy therefore carry a much higher weight in domestic consumer price indices within emerging markets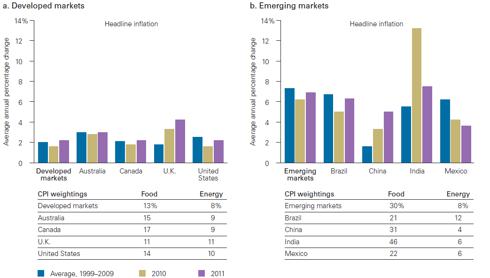 Click to enlarge
source: Vanguard, IMF
While GDP per capita is a good indicator of the degree that a country's inflation rate is vulnerable to rising food and energy prices, some emerging market countries would likely welcome higher prices if they're producers of the stuff. This chart plots the weighting of the food and energy component in the CPI basket for a range of emerging market countries versus the degree to which the country is an importer or exporter of food and energy, where countries to the right are net importers and countries to the left net exporters.

Click to enlarge
source: Nomura
Over the past 2 years, Government authorities across these economies have taken steps to addressing the high food inflation with increasing focus on domestic food production.
In Brazil, Dilma Rousseff as part of country's official farm credit plan increased the farm credit budget by 7% next season to R$107 billion ($67.7 billion) and raise the volume of subsidized credit to R$64 billion. The priority is to promote modern practices on the farm by facilitating the purchase of new farm machinery and financing the greater use of farm technology. Brasilia also wants farmers to diversify their crops, reducing the dependence on soybeans and, to a much lesser extent, corn. The government will also promote new machinery and storage purchases by raising the credit ceiling on investment lines to R$300,000 per farmer from R$200,000.
In China, the government has sought to guarantee the supply of Nitrogen to the domestic market by maintaining hefty export tariffs for Urea and DAP/MAP since 1 January 2011.
In Argentina, in July this year, the government announced their farm strategy with the aim to increase agricultural production by 60% between now and 2020. Grain output is targeted to rise 50% to 150 million metric tons from the record crop grown during the 2010-11 season.
In Russia, on 23 June 2011, Prime Minister Putin announced increased support for the agriculture industry of 10% in 2012 to 130bn rubles (US$4bn), including a new support program for start-up farms. On 8 August, 2011, Russia's Agriculture Minister Yelena Skrynnik reiterated the target for grain exports at 40 mln tns/yr by 2020 (double 2011 estimates and equivalent to 20% of the world grain market). President Medvedev previously approved a plan (1 February 2010) to target self-sufficiency in food production by 2020 by raising food output by 80%
Stocks related to the improving agricultural productivity offer the best growth potential as they should benefit from increased profitability and higher acreage. Some of the good companies include:
Please refer to my previous article "Food For Thought: China's Protein Story" to get an understanding on the rising demand for food from emerging market consumers and "Why Latin America Can Resolve The World's Protein Imbalance" would explain the supply side situation.
Disclosure: I have no positions in any stocks mentioned, and no plans to initiate any positions within the next 72 hours.