Except for a few days in April, if you'd bought Apple (NASDAQ:AAPL) anytime after March 12, you're sitting on a loss right now, based on Thursday's close of $581.82. And if you'd bought AAPL at its $636 close on April 9, you're down about 8.6%.
That's what can happen when volume dries up. On Thursday, Apple traded only 14 million shares. That's the lowest since February 7 when the stock closed at $468. But even when Apple's volume is relatively thin, it's still one of the most liquid stocks on the market.
Let's say you run a mutual fund that includes a position in Apple. If you get redemptions, what do you do? Well if you have to sell something, you'll probably take a look at getting rid of some of your AAPL. That would be a lot easier than trying to sell a similar chunk of a few small-cap stocks.
I'm not sure what mutual fund flows are like, but according to XTF.com, in the last month there's been a net outflow of $2.2 billion from the Nasdaq 100 ETF (NASDAQ:QQQ). Apple accounts for almost 18% of that fund. So if people are hitting the "sell" button on QQQ, they're selling a lot of Apple at the same time.
And Apple does tend to drift around between earnings announcements, especially in the summer. In the last two years, the April to July period has tended to be pretty flat, with more of its gains seen later in the year.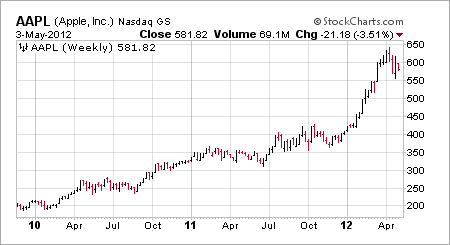 That may or may not be a reliable seasonal trend, but in a "sell in May and go away" market psyche, it's certainly understandable.
So for the time being, I suspect that Apple will be subject to the whims of a lot of high-frequency trading algorithms. They can certainly send the company's market cap up or down by $5 billion in just a few hours, or even a few minutes.
It's interesting that in the last 7 trading sessions, all since Apple reported earnings, the company has been valued at between $541.2 and $577.8 billion. That's a difference of $36.6 billion!
Look at this way. Green Mountain Coffee Roasters (NASDAQ:GMCR) lost close to half its value in just one day on Thursday. Evidently, "the street" was not amused with the company's poor performance and a weak outlook.
But at least real humans, not algorithms, were the sellers (probably anyway). And boy, did they sell. They took 47.7% off GMCR's market cap. That totaled $3.6 billion - a major disaster for shareholders.
Yet on the same Thursday, the difference between Apple's value at 9:30 am and a few hours later was more than $10 billion. But that's just a routine day for a half-trillion dollar company.
* * *
Odd technical pattern forming
Has anyone noticed that weird diagonal gap on the AAPL chart over the last 7 days?
I'm no technical analyst, but I think this is one classic "dog snout" formation in the making.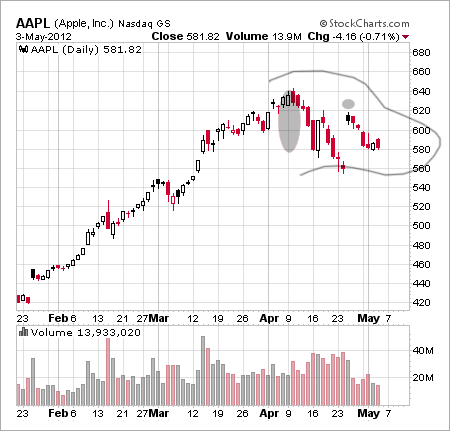 You see the "ear line" is defined by the gap at around $570 in early March to the early April high near $640. The "eye point" sets up at the top of the recent range above $620 where volume begins to decline.
If the stock breaks the snout line to the downside, it's headed all the way down to the "water dish" level. That's probably around $400.
If the breakout is to the upside, the target would be up to the "don't beg for scraps at the table" level, which will probably take AAPL to $750 or more.
I'm joking, of course, but I do need something to amuse myself until volume picks up on one of my favorite stocks.
I just hope it's not like the volume pattern we saw in Green Mountain Coffee on Thursday.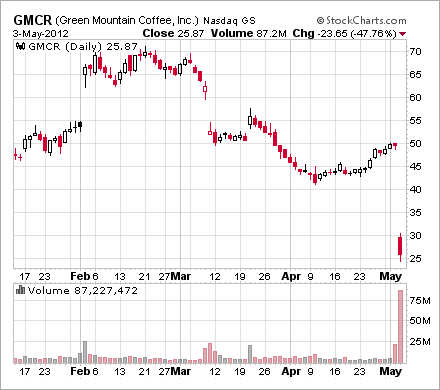 Now, that's a lot of volume! And I don't think that's a gap that's going to get filled anytime soon.
Disclosure: I am long AAPL.