Some investors see Citigroup's (NYSE:C) $7.5 billion Abu Dhabi capital injection (full story), Freddie Mac's (FRE) $6B preferred shares issuance (full story) and possible double-pronged federal help (rate cut and a solution for defaulting loans - full story) as bullish indicators for financials. But Barron's cautions against comparisons to the early 90's bottom for financials, when federally-created Resolution Trust Corp. started buying commercial real estate loans. Back then investors feared Citigroup was insolvent and the economy was deep in a recession. Today, with financial stocks still bolstered by recent profit margins, Citi may do no more to address its troubles than a dividend cut. Doug Cliggott, Dover Management's CIO, says we're only at the beginning of a downturn. Credit card and auto loan defaults will add pressure in a worsening economy, even as financials like Merrill Lynch (MER), Fannie Mae (FNM), financial insurers and smaller banks begin diluting shares to raise capital. The one-month London Interbank Offered Rate jumped from 4.82% Wednesday to 5.22% Thursday; a Libor spike generally indicates trouble in the sector. Banks could also be trying to hoard capital as the year-end approaches and they have to disclose their SIV assets. On Friday, Moody's Investor Service placed $64.9B of Citi SIV debt on downgrade watch. Barron's says financials still have a way to fall.
Sources: Barron's
Commentary: In Retrospect, Those Citigroup Stock Buybacks Look Expensive • In Praise of Cutting Dividends • Citibank: Abu Dhabi Deal Is Desperate
Stocks/ETFs to watch: C, FRE, FNM, BSC, MER, CFC, PMI, MTG, ABK
ETFs: CLV, DLN, DHS, ELV, DGT
Conference call transcripts: Citigroup Business Update Call • Citigroup Q3 2007 • Bear Stearns F3Q07 (Qtr End 8/31/07) • Freddie Mac Q3 2007
Citigroup 1-yr. chart: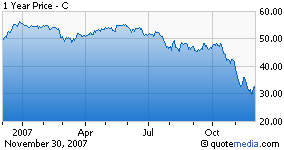 Seeking Alpha's news briefs are combined into a pre-market summary called Wall Street Breakfast. Get Wall Street Breakfast by email -- it's free and takes only seconds to sign up.