Shanda Interactive Entertainment Ltd. (NASDAQ: SNDA) announced its third quarter results on November 27. Q3 '07 turned out to be the sixth consecutive quarter where SNDA's Non GAAP EPS surpassed estimates. This growth trend is also reflected in the value that the stock has gained – almost 200% gains since April 2006. Our assessment of SNDA, post Q3 results, signals that the factors are much in favorable for the company continuing its growth story.
Shanda was able to surpass the analyst expectations in both top-line and bottom-line ($87.4M Vs $82M; 44c Vs $43c). The revenues witnessed an YOY growth of 50.3% and a sequential growth of 16.3% to touch $87.4M, mainly driven by the growth in online game revenues that witnessed a 54.9% YOY growth and a sequential growth of 16.6% to $84.4M. The operating income also witnessed a meteoric growth of 128.9% YOY.
What impressed us is the strong organic growth reported by the company - revenues from the newly acquired business contributed only less than 5% of the total revenue. With a strong pipeline for the coming year – new MMORPGs, a slew of casual games including ones built to capture the Olympics fervor in China, and expansion packs (the company comes up with almost one expansion pack for every MMORPG in each quarter), there is every possibility of SNDA continuing with its strong organic growth. The recent strategic partnership with NCsoft - the South Korean online game company, will provide SNDA with an advantage while licensing future games of NCsoft for the users in mainland China.
SNDA reported strong sequential growth in ARPU and APA (3% and 13.2% respectively). SNDA's strategy has been to gradually upgrade the consumer. Thus, its ARPU remains considerably lesser – only two-thirds as compared to some of the other players in the market. This gives the company considerable room to grow this metric. SNDA's APA remains low at 6% of its user base. Increased monetization of its user base through in game ads in free games has the potential to increase the company's APA to 15% in three years time.
Another factor that should aid the company's growth plans is the strong growth in internet penetration in China (As per China Internet Network Information Center, there was an 18% growth in its internet user population to $162M in a six month time frame between Jan 07 and Jun 07. Nevertheless, the internet penetration ratio is only 12.3%. China also witnessed a 35% growth of the broadband user base in this six month time frame). Majority of SNDA's gamers come from Tier II and Tier III cities. As internet usage spreads geographically, the company can leverage its diversified portfolio and the said strong pipeline to further its growth.
The stock has been consolidating for the past two months, due to the broad market concerns. With results indicating strong fundamentals, we believe that a 20% upside is possible in the short to medium-term.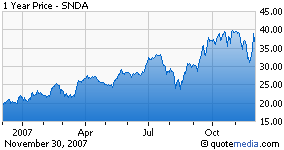 Disclosure: none