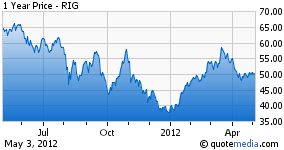 Transocean (NYSE:RIG) has had a very trying year or two. The 2010 oil spill originating at the BP (NYSE:BP) rig in the Gulf of Mexico, as well as a minor spill off the coast of Brazil on a Chevron (NYSE:CVX) project recently have caused a huge overhang on the stock. Low natural gas prices that are starting to shift capital budgets have not been kind to the overall oil services sector either. However, the company appears to be finally coming out of its funk and the stock provides a great value to long term value investors.
Catalysts/Positives for Transocean:
Guggenheim on Thursday raised Transocean from a "neutral" to a "buy" and other raised its price target from $46 to $65.
Global Hunter Securities also upgraded the stock to a Buy recently as well.
They also had two positive items in their earnings report that helped boost the stock even as the energy sector was pulling back this week:
Utilization went up to 61% from 55% in the first quarter of 2011.
Day rates also rose almost 3% from 1Q2011.
Consensus earnings estimates for FY2013 have risen over 3% in the last month.
The BP spill settlement process is slowing winding its way through the courts and looks like it will be completed next year.
4 additional reasons Transocean provides solid long term value at $50 a share:
Analysts expect the company to have double digit revenue growth for both FY2012 and FY2013. Consensus estimates for FY2013 have started to move up smartly for FY2013 as well.
The company sells for just over 12% over book value. The stock also sells for less than 10 times FY2013 earnings.
The 31 analysts that cover the stock have a median price target of $67 a share, about 35% above the stock's current price.
Insiders have been net buyers of the stock over the past six months.