AT&T (NYSE:T) and Verizon (NYSE:VZ) are two of the most favorite dividend stocks, and rightly so. Both stocks have high yields and have been increasing dividends over the years. Let's take a look at the basics about the dividends of the two companies:
AT&T's current yield is 5.3%, while Verizon yields almost 5%
Payout ratios for both companies are presently well over 100% but both companies have been experiencing higher expenses like Apple's (NASDAQ:AAPL) subsidy. AT&T in addition took a loss on the failed T-mobile merger
Both companies have increased their dividends over the past 5 years at an average of 4% to 5%
As in earlier exercises, let us take a look at what happens when an investor sets aside his/her in AT&T for a 10 year period, with dividends increasing at a rate of 4% per year.
Assume you purchase 1000 shares at the recent price level of $33 for a total initial investment of $33,000
The current yield works out to 5.3% as shown in the table below
The dividend payments and the yield on original cost increase just about 50%, which is sharply lower than the other examples we saw like Philip Morris (NYSE:PM), Coca Cola (NYSE:KO), and Altria (NYSE:MO)
We have left out the DRIP part from this piece as some investors choose to reinvest the dividends and some do not. Some DRIP during bad times to accumulate more shares and opt out of DRIP when the price per share seems to be at a fair value.
Again, unlike the previous examples, AT&T hasn't had much of a capital appreciation in the last 5 years and one would think its not wise to expect it as well. The stock has been range bound for a long time now
Inflation has been ignored in this calculation as stocks are the best hedges against inflation when compared to other assets.
10 years is a reasonable time period for this exercise as the market typically moves through many cyclical highs and lows in a decade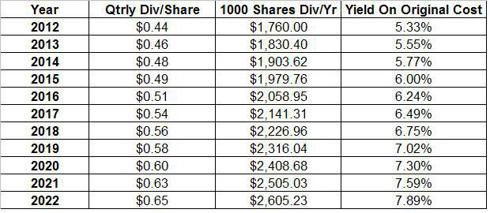 Click to enlarge
Verizon: The number for Verizon doesn't appear much different either. The table below shows the result of a similar experiment on VZ and a 4% dividend growth based on its recent history. All the bullets mentioned under AT&T applies to VZ as well. The increase in dividends over 10 years will not be more than 50% from the current level if the dividend growth is not improved.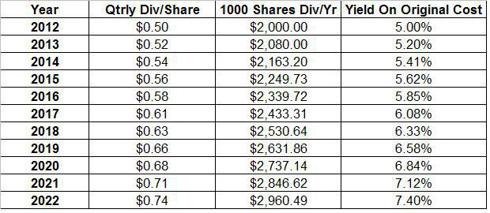 Click to enlarge
Conclusion: While there is no denying that AT&T an Verizon are good stable dividend stocks, investors should not be expecting the same overall returns from them when compared to other more dynamic dividend growth stocks like Altria or McDonald's (NYSE:MCD). Yes, the current yield is higher for these two stocks than the other examples quoted here but for a long term investor, future yield of original capital is far more critical than the current yield. And in that aspect, these two stalwarts have a lot of catching to do.
However, if one considers these stocks just as steady 5% yielders alone, there is no harm in holding them, which is precisely why we own AT&T at a 6% yield point.