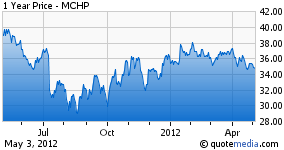 Microchip (NASDAQ:MCHP) has announced the acquisition of Smart Microsystems Corp (NASDAQ:SMSC), a leader in "Smart Mixed-Signal Connectivity" solutions. Valued at $37.00 per share, or $939 million, the deal is at a 41% premium over the prior close. This is not as expensive as it seems, however. Indeed, with $173 million in cash and no debt, SMSC was trading on a cash-adjusted basis at just 0.93x and 9.7x out-year revenues and earnings. At this price, arguably, it was ripe for the taking. So this under-valuation surely softens the blow of the premium. Absent SMSC's cash, which will no doubt help finance the transaction, the deal generates and Enterprise Value of $766 million, or 1.64x out year consensus revenues. This is a reasonable valuation in our view.
Observers will fret over SMSC's exposure to lower value PC and consumer markets and the company's low operating profitability. That said, however, the transaction meaningfully and effectively expands Microchip's product offering and served markets. Moreover, it is expected to be accretive in the first quarter after close. Also, it will increase revenues from $1.5 billion to nearly $2.0 billion.
Let's take a closer look. First, the companies have little overlap in products but serve largely common markets and customers. While Microchip has a strong offering of microcontroller, analog and embedded memory products, SMSC offers mixed-signal (i.e., combining both digital and analog circuits) connectivity solutions, ranging from some commodity products to good number of high-margin, highly-engineered solutions. Microchip CEO Steve Sanghi, who has led the company for many years, rightfully claims that the opportunities for cross-selling are notably high.
A closer review of SMSC's businesses supports Mr. Sanghi's positive view of the transaction. The company generated $412 million in revenue in its recently reported fiscal year (ended February 29th). Gross profit for the year was a respectable 52.3% of revenue, though the operating burden was indeed notably high (with an operating margin of just 6.9%, or 12% non-GAAP). To a degree, scale is surely one factor constraining profitability, as is the need for extensive technical sales support. That said, we believe the operating profitability of the acquired businesses will be higher once they are integrated in the combined company. Microchip management is confident this is so but will only provide guidance in subsequent calls.
Key nascent high growth businesses within SMSC are of particular interest. First, the company is a leader in silicon solutions for automotive, high-bandwidth infotainment solutions. Indeed, it is a leading vendor of MOST (i.e., Media Oriented Systems Transport) connectivity chips and also offers ethernet solutions for automotive diagnostics. Also notable are its Kleer Wireless audio solutions, which use a proprietary technology for low-power, high-quality audio transmission, both in autos and at home. In short, SMSC is solidly leveraging the high growth of automotive and wireless electronics with a number of custom and protected technologies. Both markets are underpenetrated, and for that reason all the more attractive.
All in all, we view the transaction favorably. Microchip has always rewarded thoughtful analysis. The company has executed deliberately over the years in securing a strong leadership position in Microcontrollers, a market populated with captive business units of diversified companies. Management has been very stable and the company's measured pace reflects a steady hand. Notable too is its preference for dividends over buybacks to return cash to shareholders. We expect a similar discipline will be evident as the company closes the transaction and integrates its new businesses. Indeed, as a semiconductor stock with a 3.9% yield, Microchip shares appear attractive. Once the deal is concluded, the profits and revenues of the combined businesses are quite likely to support a higher valuation. Investors take note.
Disclosure: I have no positions in any stocks mentioned, and no plans to initiate any positions within the next 72 hours.