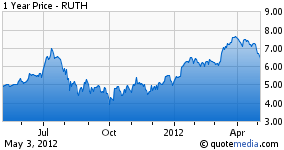 It seems M&A activity in the restaurant space is heating up. In the last six months Morton's has been acquired, PF Chang's (NASDAQ:PFCB) is getting bought out by private equity and Benihana (NASDAQ:BNHN) is in play. So who is the next marquee name in this space to become a target? My vote is for Ruth Hospitality (NASDAQ:RUTH), the owner of the iconic Ruth Chris Steak House chain. It has a small market capitalization (under $250mm), its brand is well known and it has presence in key markets.
So what is RUTH worth? Probably the best way to value restaurants is by EBITDA. The stock is selling for less than 5.6 times EBITDA currently. The new owners of Morton's paid 7.56 times EBITDA, PF Chang's was had for 8.35 times EBITDA and Benihana is currently trading at north of 10.2 times EBITDA. Assuming 8 times EBITDA for RUTH gives you a value of $9.28 a share for a stock that is currently selling at $6.45.
4 additional reasons RUTH is undervalued at under $6.50 a share:
Earnings are set to show consistent growth. The company made 35 cents a share in FY2011 and analysts have it making 46 cents a share in FY2012 and 57 cents in FY2013.
The stock is trading at just over 11 times forward earnings, a slight discount to its five year historical average (12.7). No buyout speculation premium seems to be in the stock.
The stock is cheap at 6 times operating cash flow, 60% of annual revenue and has a reasonable five year projected PEG (1.05).
The three analysts that cover the stock have a median price target of $8.50 on RUTH. The low target is $8 and high price target is $9 a share.
Disclosure: I have no positions in any stocks mentioned, but may initiate a long position in RUTH over the next 72 hours.