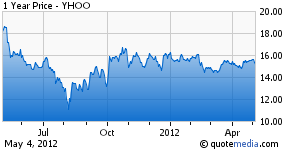 Yahoo (YHOO) bulls may have a reason for optimism. The fact that CEO Scott Thompson lied on his resume (he's an accountant, not a programmer) isn't that big a deal. But it's the last of a long string of mistakes by the Yahoo board, which faces a June proxy fight led by Third Point LLC head Daniel Loeb.
Thompson's lie, it turns out, was straight out of "The Music Man." He claimed a computer science degree from Stonehill College in 1979, but they didn't offer such degrees until 1983. (Professor Harold Hill claimed to be a graduate of the "Gary, Indiana Conservatory of Music, Gold Medal Class of '04" but Gary was founded in 1906.)
Key to what happens next are board members Alfred Amoroso, John D. Hayes, Peter Liguori, Thomas McInerney, and Maynard Webb. All were appointed to the board, through Thompson, after he was hired in January. They might now consider themselves free agents and seek a way out of the controversy.
Four other board members - Ray Bostock, Vyomesh Joshi, Arthur Kern and Gary Wilson - are also not on the ballot for re-election at the company's annual meeting on June 23. l That meeting, in other words, was due to solidify Thompson's control over the board, which now looks shaky.
The board was caught flat-footed after dissident shareholder Daniel Loeb, who holds 56 million shares according to Gurufocus, revealed that Thompson may have violated his employment contract by lying about his education.
Loeb's letter also questioned the credentials of board member Patti Hart, who headed the search committee that hired Thompson.
Loeb has offered his own slate of directors - himself, Maeva Group CEO Harry Wilson, former MTV Networks President Michael Wolf and former NBC Universal CEO Jeff Zucker. and launched a proxy fight on behalf of his slate.
Yahoo claims Loeb is unqualified to sit on the board and that, if he took over, he would quickly sell the company's stakes in Alibaba and Yahoo Japan for less than their value.
Loeb's discoveries, and his publicizing of them, needs to be seen against the backdrop of that proxy fight. Yahoo said it is investigating the charges, which could lead to a quick resolution of the dispute with Loeb. Which means Loeb could either win now or, possibly later.
All in all, bullish for Yahoo.
Disclosure: I have no positions in any stocks mentioned, and no plans to initiate any positions within the next 72 hours.